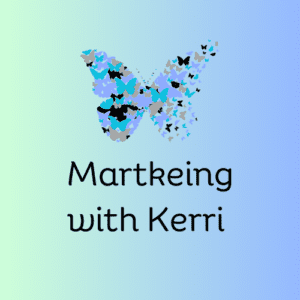 This special logo is in memory of my Mom, who passed away in December 2022. She loved butterflies, and including this symbol is a way for me to remember her and keep her a part of my Affiliate Marketing journey.
Hi, Kerri here.
I am the owner of marketingwithkerri.com. I just wanted to say hello and welcome you to my site. First, let me share a bit of my story with you.
A SHORT STORY:
I grew up in Massachusetts, USA, before the era of computers, the internet, social media, and cell phones. My first encounter with computers was at the grocery store where I worked. They were big, bulky, and slow. The screen was black with green letters and a blinking cursor. Back then, the concept of interconnected computers was unheard of.
One key lesson from those early days that still influences me today is this: Never stop learning and growing. To be successful at anything in life, you have to put in the time and effort. Work hard, stay focused, and never think you are done. This mindset has been crucial in my journey, especially in the constantly evolving world of affiliate marketing.
MY FIRST COMPUTER:
In the early 90s, I got my first computer through a fiction writing course, complete with a dial-up connection. Despite its agonizing slowness, I was hooked. I was eager to learn everything about computers and the Internet. I enrolled in courses, devoured books like 'HTML GOODIES', and tackled the 'DUMMIES' series. Initially, I managed to keep pace with the emerging technologies.
Fast forward to today, and it's astounding how much has changed since those 'dial-up' days. Technology has advanced at an incredible rate. Building a website, once taking weeks, can now be accomplished in minutes. Overcoming writer's block is easier with tools like AI, which help in brainstorming and developing content. However, the key is not to rely solely on these tools. They are aids, not replacements. The real value comes from adding your personal touch, your unique insights, and experience, ( the human touch).
I CAN MAKE MONEY ONLINE:
My journey into online income was challenging, and filled with schemes and scams. I got burned often, leading to skepticism and repeated quitting. But my desire to learn and succeed kept bringing me back.
I FINALLY FOUND IT ~ Wealthy Affiliate 2013:
After years of failure, I stumbled upon Wealthy Affiliate. They were offering a free trial with no credit card required. It was a game-changer for me. Initially, I was just looking for ways to make money online, but Wealthy Affiliate opened my eyes to the possibility of starting my own online business. A decade later, I'm still learning and growing with them. They've been in business since 2005 and continue to evolve.
Misinformation Alert: There's some chatter online about Wealthy Affiliate's training being outdated. Why not see it for yourself? Take advantage of a FREE 7-day Test Drive (no credit card is required).
Pay it forward: As I continue to learn and grow, I want to reach out to those struggling and/or on the brink of giving up. Lend a hand and show them that their dreams are achievable with effort and the right guidance. I found my home with Wealthy Affiliate; I want to share that opportunity with you- it's not my main focus. There is so much more in Marketing that we are going to get into. Wealthy Affilaite is how I started on my journey, finally finding my path. I am here to help you find yours.
The Reason I'm Here: More Than Just Business:
Why do I focus so much on helping others with their online business? It's simple. I believe in being straight-up honest, keeping things real, and building a strong community. These are the values that drive everything I do here at Marketing With Kerri.
I know firsthand how tricky and sometimes frustrating the online business world can be. That's why I'm all about offering no-nonsense advice and support. I'm here to help you make sense of it all and go after your goals with a clear head and a solid plan.
Helping you isn't just a job for me; it's part of who I am. Every time someone from our community nails their goals, it's a big deal for all of us. It's what keeps me motivated and excited about what I do.
Reach Out to Me:
Do you have questions or need a hand with something? Don't hesitate to get in touch. Just use the links below to reach out. I'm here to help and I'm always up for a chat. Looking forward to hearing from you!