One of the most frequently asked questions by newcomers to Wealthy Affiliate (WA) is about the timeline for success: "When Can You Expect Success with WA?"
Today, we'll shed some light on this question by discussing the training processes and potential earnings and offering a final thought, along with a special bonus.
NOTE: ~~~ Even as a Starter Member, there's potential to earn commissions.
Understanding Potential and Effort with Wealthy Affiliate: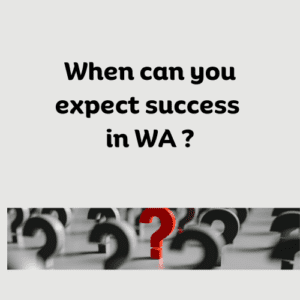 Before diving into the details of the Wealthy Affiliate journey, it's essential to highlight an important principle: the potential for success is closely linked to the effort you invest.
Like many endeavors, what you get out of the Wealthy Affiliate program largely depends on what you put into it. Simply put, minimal effort often translates to minimal results, while dedication and consistent hard work can pave the way for more significant achievements. Keep this in mind as you read through the potential milestones and earnings.
With that foundational understanding of effort correlating with potential success, let's take a closer look at one of the structured pathways Wealthy Affiliate provides to guide that effort: the Bootcamp.
The Wealthy Affiliate Bootcamp Journey:

Introducing the Wealthy Affiliate Bootcamp:
Navigating the world of affiliate marketing can be challenging, especially without a clear roadmap. The Wealthy Affiliate Bootcamp aims to provide that clarity. It's a structured training program tailored for both newcomers and experienced marketers alike.
This Bootcamp is built around a 7-phase training series comprising 70 detailed lessons. Each phase focuses on specific aspects of building an online business centered on promoting Wealthy Affiliate, ensuring users have a well-rounded understanding as they progress.
Please Note:
Phase 1: " Getting Your Business Rolling" of the Bootcamp is accessible as part of the Free 7-day Test Drive.
Only this initial phase is available for free, while the subsequent phases are part of the premium membership.
Before diving into the overarching structure of all seven phases, I believe a sneak peek into the lessons of Phase 1 would provide valuable insights.
These lessons form the foundation of your affiliate marketing journey with Wealthy Affiliate.
Here are some snapshots of what's covered in this crucial first phase:
Description
Wealthy Affiliate has one of the most lucrative "recurring" affiliate programs on the planet, and within the first phase of the training, we are going to get your business built on a solid foundation. All long-term businesses start with a vision and a brand, and we are going to help you get this in place in the first phase of the Affiliate Bootcamp training.



This course is 5 lessons, and by the time you finish this course, you are going to have your foundation for a long-term and very lucrative online business set!

After understanding the structure and accessibility of the Wealthy Affiliate Bootcamp, let's delve deeper into its content.
Below is an overview of the seven distinct phases of the Affiliate Bootcamp, each catering to various aspects of the affiliate marketing journey.
Quick Overview of the 7 Phases of Affiliate Bootcamp:

After getting a comprehensive overview of the seven phases of the Bootcamp, it's essential to understand the foundational pillars that make Wealthy Affiliate a standout platform.
Let's get into a breakdown of some of the training, tools, and support offered by Wealthy Affiliate, which is designed to equip you for an informed affiliate marketing journey.
Wealthy Affiliate: Training, Tools, and Support Breakdown
In Wealthy Affiliate, various training resources, tools, and support are provided to assist users. Let's start by looking at the offerings of the Free Starter Membership.
Unlocking the Potential with Wealthy Affiliate's Free Starter Membership
What's Included in the Free Starter Membership?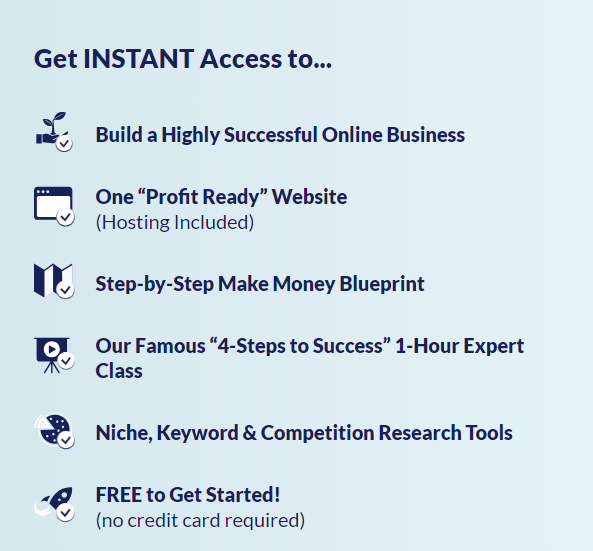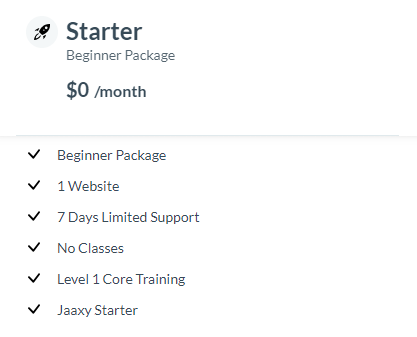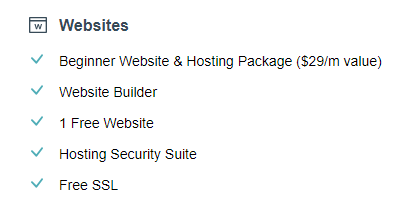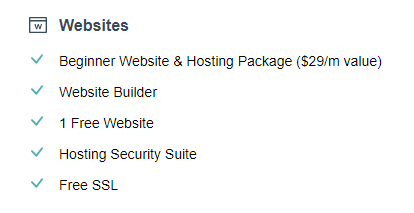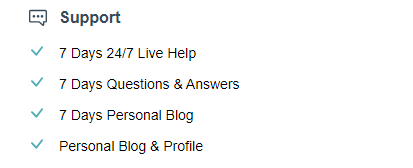 Now, for those who decide to explore further and delve deeper into the world of affiliate marketing with Wealthy Affiliate, the platform offers an expansive suite of training, tools, and support.
Training:
Interactive Learning: WA offers an interactive learning experience. The courses are designed in a task-based format, ensuring that you not only learn but also take action. This active learning ensures better retention and application.
Beginner to Advanced: The training is suitable for everyone, from those who have never built a website to seasoned marketers. It starts with the basics and then delves into advanced marketing techniques.
Weekly Webinars: Every week, there's a new live class on a current topic. These webinars allow users to stay updated with the latest trends and strategies in affiliate marketing.
Tools:
SiteBuilder: WA's SiteBuilder tool allows even novices to set up a professional-looking website in minutes. It's optimized for speed, security, and functionality.
Keyword Research Tool: This tool is essential for SEO. With it, you can find low-competition keywords that can get your content ranked on search engines.
SiteContent: An integrated writing platform that not only helps you craft content but also checks for grammar and plagiarism.
Hosting & Domains: WA provides a robust hosting environment specifically fine-tuned for WordPress and affiliate marketing. Plus, users can manage and buy domains directly.
Support:
24/7 Technical Support: Have an issue with your website? The technical support team is available around the clock to assist you.
Community Support: One of WA's significant advantages is its vibrant community. You can get feedback on your projects, ask questions, or even network with successful affiliate marketers.
Direct Access to Experts: Unlike other platforms, at WA, you can interact directly with successful marketers and even the founders. This direct line ensures that you get quality advice and insights.
Potential Commissions:
Given the comprehensive training, powerful tools, and unmatched support, WA equips you with everything you need to start and grow an affiliate marketing business. When combined with dedication and effort, these resources can pave the way for potential commissions, as outlined in the previous sections.
Remember, while the tools and training provide a strong foundation, your success largely hinges on the effort and dedication you bring to the table.
After outlining the training, tools, and support available at Wealthy Affiliate, you might wonder how these features vary between membership levels.
For a clearer picture, Take a look at the detailed comparison charts below to find out which membership might be the right fit for your affiliate marketing needs.
Now that we've covered what Wealthy Affiliate provides, let's get to the answer: When can you expect success in WA?
When can you expect success in WA?
The answer is at the end of Phase 1 of Affiliate Bootcamp, Kyle breaks it down into typical timeframes based on consistent effort
and work:
MONTH 1: Accomplishments
Website Set-Up

SEO Set-up

Initial Framework of Content

Indexed in Google, Bing, Yahoo

You have 5-10 posts on your website

Earning Potential: A few sales, just getting your business foundation started
MONTH 3: Accomplishments
Content Starting to Get Ranked

Experience Some Big Breakthroughs in Search

Have Made Your First Sale or Two

Traffic is Cumulatively Starting to Grow

Search Engines are starting to give your site "authority."

You have 30-60 posts on your website

Earning Potential: $0-$500 per month
MONTH 6: Accomplishments
Traffic is starting to flow, ideally 100 unique per day

Sales start to increase with consistency, several per week

You are truly starting to gain some expertise and brand

Bing/Yahoo start indexing your site at a higher rate

Engagement on your site starts to increase

You have 60-100 posts on your site

Earning Potential: $500-$3,000 per month
ONE YEAR:
Traffic is really starting to ramp up. You can expect 500+ unique per day

Google is granting your site some serious authority

Companies and other bloggers have started to reach out and connect with you

You are making WA sales and other affiliate sales daily

The Vegas Super Affiliate Conference is on your sites

You have 100-150 posts on your website

Earning Potential: $3,000-$10,000 per month
TWO YEARS:
Your business is truly starting to thrive

You are definitely a noticeable force in the search engine world. Google ranks your new content within 24 hours of it being posted.

You are earning a full-time income online

Vegas is yours; you have most definitely made it

You have 200-300 posts on your site

Earning Potential: $10,000-$20,000 per month
5 YEARS:
You are a brand/authority in the industry

You have a full-time

business online, likely 6 figures or

annually

Google, Bing & Yahoo love you

You are spending earnings to drive your business through paid channels.

You likely have made several hires, including writers, design help, and a virtual assistant.

You made Vegas in the first 1-2 months of the year (with your sites on the 3,000 sales)

You are in a position to double your business annually

Earning Potential: $10,000-$100,000+ per month
It's essential to note:
Nothing in life is guaranteed.
These milestones are based on averages and can vary depending on individual effort, niche, market trends, and other variables.
What WA provides is the training, tools, and support to help you aim for these goals.
Final Thought :
I hope "When you can expect success in WA?" answered questions about how much you can potentially make and where to go for training.
Whether you are interested in Wealthy Affiliate or Affiliate Bootcamp or not, I am here to help you on your Affiliate Marketing Journey. Please leave any questions, concerns, or comments below, and I will get back to you.
+ Special Bonus!
Join the Starter. It's $0 ~~ with No Risk and No Credit Card Required, and did I mention it's FREE!
Upon joining, I will make sure to get in touch with you; I want to make sure you know that I am here to help you out. I want you to make me one promise: if you do join… You will set up your account. It's simple, and you will be walked through it upon joining WA ( Wealthy Affiliate).
Join Wealthy Affiliate $0 Membership Here!
How To Claim Your Bonus. . .
When you join your FREE Starter Account, I am going to offer you a bonus if you do decide to become a Premium member within the first 7 days (including a 59% discount). When you create your account at Wealthy Affiliate, I will personally contact you on your profile page with my "hello" and more information about WA, how to get help from me, and how to claim your BONUSES. Trust me, this is going to be some awesome stuff ( hint it includes my 9 years of experience and mentorship)
You will never know what you are missing all of these years until you step foot inside Wealthy Affiliate.
---