Jaxxy is a Keyword & Research platform where you can uncover Keywords, Niches, Competition, SiteRank, Domains . . .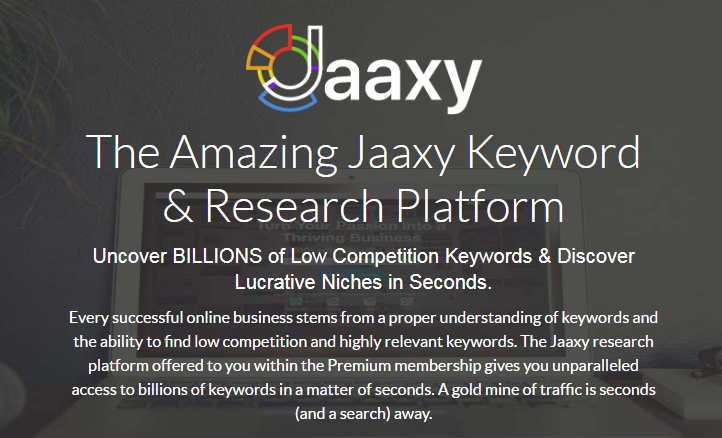 Today, in "What is the Jaxxy Keyword Tool? ", we are going to go over how you get to Jaxxy, where to find training for Jaxxy, a quick review of the main menus, how you can earn recurring commissions with Wealthy Affiliate and Jaxxy ( as a FREE Starter Member); how much a keyword research tool cost? And lastly, Final Thought and + Special Bonus.
---
How do you find Jaxxy?
Jaxxy is inside Wealthy Affiliate
Not already a Wealthy Affiliate member?
~~ 100% Free Trial, with No Risk and No Credit Card, Required ~~
Check it out for yourself today
Click Here ~~ > STARTER MEMBER
There are two ways to get to Jaxxy; both are from the Wealthy Affiliate (WA) Main Menu.
1. ~ Click Research

Home page of Jaxxy

We will be going over more in just a minute, but first, let's go over the second way you can get to Jaxxy.
2. ~ Click on the Cards

In the drop-down menu
~ Click on Jaxxy
You can use these 'quick buttons' to go back and forth between Wealthy Affiliate, Jaxxy, and Alphabet Soup X (beta)


If you are a Premium Plus, yearly member, you can also check out Alphabet Soup X (Beta)

---
Jaxxy is the World's Most Advanced Keyword Tool and is INCLUDED with your Wealthy Affiliate Premium / Premium Plus Membership.
A quick look at what is included within Premium and Premium Plus
( * Research is the label that Jaxxy is under in the comparison chart for Wealthy Affiliate)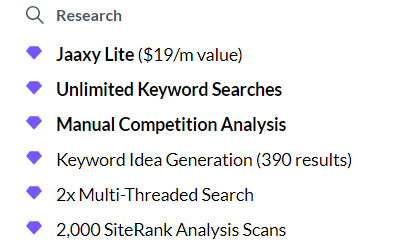 To learn more about Wealthy Affiliate Premium Membership
Click Here ~~> Special Offer WA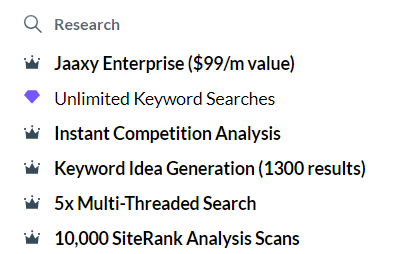 ---
Jaxxy Training :
Jaxxy platform and training are in LEVEL 2 of the training, which is part of the Premium Membership
~ Click Jaxxy Help

You have access to 3 Bonuses and 4 Training Videos.
3 Bonuses:


4 Four Training Videos:
"Jaaxy Keyword Research & Management"
"Jaaxy Website Research and Analysis"
"Niche Research Refinement"
"The Affiliate Program Walkthrough"
~~ Note: You can download the Bonuses and watch the Videos using the live links inside Jaxxy!
You have access to the training, tools, and support of Wealthy Affiliate.
Core Training:
To get to the training in Wealthy Affiliate
~ Click on the TRAINING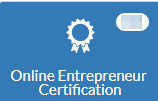 Description:
Traffic, regardless of the nature of your online business, is the root of all success. If you can learn how to get traffic to your website effectively, you can accomplish extraordinary success.


This 15 lesson training will walk you through no-cost traffic generation techniques that will allow you to capture highly relevant traffic in any niche. First and foremost, though, we will be getting your website ready for search engines (like Google), and getting your initial framework for your website set-up.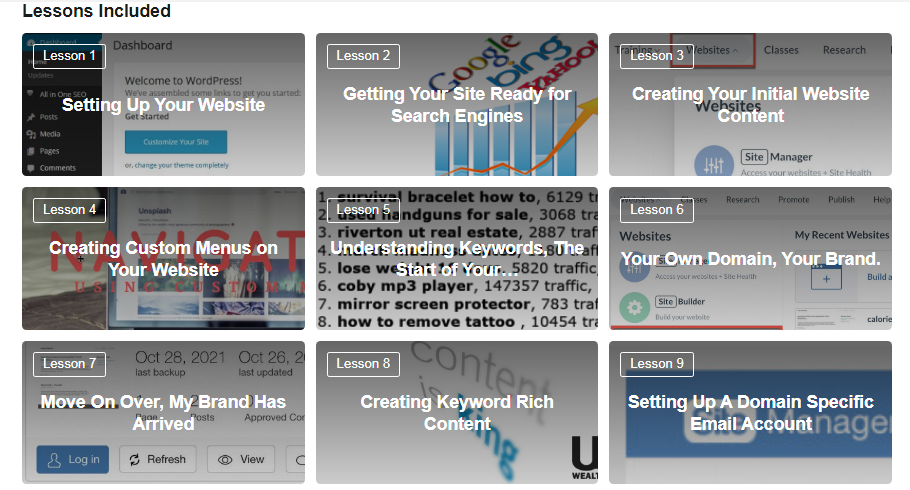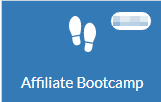 Description:
In phase 2 of the WA Affiliate Bootcamp, our main focus will be content. This includes the actual creation of content on your site, how to make it presentable and readable, how to leverage "keywords" to create content that ranks, and how to make your content convert.



There is a big difference between creating content and creating quality content that carries a substantial benefit. Upon completing this course, you will be prepared for a world of success with your content.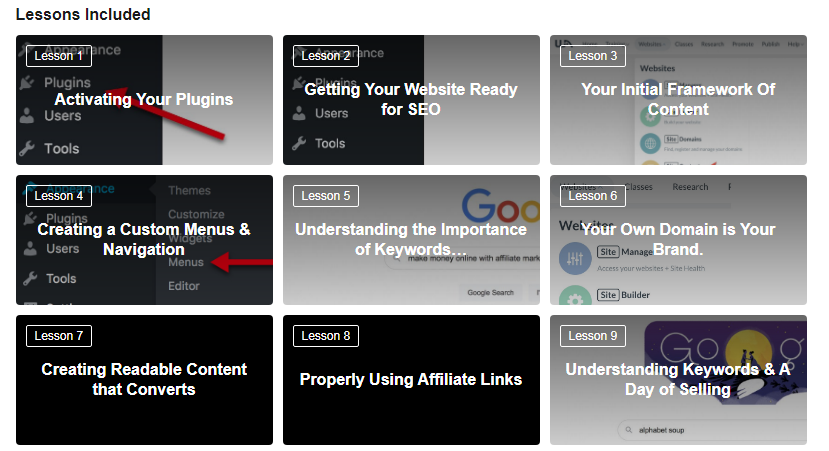 Here is a quick look at what is included in the Training section of Premium and Premium Plus: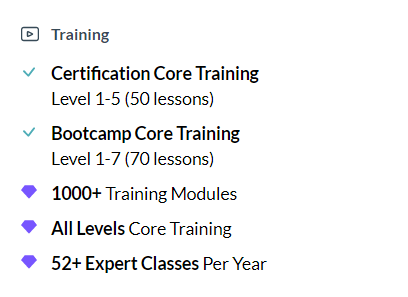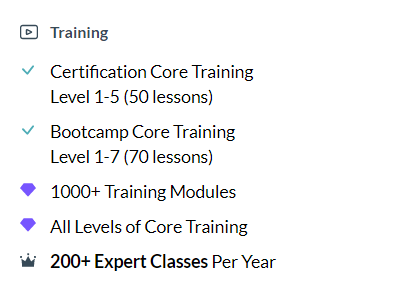 ---
In addition to the Core Training and Classrooms, Wealthy Affiliate takes training to the NEXT LEVEL with CLASSES.
Classes:
~ Click on the CLASSES

You can use the main search area

Note: The numbers are blurred because NEW TRAINING IS ADDED ALL THE TIME; there was a total of 921 at the time of this post.
You can also look for classes using the calendar and use the arrows to go back < and watch previous training, and you can go ahead > and see what is coming up.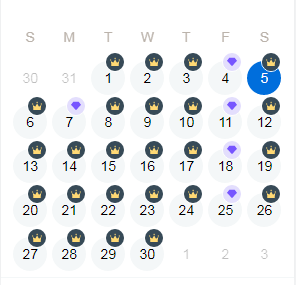 Under the calendar is another way to search ~ by Category
There are over 40 categories, and it is growing all the time.
For this post on Jaxxy, we will look at the "KEYWORDS" category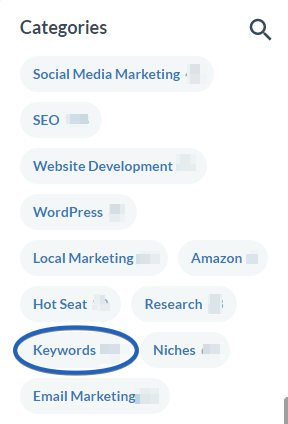 For Example:
Using CATEGORY search and KEYWORDS to find more training on Jaxxy
Here are a couple of the results ( and ones I recommend)
This is a 4 part series called " The Keyword Research Process"
By Jay ~ WA username Magistudio ( WA Live Training Coach)
1. The Basics of Technical Keyword Research
2. ~~ > "Breaking Down Keyword Research ~ Jaxxy Style"
3. Getting Use Our Of Alphabet Soup Keywords
4. Finding Keyword Ideas from Authority Sites
There are Starter Classes too ~

Alphabet Soup X – Cracking the Research Code!
Work From Home, Love What You Do & Become Successful Online! A 4-Step Process.
The 4 Steps to Creating a Successful Business Online
Insights into Efficiently Becoming an Expert in 2018 (Older but still recommended)
Kyle's First Live Class, Learn From My Last 14 Years ( Also older but still recommended)
There are two more starter classes by Eric Cantu
Welcome to Your Free Starter Account!
Using the Follow Function to Get REAL Expert Insight!
There are a lot of expert teachers in WA; I recommend taking advantage of their knowledge and experience.
Note:
More training is added all the time; after you go through the core training, then expand your learning and look into Classes. . . Keep learning and growing.
---
Jaxxy Main Menus:
Keywords

Billions of Keywords at your Fingertips
Over 8.7m New Keywords Revealed Monthly
10.8 minutes Average Time Saved Per Search
99.7% Search Engine Coverage
The Ultimate in Keyword Management
. . .

Niches

Alphabet Soup Platform
Reveal 291 Relevant Results Average Per Search

Uncover Lucrative Affiliate Programs
. . .

Competition

Analyze your SEO Competition
Reverse Engineer Any Successful Website
Different Search Engines. Different Rankings
. . .

Site Rank

SiteRank for SEO
Scan Ranking For Any Keyword
1.8 Seconds Search Google/Yahoo/Bing
. . .

Domains

Find Available Domains in an Instant
Save Domain Lists
Uncover Local Marketing Domains
Instant Domain Purchases
. . .

JAXXY MAIN MENU


Search
Search is the first tab in the menu, here's where you enter a keyword and get results that you will then use to write a post or page.


The results show up in the bar below where you typed your keyword ( hover your mouse over the "?" to see these definitions)
Quick Guide:
This is all covered in training, but here is a quick look at what the results mean and a suggestion of what you should be looking for during your search:
Keyword = A phrase that users type into a search engine to find what they are looking for
AVG = Average number of searchers that the keyword receives per month
TRAFFIC = Visits to your website if you receive first-page rankings in the Search Engines
QSR = "Quoted Search Results" = the number of competing websites ranked on google for this exact keyword
KQI= "Keyword Quality Indicator" Green is great / Yellow is okay / Red is Poor
SEO= Search Engine Optimization score based on traffic and competition; the higher the score, the more likely you will rank for this keyword on the first page
DOMAINS = Availability of domains related to the keyword ( you can find, purchase and manage your domains all in one place ~ more on that in a minute ).
Three Boxes to the right of the search box
Don't ignore these ~

Click on the down arrow to see your recent searches, you can click on the live link to go back to that search

Dig Deeper
Find better keywords than your original keyword search
Find ideas for other posts and save them to a list for later
I have found alot of QSR "O" using both of these
Site Rank


Keep Tabs on Your Competition's Rankings
Simplify ALL Your SEO Testing
Affiliate Program (Jaxxy)
3 Steps To Earn Revenue By Referring People To Jaxxy
Grab your affiliate link and or your Jaaxy Search Plugin
Put them on your website
Get traffic to Jaxxy and make money
Where do you get your affiliate link?
Jaxxy Main Menu
~ Click Affiliate Program


When you click Affiliate Programs, it opens up to Program Details, where you will find your main affiliate link, a view more links button, a chart showing you how much you can earn in commissions, and a how much you earn calculator.
Program Details :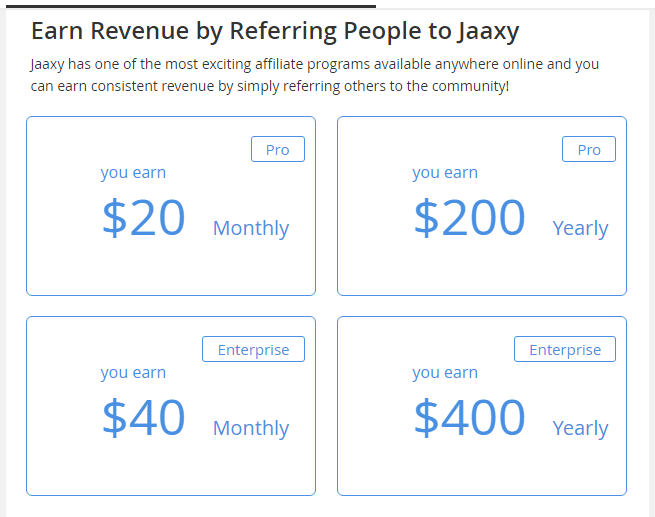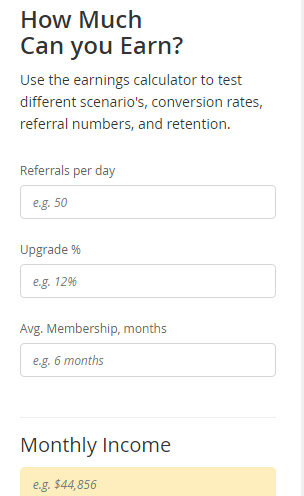 ~ Click on My Stats:
For Example
Here is a quick look at stats using a blank slate ( no numbers).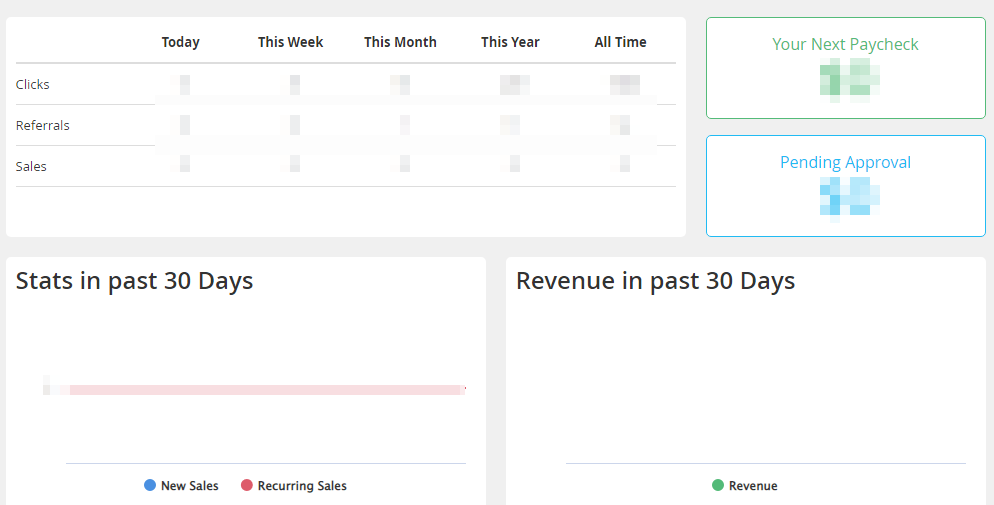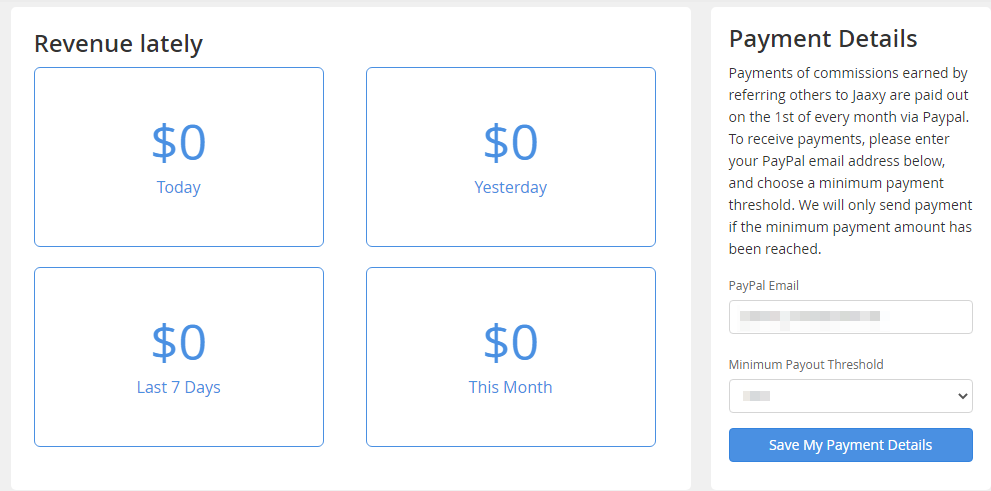 ~ Click on View More Links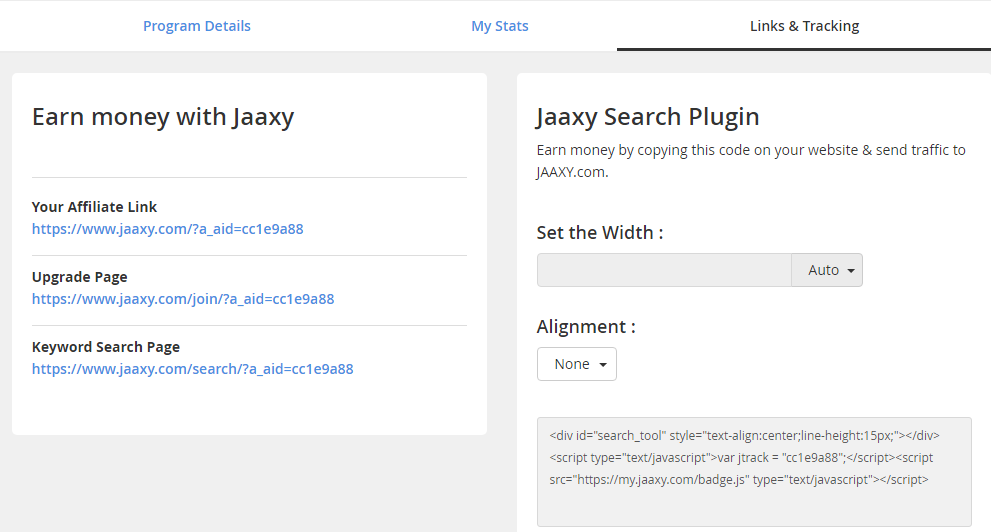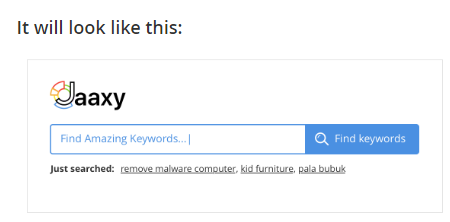 Keywords: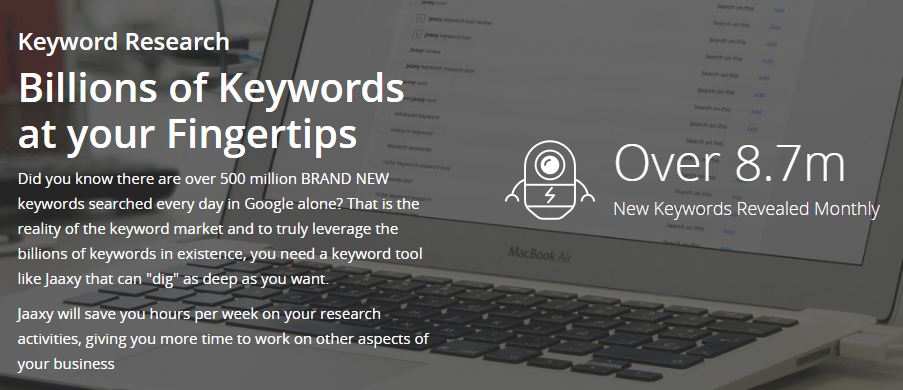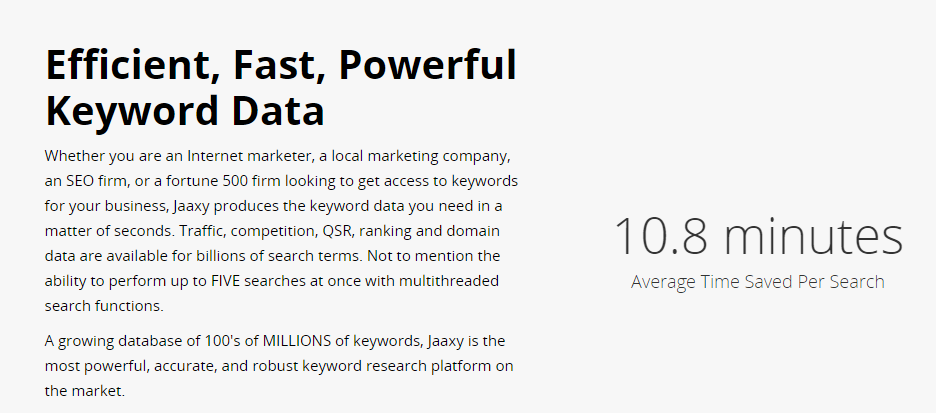 We'll go through Keywords first, then get into Alphabet Soup, Saved Lists, Search History, Search Analysis, Affiliate programs ( search for programs relevant to our niche that you could join), and Brainstorm.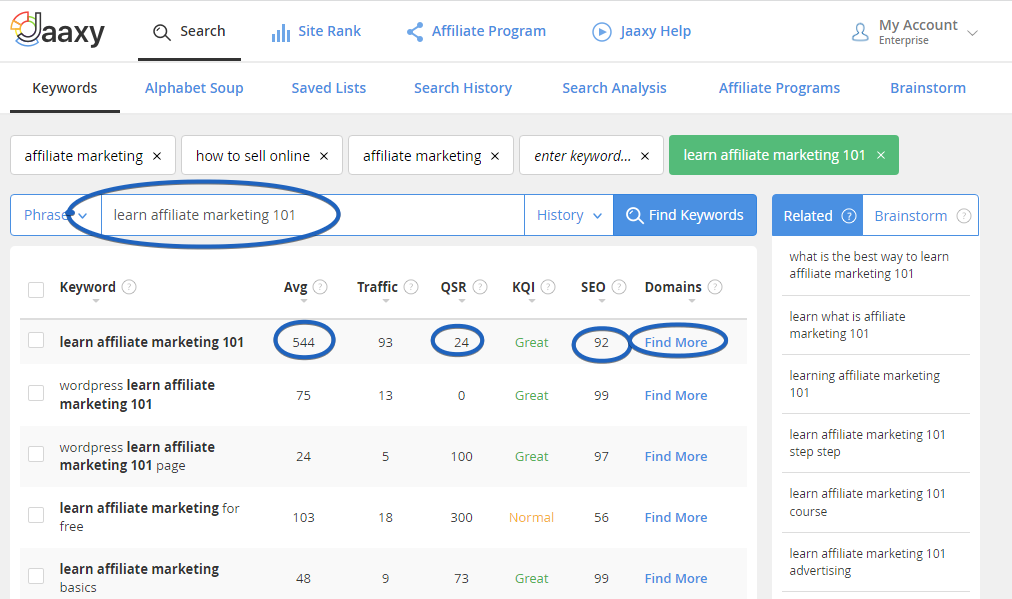 Remember the Quick Guide? Here it is again so you can see it with the Example above:
AVG = The average number of searches that the keyword receives per month
Traffic = Visits to your website if you receive first-page rankings in the Search Engines
QSR = Quotated Seach Results: The number of competing websites ranked in Google for this exact keyword
KQI = Keyword Quality Indicator: Green is Great, Yellow is Ok, and Red is Poor
SEO = A score based on traffic and competition, the higher the score, the more likely you will rank for this keyword on the first page (scale of 1 – 100, higher = better)
Domain = Availability of Domains that are related to the keyword ( you can find, purchase and manage your domains in one place ~ more on that in a minute)
Learn Affiliate Marketing 101 is a good keyword
AVG= 544
QSR= 24
SEO = 92

DOMAINS
You don't have to search for a Registrar to get your domain, both JAXXY and WEALTHY AFFILIATE save you time and money finding, purchasing, and managing domains.
JAXXY:

As you do your keyword searches you can see relevant domain names to purchase.

For example:
A keyword search for "jaxxy keyword tool" has two available domains . . .

~ Click on .com
.com is the best and most recognized extension, you can purchase others if you would like, but it's recommended you go for the.com for your domains.
NOTE: In some cases, there will not be a .com available, then you would click on Find More to see the available domains.
This brings you to Wealthy Affiliate Site Domain where you can purchase your domain in 4 Easy Steps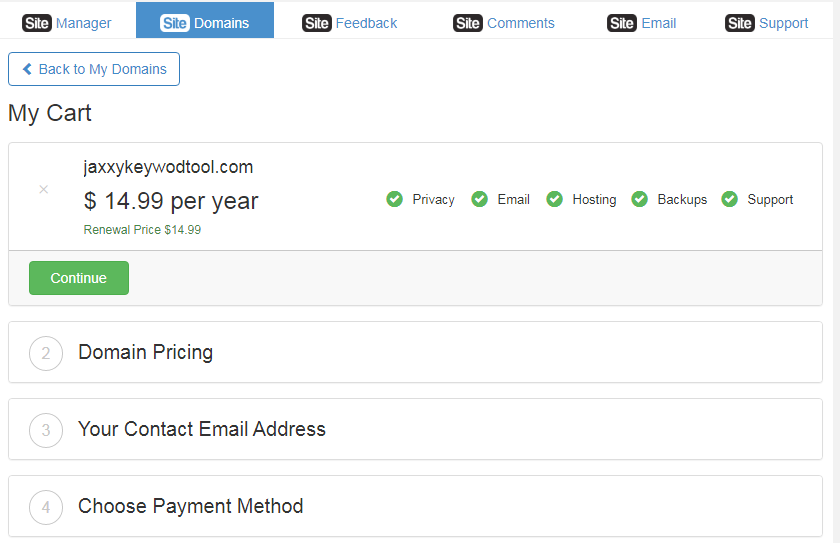 You can choose between 1 year -> up to 10 years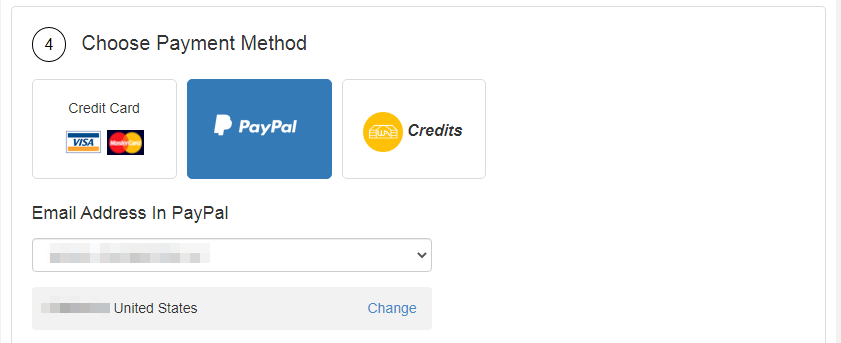 THAT IS IT ! 4 EASY STEPS AND YOUR DOMAIN IS REGISTERED!
Wealthy Affiliate's Site Domain
SiteDomains platform at Wealthy Affiliate will instantly allow you to uncover any domain in seconds, and you can Register and Manage them all in one place.
In Wealthy Affiliate go to WEBSITES then SITE DOMAIN: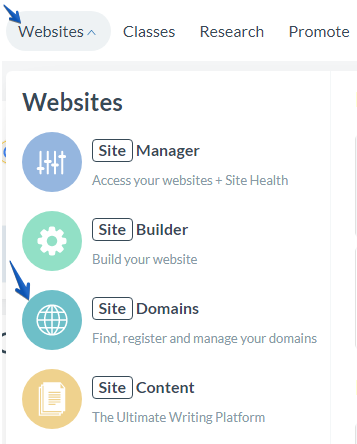 From here you can . . .
Search for Available Domains

Example:

drop-down menu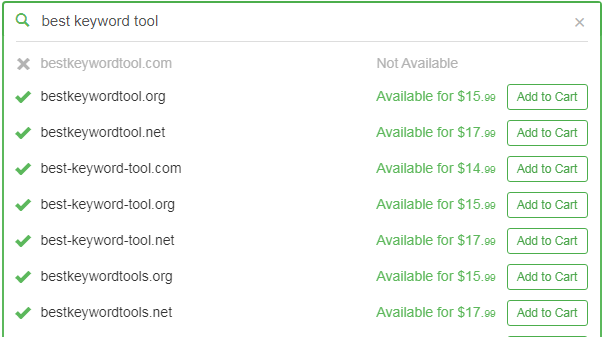 ~ Click Add to Cart
When you are done choosing the domains you want to purchase . . .
~ Click My Cart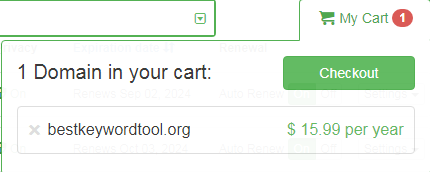 ~ Click Check out
~ then follow the same 4 Easy Step Process as outlined above.
Managing:
As mentioned earlier you can manage all your domains registered in WA in one place.
For Example,

At a glance, you can check that your
Hosting is Ready, when you have a website built it will change to LIVE
Privacy is ON
When the expiration date is
Auto-Renewal is ON ( can change to Off )
and see the Settings
drop-down menu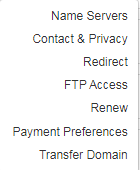 You can also easily . . .
Transfer Domains to WA ~ Transfer domains from other registrars to SiteDomains here at WA. It's easy, it's quick, and it allows you to use all of the domain features offered here at WA!
Other Domain ~ You can point domains registered outside of Wealthy Affiliate to WA Servers and host your websites. To do this update your domain's DNS to WA Servers.
One Flat Rate of $14.99 / per year and Zero Upsells;
Everything you need is included with each Domain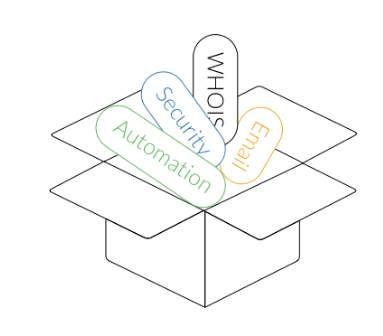 Features usually "ADD ONS" and COST EXTRA with other Domain Registers . . .
Email accounts
WHOIS protection/privacy
Domain security
Advanced DNS automation and management
~~ are INCLUDED for NO EXTRA COST with Wealthy Affiliate Premium Membership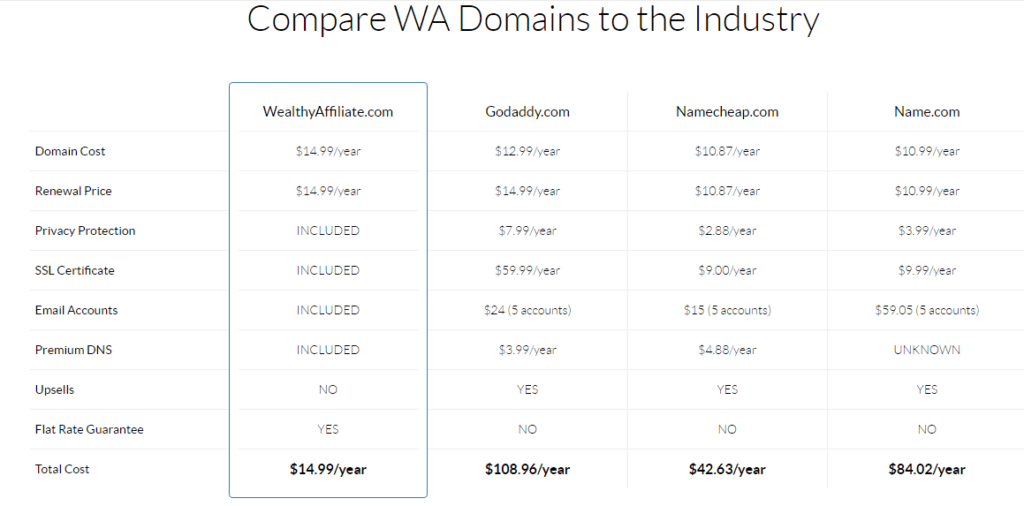 ---
Alphabet Soup
Alphabet Soup is a technique of adding a letter to your keyword ( from A-Z), and it's an amazing technique I would highly recommend learning.
Check out the 2 training videos linked below.
Keyword Ideas / Finding a Niche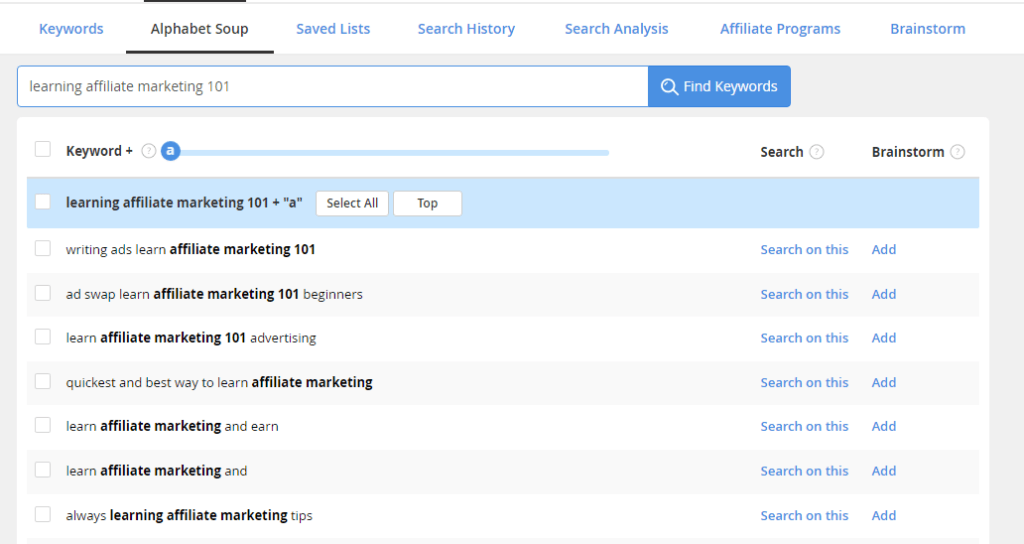 Slider Bar ~ You can use the slider bar to slide through the alphabet
Scroll Down ~ You can scroll down through the alphabet
~ Click "Search On This" ~ Takes you to keyword research
~ Click on "Add" ~ Add or Remove from your Brainstorm Keyword List
Saved Lists
Save, Store, Share, Export, and Manage your Keyword Lists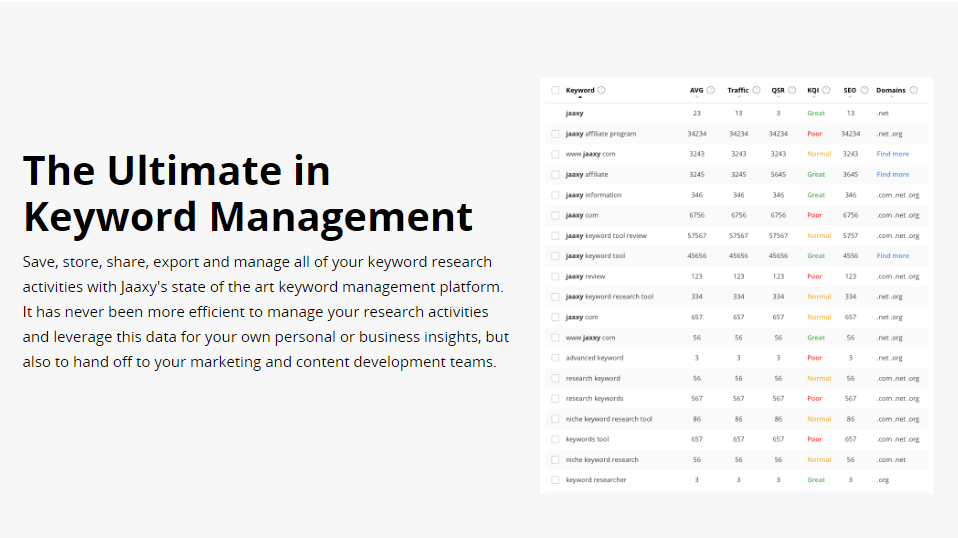 To save a keyword
check the box to the left of the keyword

~ Click Save to list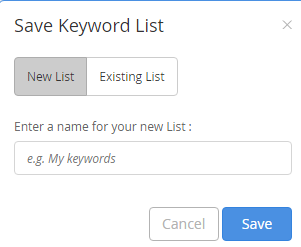 For his example, I chose a new list and named it Jaxxy keyword tool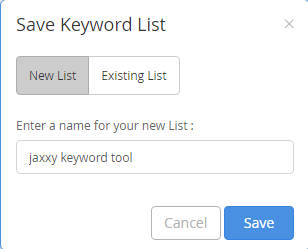 ~ Click Save
~ Click View Keywords

As you do your keyword research you can continue to save to the list . . .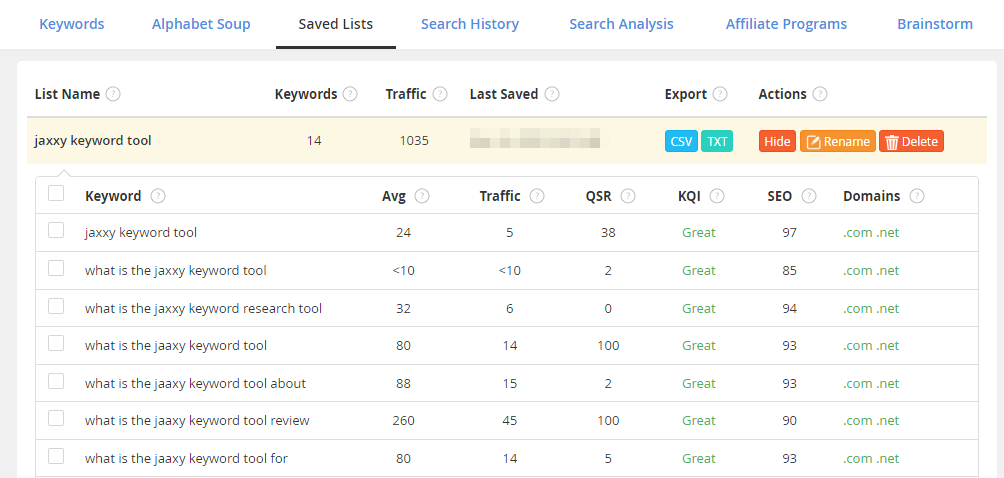 Search History

Keyword ~ The keyword that you entered into the search box and performed a search for
~ Click on the live link of the keyword to go back to the keyword search page ( for example)

Search Type~ What type of search was performed ( keyword, alphabet soup/ affiliate program/ search analysis)
Details ~ Of the search phrase/ URL/ search engine
Date~ Of when the search was performed
Search Analysis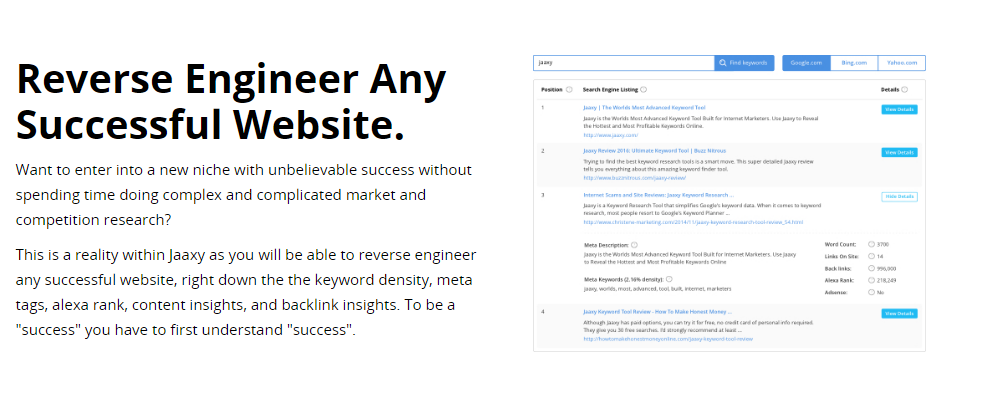 This Example is of Wealthy Affiliate's POSITION 1 / 2 in Google ~ which leads into the next sections of Reverse Engineering and Search Engine Coverage.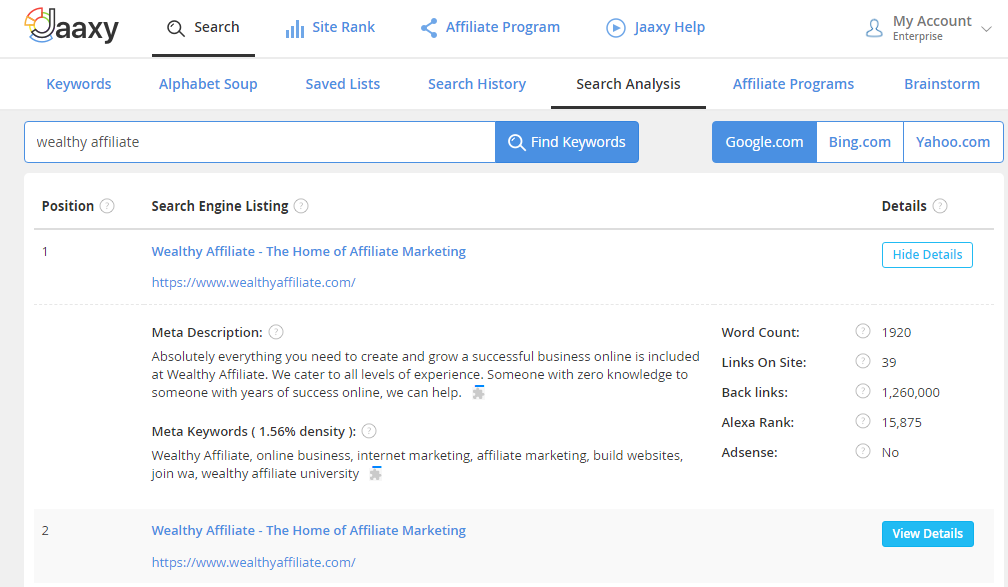 Reverse Engineer Successful Websites
See exactly what the top-ranking websites are doing that leads them to POSITION 1

Affiliate Program
Search for Affiliate Programs that are relevant to your niche, see if it is one you want to do some research on, and see if you want to apply to join.
Enter the affiliate program in the search bar, you can choose which network to search in the next box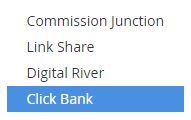 You can hover over the "?" to get these definitions:
Affiliate Program Name~ The name of the affiliate program
Product Website~ The website associated with this affiliate program
Commission ~ The commission details
Alexa Ranking ~ The Alexa.com traffic ranking for this website (lower= more traffic)
Network ~ The affiliate network that this product or service is part of
Example:
I searched for AMAZON, since a lot of people ask about it, wanting to know how to become an affiliate.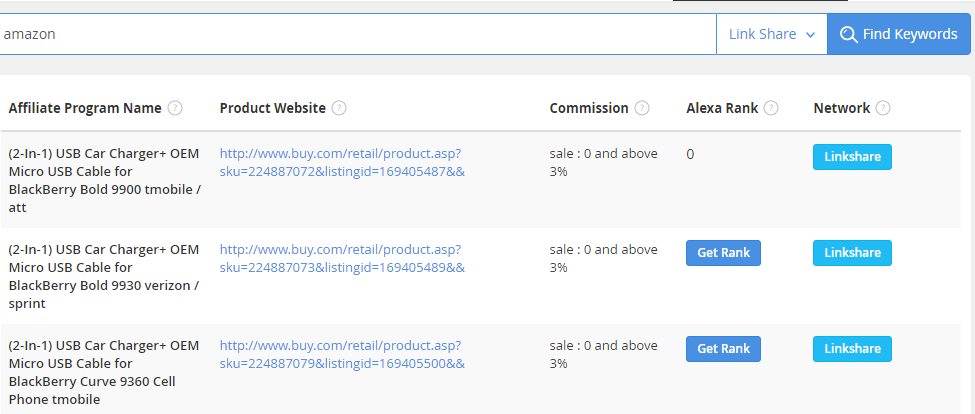 Suggestion:
Read the terms and conditions for every Affiliate Program that you are interested in, and do your research before you join
Don't jump ahead of your training and start signing up for every Affiliate Program out there
It is suggested that you don't have more than 3 Affiliate Programs on one website
Also recommended that don't depend on 1 affilaite program
Brainstorm:
Basically a Trends Analysis you can use to come up with new keywords, and niche ideas (Brainstorm).

Rank ~ The rank of how popular this keyword is in the respective feed
Google Trends
Alexa Topics
Amazon Best Sellers
Twitter Trends
When you find something you want to do a keyword search on
~ Click +
it will be added to the

When you want to do research, click the keyword and it will take you to the keyword search page where you can drill down on it.
---
Site Content: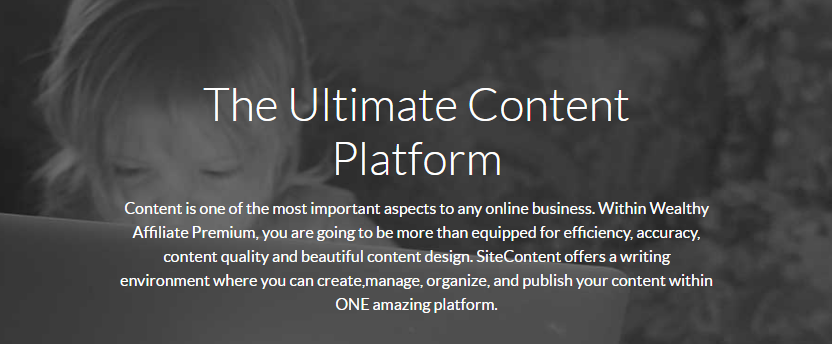 Premium /Premium Plus members have access to Site Content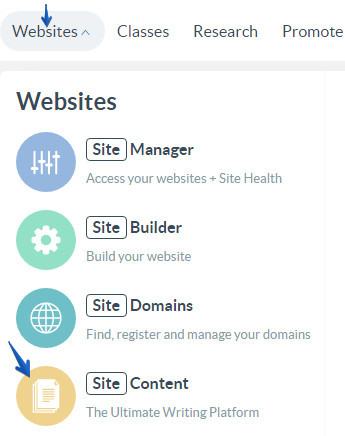 Features & Benefits
The Ultimate Writing Platform
1,000,000 Beautiful Graphics
Grammar & Spelling Perfection
Plagiarism Checker
Templates for Efficiency
---
Alphabet Soup ~ Keywords and Niches


DIGS through A-Z and gives you relevant keywords
Uncovers KEYWORDS you would miss out on in a regular search
Let's run through an example:
We'll go through the process of searching for a keyword under the "SEARCH" tab, then where to find the "Alphabet Soup" tab.
Under the main menu in Jaxxy click on . . .

Type the keyword into the search bar
For this example ~ I typed in " Learn Affiliate Marketing"

This has a good AVG at 361 but the QSR is too high at 137
Scrolling down one of the 'suggested' keywords looks better.
"Learn Affiliate Marketing 101"

AVG 544
QSR 24
The indicator is green and "Great"
SEO is 92
Let's get into the Alphabet Soup technique.
Jaxxy's main menu, and in the second row ( under the " Search" tab we used a minute ago,)
Click on the "Alphabet Soup" tab.
Type in " Learn Affiliate Marketing 101″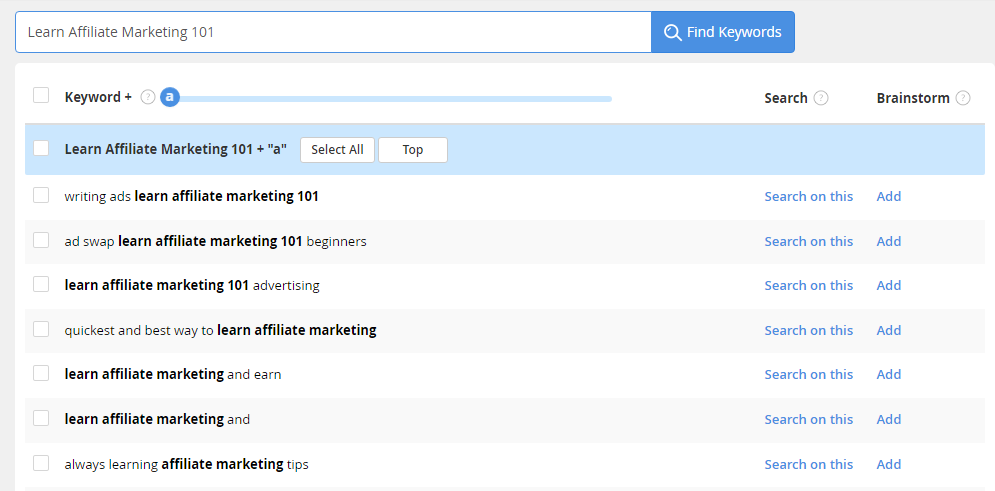 There is a lot going on in here, we are going to go through it together.
The [ ] Keyword + slide bar, Search, and Brainstorm, and the blue highlighted bar
The [ ] your keyword, 'search on this' and ' add'
*Note: when you are active in Jaxxy, there will be live links that you click on.
For this example, we are just walking through the process.
~~ [ ] Tick these to put a checkmark in the box, you can choose them individually or you can check to mark all of them.
~~ The slide bar

Use the sliding bar
Starting with "a" you can slide it to move through the alphabet
– OR-
Keep scrolling down ~ From A-Z
~~ " Search" ~ click on to perform a search on that keyword
~~ " Brainstorm" ~ click on to add or remove the keyword from your Brainstorm List
~~ "Blue Bar" ~ shows you with + " " where you are in the alphabet,
This is helpful when you are using the slide bar, or when scrolling down through the alphabet which we will get to in a minute.
You can use the "Select All" button to check all the [ ] under that section and you can use the "Top" button to go back to the top.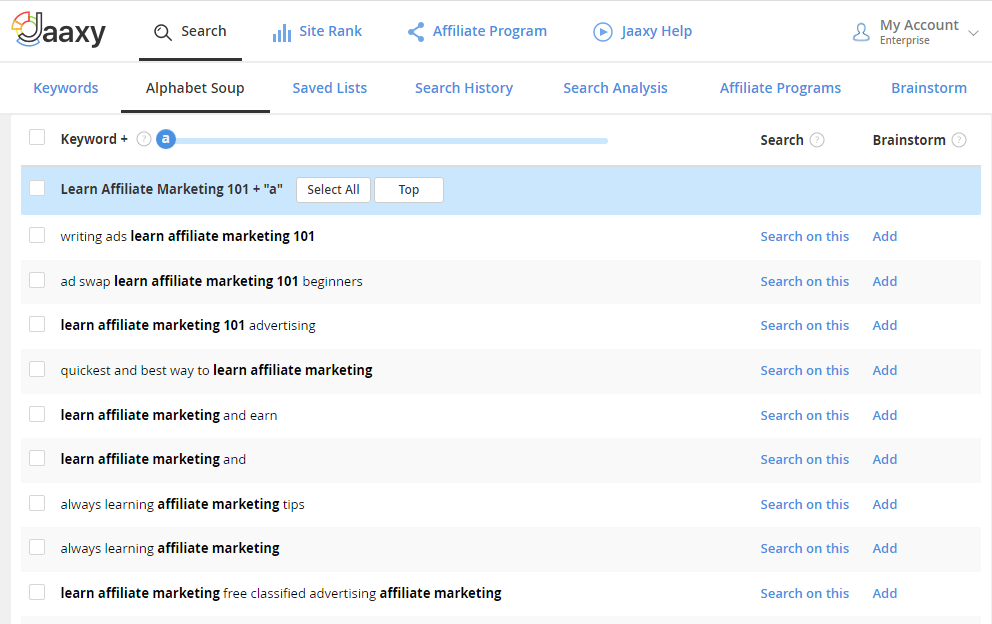 -Or-
As mentioned above you can scroll down through the alphabet
Scrolling for me seemed faster than sliding the bar. Try both and see which one works best for you.
Suggestion:
Spend some time and do the training, get familiar with the Jaxxy platform, and take the time and do your research for keywords. I found a lot of "0" QSRs by digging deep and making the effort to go find them.
Or if you are using / or want to use another keyword research tool, I'd still suggest doing the same thing.
---
Do you want to earn recurring commissions with Wealthy Affiliate and Jaxxy?
YES! Free Starter Members of WA can Earn Commissions!
Learn more here:
---
How Much Does A Keyword Research Tool Cost?
Google Search :

Just a Keyword Research Tool could cost you between $200 – $500 a month,
There are free options, but they give you limited results.
Jaxxy is Included in your Wealthy Affiliate Membership and gives you so much more . . .
You don't need to spend extra money, you have everything you need inside WA and Jaxxy.
Check out the Full comparison of the memberships at Wealthy Affiliate
Not already a Wealthy Affiliate Member?
~~ > Wealthy Affiliate Review: From The Inside
WA Memberships ~ A Breakdown
100% FREE TRIAL ( Starter), No Risk, and No Credit Card Required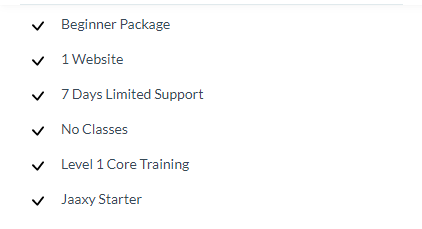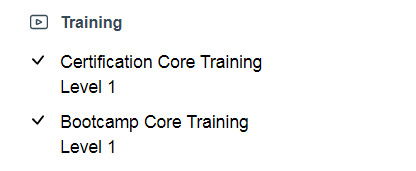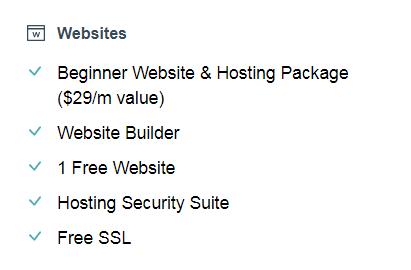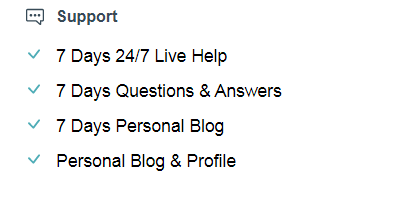 ---
Premium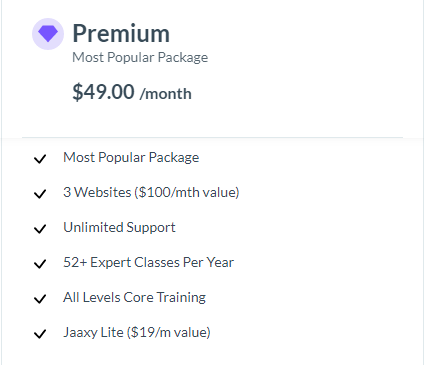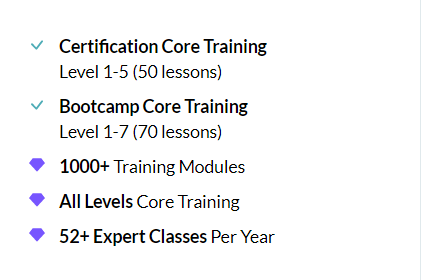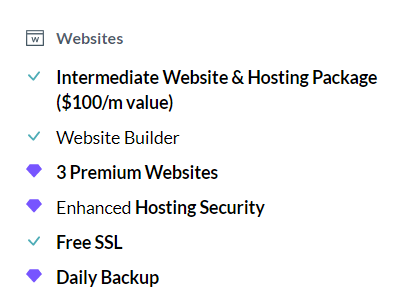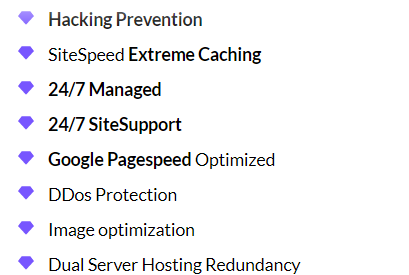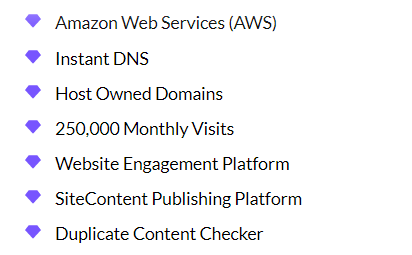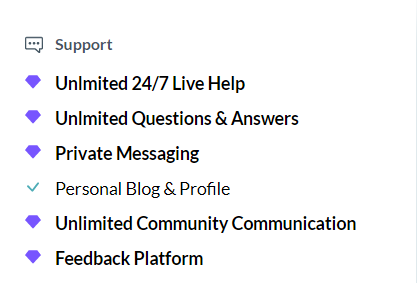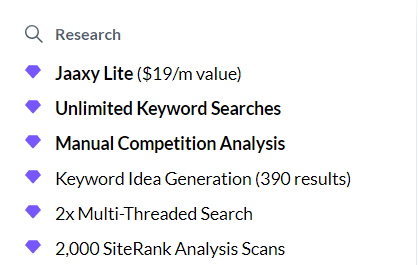 Premium Plus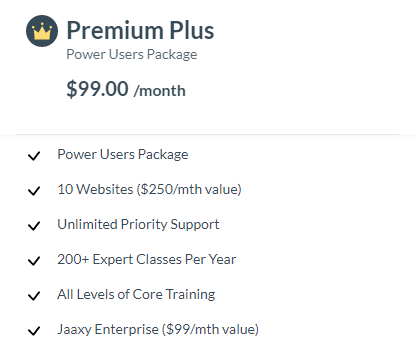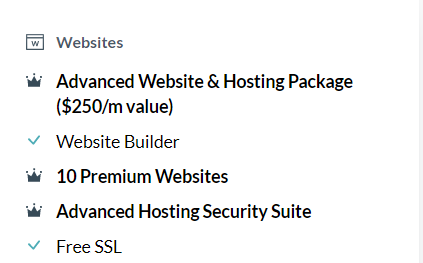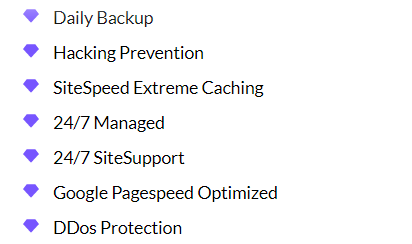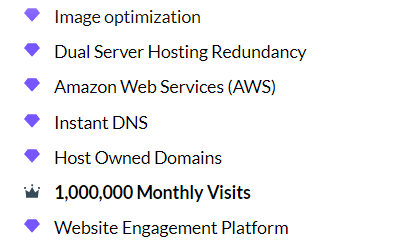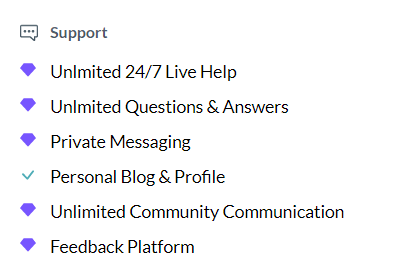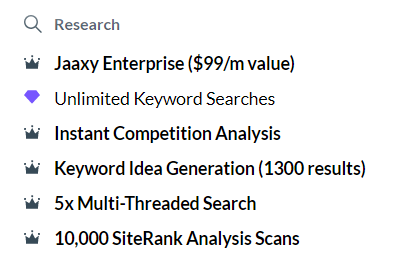 Final Thought + Special Bonus
Final Thought:
You can search for and use any keyword research tool you want ~ I know there are a ton of free tools and other platforms.
I have been using Jaxxy since 2013, and I love and recommend it. But this isn't a pitch to get you to join or upgrade. It is passing on information, and sharing what works for me, so you can make the best choice for you and your business.
+ Special Bonus!
Join the Starter it's $0 ~~ with No Risk and No Credit Card Required, and did I mention it's FREE!
Upon joining I will make sure to get in touch with you, I want to make sure you know that I am here to help you out. I want you to make me one promise if you do join… you will set up your account. It's simple and you will be walked through it upon joining WA ( Wealthy Affiliate).
Join Wealthy Affiliate $0 Membership Here!
How To Claim Your Bonus. . .
When you join your FREE Starter Account, I am going to offer you a bonus, if you do decide to become a Premium member within the first 7 days (including a 59% discount). When you create your account at Wealthy Affiliate I will personally contact you on your profile page with my "hello" and some more information about WA, how to get help from me, and how to claim your BONUSES. Trust me this is going to be some awesome stuff ( hint it includes my 9 years of experience and mentorship)
You will never know what you are missing all of these years until you step foot inside Wealthy Affiliate.
---
Marketing with Kerri is a site I created to help people navigate through all the Schemes and Scams out there and find their path to success online. I am here to help you, whether you decide to join is up to you, there is no pressure. If you don't think it's for you and want to move on, that's cool too. I want to say thank you for your time and good luck. If you have any questions, please let me know.
Until next time, Kerri.
Founder of Marketing with Kerri
Email: kerri.o@marketingwithkerri.com
Member of Wealthy Affiliate Since 2013