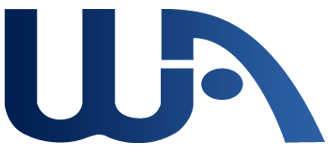 What Is The Wealthy Affiliate Program?
The Wealthy Affiliate Program is an online course about affiliate marketing. It was started in 2005 by Kyle Loudoun and Carson Lim. The program teaches people how to make money online by promoting products and getting a commission for sales through their referrals.
Main Points:
Training: The program provides lessons about the basics and more advanced parts of affiliate marketing.
Website Tools: Wealthy Affiliate gives members tools and hosting to build their websites.
Community: There's a place for members to talk, ask questions, and help each other out.
Live Training: They host live sessions where they teach more about specific topics and answer questions.
Affiliate Program: Besides teaching about affiliate marketing, Wealthy Affiliate has its own program where members can earn by referring others.
Research Tools: They offer tools like Jaaxy for members to find good keywords for their websites.
In short, Wealthy Affiliate is a learning platform for people interested in affiliate marketing.
In this guide, we'll detail the Wealthy Affiliate Program. We'll start by exploring the 'Affiliate Program' under the black circle and $ sign. We'll discuss locating your affiliate link and then dive into the Las Vegas Conference, including securing an invitation to the exclusive, all-expenses-paid event. We'll also cover ways to earn by referring others to Wealthy Affiliate and touch on the Affiliate Bootcamp. The Earnings Calculator and other program specifics will follow. After that, our focus will shift to the main menu's 'TRAINING' section, then 'CLASSES.' To wrap things up, a final thought and a special bonus will await you.
Affiliate Program: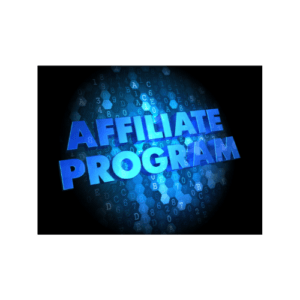 Even free starter members can earn commissions. Top performers get a trip to an annual Las Vegas conference.
Key features include:
Training Courses: Two main tracks, one for general online business and another specifically for promoting Wealthy Affiliate.
Website Tools: An all-in-one platform with domain registration, hosting, and a WordPress-based website builder.
Jaaxy Tool: Helps users find profitable niches and keywords.
Community & Support: A 24/7 active community for advice and technical assistance.
Regular Updates: The platform is always evolving with new content and weekly webinars.
Earnings Calculator: A tool to project potential affiliate earnings.
Transparent Pricing: A clear pricing structure with a free starter option and a comprehensive premium membership.
Now that we've highlighted the main features of Wealthy Affiliate, let's dig into where you can find detailed information about its affiliate program.

On the right-hand side of the main menu,
~

~> Click on the

drop-down menu. . .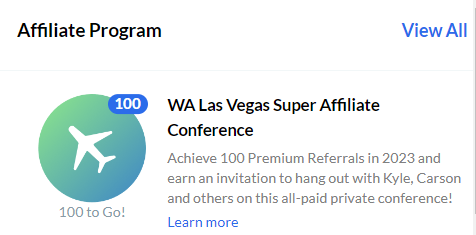 ~ Learn more Vegas UPDATE: A Dream Within Your Reach (Only 100 Sales!) Last Updated: Sep 5, 2023
Your Affiliate Link:
(All the affiliate links are examples; you will get your unique affiliate link.)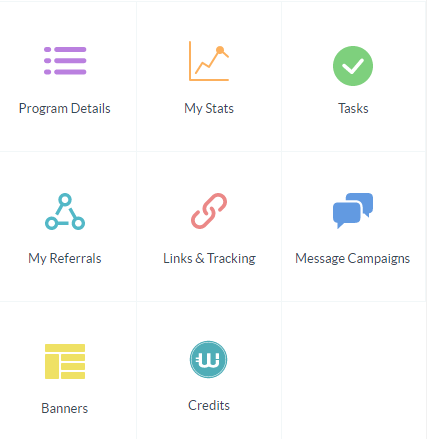 Let's take a quick look inside:

~~> Click on Program Details

~~> Click on View More Links.

~~> Back to the Program Details Tab.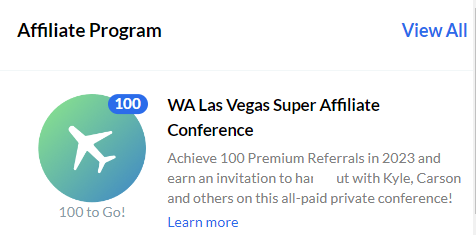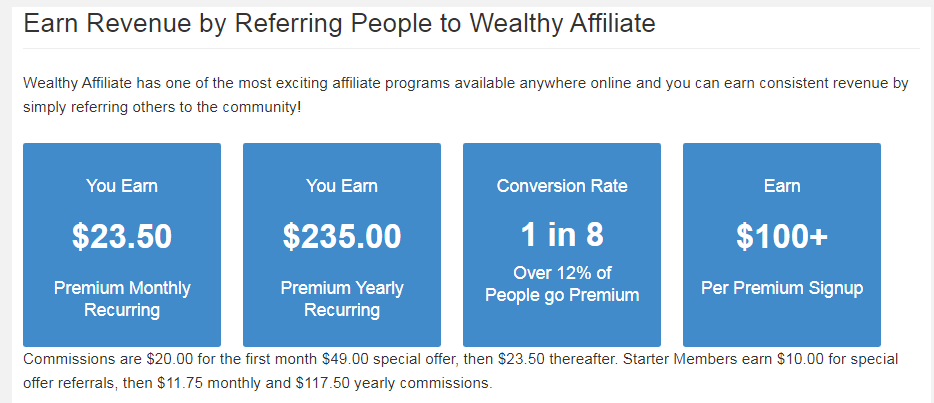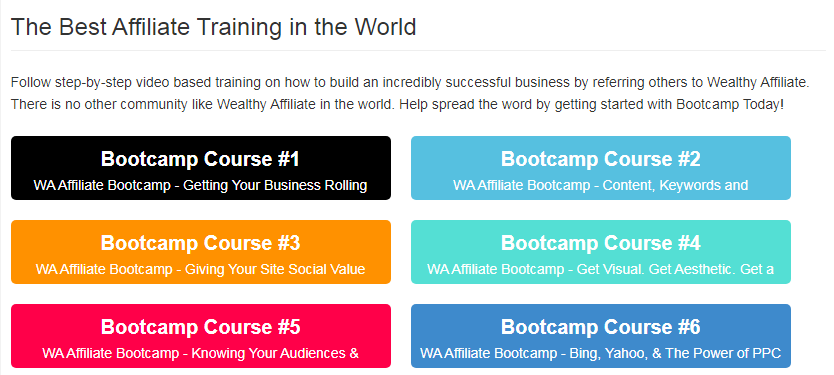 ~~> Click on Tasks.
You can set up tasks for yourself and manage to help your referrals.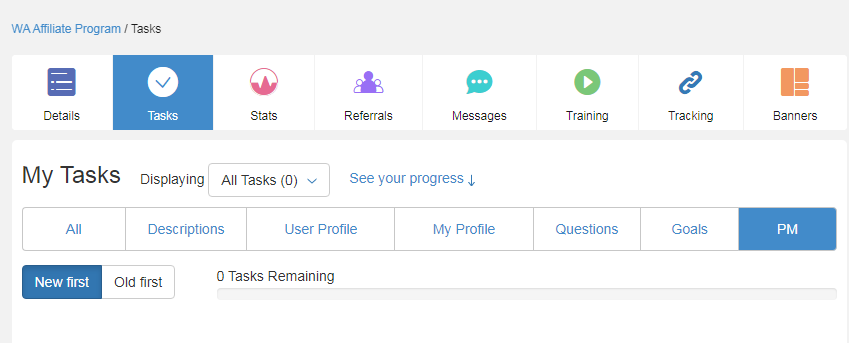 ~~> Click on My Stats.

My Revenue: Shows Commissions and Payout History
Entrance Point / Campaign name; Tracking ID; Referrals / Sales for Today, This Month, All Time; Account Setup.
Payment Settings: This is where you set up how you receive payments. Pay is on the 1st of every month.

~~> Click on My Referrals.


~~> Click on My Messages.

Custom message campaigns allow you to connect with your referred members at the most personal level through automated messages on their profile or private inbox. You may create one-to-many message campaigns for specific audiences and fine-tune the experience that your referrals have in terms of messaging from you.

~~> Click on Training.
This tab opens right up into WA Affiliate Bootcamp.

~ Free Starter Members get PHASE 1 of the Affiliate Bootcamp training free!
Course Home Page ~~ > Phase 1 – Getting Your Business Rolling
~ Free Starters, also get LEVEL 1 of Online Entrepreneur Certification Training for free!


~Click on Tracking.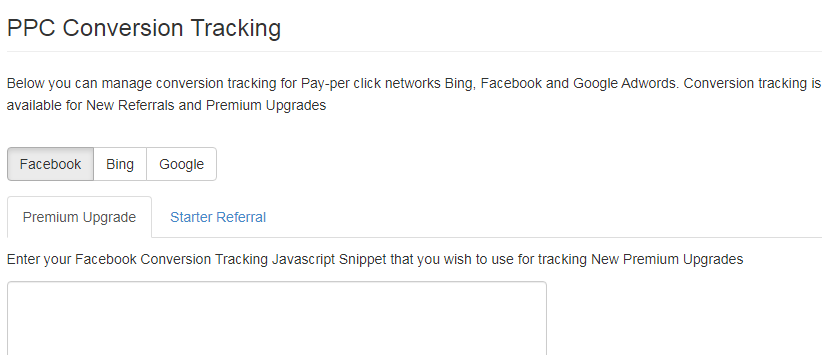 ~Click on Banners.
WA Wealthy Affialter: 23 Banners
Black Friday: Annual (November)
You can choose to add the banners with ...
Direct link

HTML code

Direct Download

~Click on Credits.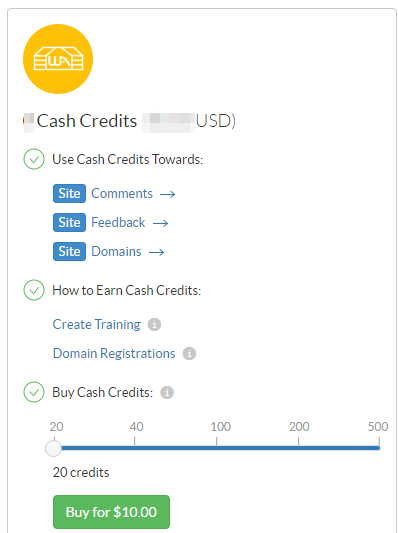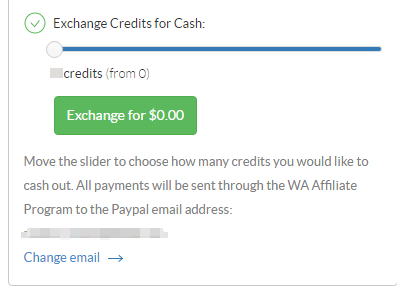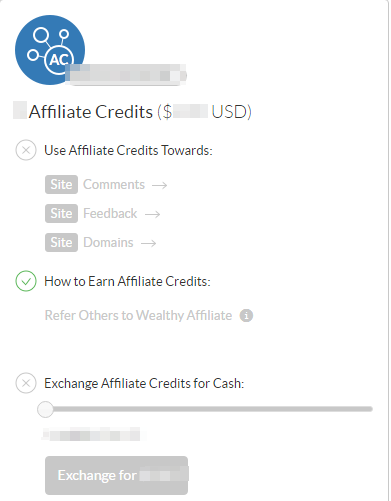 Note: Don't worry if you don't know how to use the Affiliate Links, the Banners, or anything else I have covered. Wealthy Affiliate provides all the Training, Tools, and Support you need to succeed.
Wealthy Affiliate
Everything you need to create and grow a successful business online is included at Wealthy Affiliate. We cater to all levels of experience.
Training:

The two core pieces of training are Online Entrepreneur Certification and Affiliate Bootcamp.
Online Entrepreneur Certification: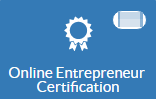 *NOTE: As a FREE STARTER MEMBER – you get LEVEL 1 "Getting Started" as part of your training.
There are 5 Levels in the Online Entrepreneur Certification: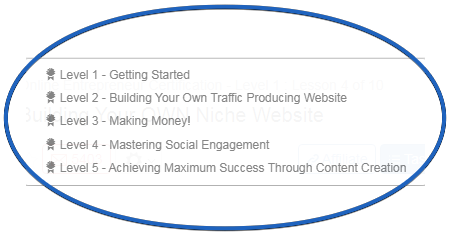 Affiliate Bootcamp: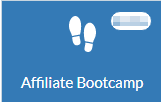 *Phase 1 – Getting Your Business Rolling is FREE with your Starter Membership!
There are 7 Phases in Affiliate Bootcamp.

Classes: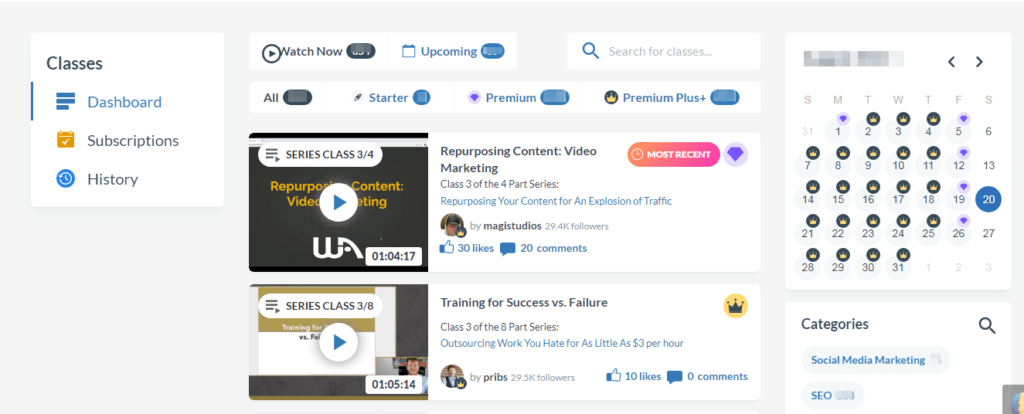 Filter ( search by)
Watch Now
Upcoming
Search Bar
ALL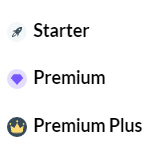 Calendar:
You can look back and ahead for upcoming classes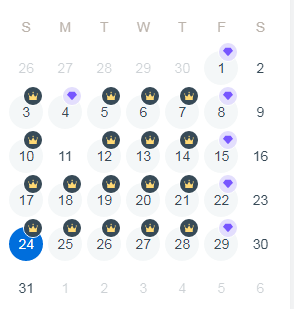 A SMALL EXAMPLE OF THE CATEGORIES AVAILABLE: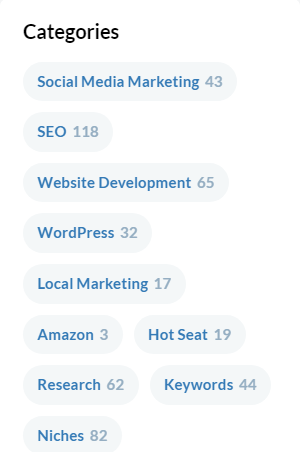 Check Back Often Classes ADDED All The Time !!
---
Wealthy Affiliate Starter Package
Free 7-Day Test Drive allows you to explore essential training, tools, and support.
Let's dig into what this package has to offer.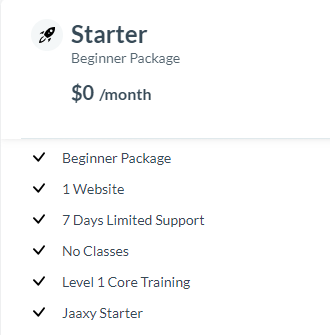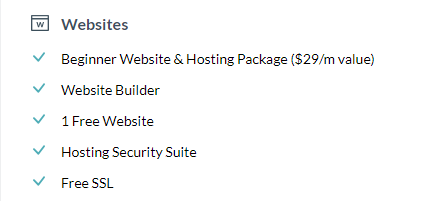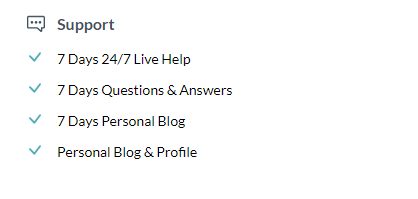 Wealthy Affiliate Membership Tiers Overview:
Premium – Most Popular Package:
Cost: $49.00/month or $497.00/year
Training: Comprehensive training up to Level 5 Certification and Level 7 Bootcamp, plus 52+ Expert Classes Per Year
Websites: 3 Premium Websites with Enhanced Hosting Security
Support: Unlimited 24/7 Live Help and Private Messaging
Research Tools: Jaaxy Lite with Unlimited Keyword Searches
Premium Plus – Power Users Package:
Cost: $99.00/month or $697.00/year
Training: All levels of Core Training and 200+ Expert Classes Per Year
Websites: 10 Premium Websites with Advanced Hosting Security Suite
Support: Priority Expert Private Help and Unlimited Community Communication
Research Tools: Jaaxy Enterprise with Instant Competition Analysis
Premium Plus+ with Dedicated Server:
Cost: $332.50/month, billed annually at $3990 (save $798/year)
Training: Daily Expert Classes
Websites: 50 websites on a Dedicated Server (valued at $399/mo)
Migration: Includes Customized Site Migration
Features: All Premium Plus+ Features are included
This is the ultimate package for those who need top-tier resources and support. With a dedicated server and daily expert classes, it's designed for serious affiliate marketers.
That's a quick rundown. Each tier offers more features and benefits as you go up.
Check out our comprehensive chart below for a detailed comparison of what each membership tier offers.
[🔗 Upgrade Detailed Comparison]
[🔗 Level Up Your Business Detailed Comparison]
Related Articles
While you're diving into the specifics of the Wealthy Affiliate Program, you might also be interested in exploring other facets of this platform. Are you curious about how Wealthy Affiliate integrates learning with earning? Our article Discover the Secret to Earn as You Learn with Wealthy Affiliate sheds light on this unique approach. If you're keen on expanding your revenue streams, consider checking out how referrals to Jaaxy can be profitable. Dive into Earn Revenue by Referring People to Jaaxy for insights.
Both articles offer a deeper understanding of the opportunities presented by Wealthy Affiliate and its associated tools.
---
Final Thought + Special Bonus
Final Thought:
Program Detail has a lot in it; some of it won't make sense until you start clicking through it and relating it to the training and building of your online business.
Suggestion: Take the time to click around and familiarize yourself with where to find all the TRAINING, TOOLS, RESOURCES, and SUPPORT you have available to you in Wealthy Affiliate.
+ Special Bonus!
Join the Starter; it's $0 ~~ with No Risk and No Credit Card Required, and did I mention it's FREE!
Upon joining, I will get in touch with you, and I want to make sure you know that I am here to help you. I want you to make me one promise: if you do join… you will set up your account. It's simple, and you will be walked through it upon joining WA ( Wealthy Affiliate).
Join Wealthy Affiliate $0 Membership Here!
How To Claim Your Bonus. . .
When you join your FREE Starter Account, I am going to offer you a bonus if you do decide to become a Premium member within the first 7 days (including a 59% discount). When you create your account at Wealthy Affiliate, I will personally contact you on your profile page with my "hello" and some more information about WA, how to get help from me, and how to claim your BONUSES. Trust me; this is going to be some awesome stuff ( hint it includes my over 10 years of experience and mentorship).
You will never know what you have missed all of these years until you step foot inside Wealthy Affiliate.
Until next time, Kerri.
Marketing with Kerri is a site I created to help people navigate through all the Schemes and Scams out there and find their path to success online. I am here to help you; whether you decide to join is up to you. There is no pressure. If you don't think it's for you and want to move on, that's cool too. I want to say thank you for your time and good luck. If you have any questions, please let me know.
Until next time, Kerri
Founder of Marketing with Kerri
Email: kerri.o@marketingwithkerri.com
Member of Wealthy Affiliate
Member of Jaaxy
Free Website Builder SiteRubix