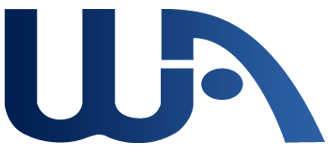 Wealthy Affiliate Program Details has a lot of information, we'll start with the main menu under the black circle and $ sign to look at the "Affiliate Program," next how to find your affiliate link; then, the Las Vegas Conference, and how you can get your invitation to the ALL-PAID private conference; next, how you can earn revenue by referring people to Wealthy Affiliate, then Affilaite Bootcamp, next the Earnings Calculator, then other program details, next we are going to go back to the main menu and take a look under the TRAINING, and finally CLASSES, and lastly, Final Thought + Special Bonus for you.
Affiliate Program:
On the right-hand side of the main menu,
~~> Click on the


drop-down menu. . .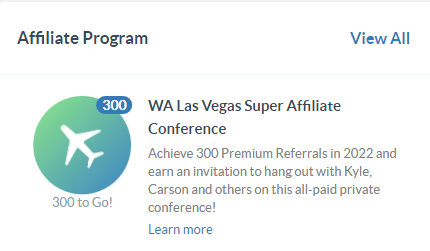 Your Affiliate Link
(All the affilaite links are examples, you will get your unique affiliate link)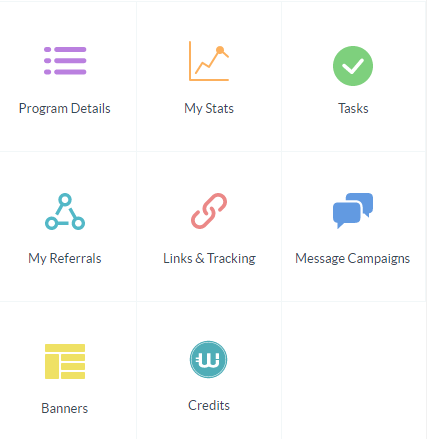 ---
Let's take a quick look.
~~> Click on Program Details


~~> Click on "View More Links."

~~ Back to the Program Details Tab:

Earn Revenue by Referring People to Wealthy Affiliate.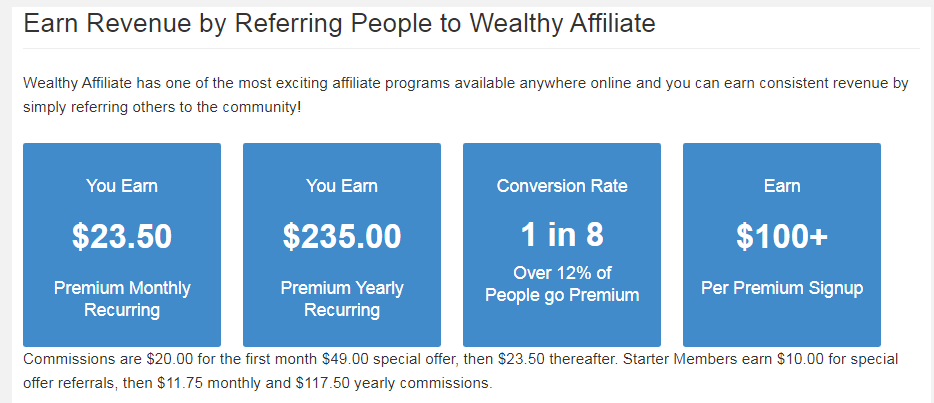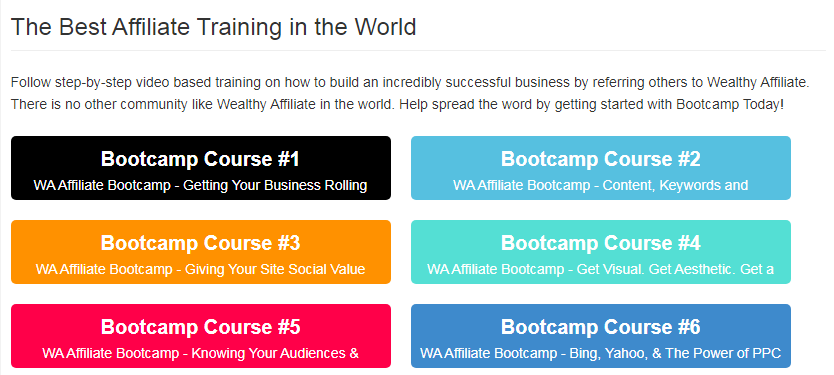 Earning Calculator: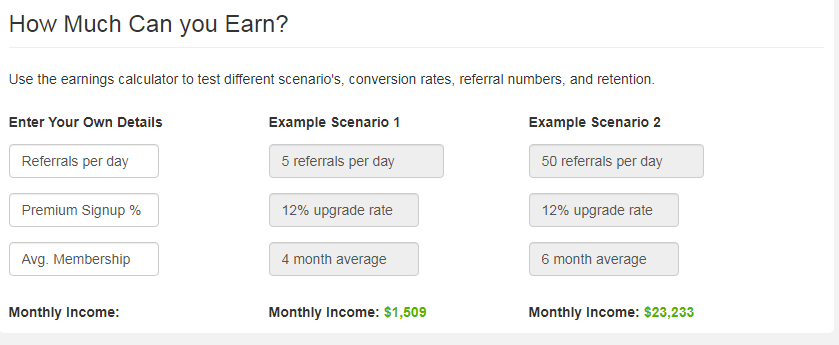 Example ONLY: I left the details as default ( referrals per day, premium sign-up %, and avg membership), then I just used 5 as an example of how many referrals a day, and in the second one, I used 50 referrals a day.
You can use the Earn Calculator under the Program Details and put in your numbers to test different scenarios.
~~> Click on Tasks

You can set up tasks for yourself and manage to help your referrals.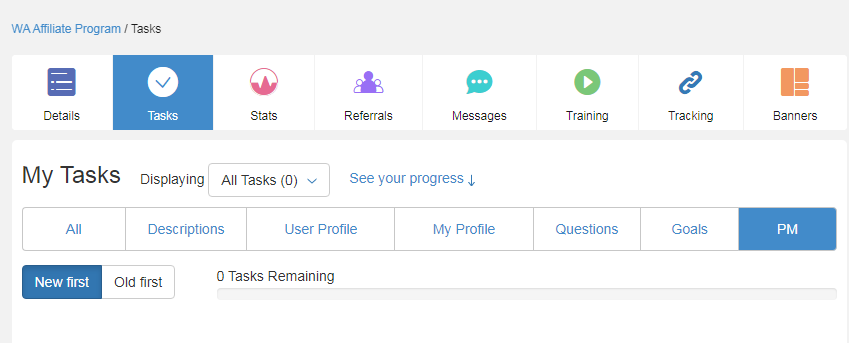 ~~> Click on My Stats



My Revenue: Shows Commissions and Payout History
Entrance Point / Campaign name; Tracking ID; Referrals / Sales for Today, This Month, All Time; Account Setup.
Payment Settings: This is where you set up how you receive payments. Pay is on the 1st of every month
~~> Click on My Referrals


~~> Click on My Messages


Custom message campaigns allow you to connect with your referred members at the most personal level through automated messages on their profile or private inbox. You may create one to many message campaigns for specific audiences and fine-tune the experience that your referrals have in terms of messaging from you.
~~> Click on Training

This tab opens right up into WA Affilaite Bootcamp.

Free Starter Members get PHASE 1 of the Affiliate Bootcamp training free !
Course Home Page ~~ > Phase 1 – Getting Your Business Rolling
Free Starters ALSO get LEVEL 1 of Online Entrepeneur Certification training Free !
Course Home Page ~~> Level 1 Getting Started

~Click on Tracking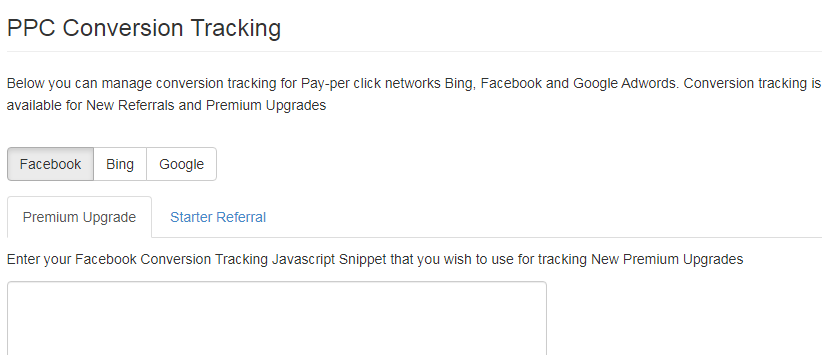 ~Click on Banners

Banners:
WA Wealthy Affialter: 23 Banners
For Example:

Jaxxy: 1 Banner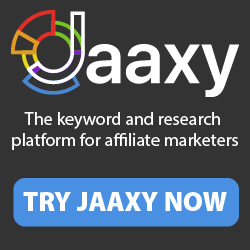 Black Friday: Annual (November)
You can choose to add the banners with ...
Direct link

HTML code

Direct Download
~Click on Credits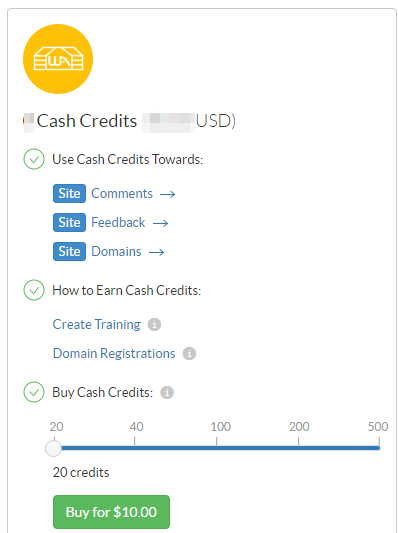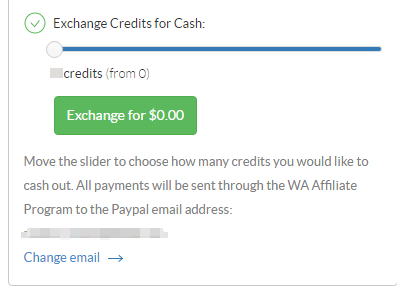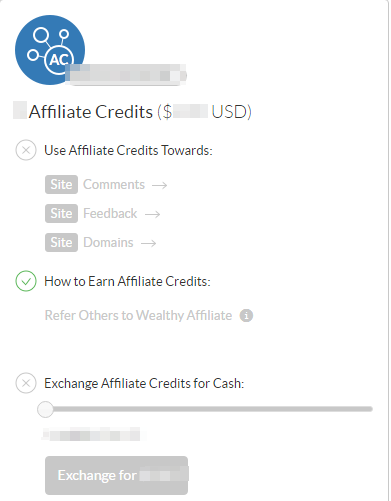 ---
Note: Don't worry if you don't know how to use the Affiliate Links, the Banners, or anything else I have covered. Wealthy Affilaite provides all the Training, Tools, and Support you need to succeed.
~~> Click here How Much Does Wealthy Affiliate Cost?
See a comparison chart of the memberships and everything that is included in them.
Wealthy Affiliate
Everything you need to create and grow a successful business online is included at Wealthy Affiliate. We cater to all levels of experience.
Training:

The two core pieces of training are Online Entrepreneur Certification and Affilaite Bootcamp.
Online Entrepreneur Certification: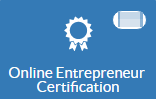 *NOTE: As a FREE STARTER MEMBER – you get LEVEL 1 "Getting Started" as part of your training.
There are 5 Levels in the Online Entrepreneur Certification: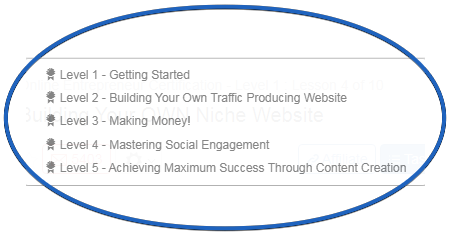 Affiliate Bootcamp: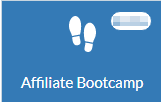 *Phase 1 – Getting Your Business Rolling is FREE with your Starter Membership!
There are 7 Phases in Affiliate Bootcamp.

This is not a sales pitch to upgrade, just an overview of what is inside the 2 core pieces of training.
Classes: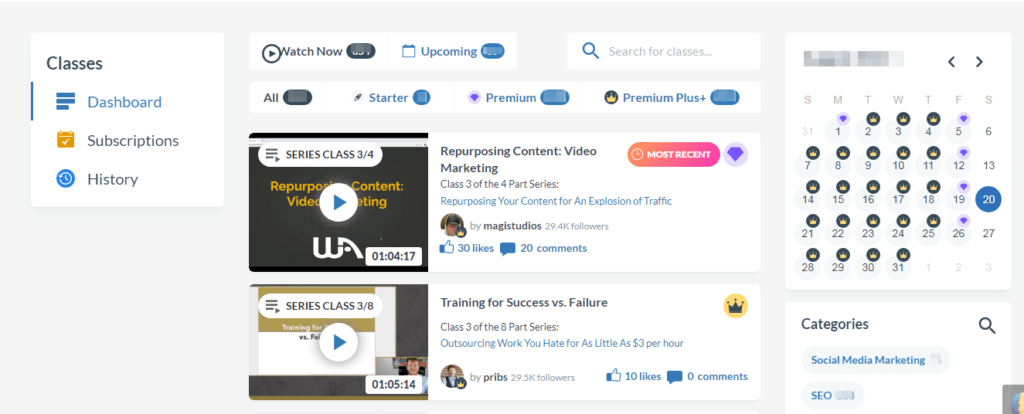 Filter ( search by)
Watch Now
Upcoming
Search Bar
ALL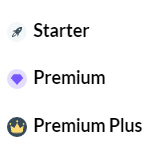 Calandar:
You can look back and ahead for upcoming classes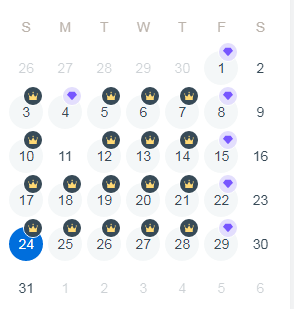 A SMALL EXAMPLE OF THE CATEGORES AVAILABLE: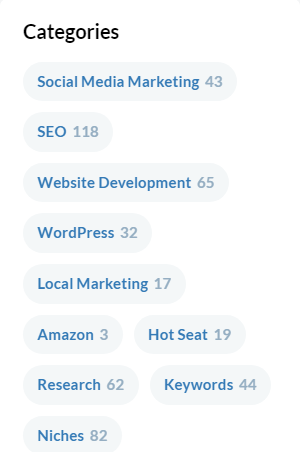 Check Back Often Classes ADDED All The Time !!
---
Wealthy Affiliate has 3 memberships:
Free Starter
Premium
Premium Plus
Click here ~~> How Much Does Wealthy Affiliate Cost?
---
Final Thought + Special Bonus
Final Thought:
Program Detail has a lot in it; some of it won't make sense until you start clicking through it and relating it to the training and building of your online business.  
Suggestion: Take the time to click around and familiarize yourself with where to find all the TRAINING, TOOLS, RESOURCES, and SUPPORT you have available to you in Wealthy Affiliate.
+ Special Bonus!
Join the Starter; it's $0 ~~ with No Risk and No Credit Card Required, and did I mention it's FREE!
Upon joining, I will make sure to get in touch with you, and I want to make sure you know that I am here to help you out. I want you to make me one promise if you do join… that you will set up your account. It's simple, and you will be walked through it upon joining WA ( Wealthy Affiliate).
Join Wealthy Affiliate $0 Membership Here!
How To Claim Your Bonus. . .
When you join your FREE Starter Account, I am going to offer you a bonus if you do decide to become a Premium member within the first 7 days (including a 59% discount). When you create your account at Wealthy Affiliate, I will personally contact you on your profile page with my "hello" and some more information about WA, how to get help from me, and how to claim your BONUSES. Trust me; this is going to be some awesome stuff ( hint it includes my 9 years of experience and mentorship).
You will never know what you are missing all of these years until you step foot inside Wealthy Affiliate.
---
Marketing with Kerri is a site I created to help people navigate through all the Schemes and Scams out there and find their path to success online. I am here to help you; whether you decide to join is up to you; there is no pressure. If you don't think it's for you and want to move on, that's cool too. I want to say thank you for your time and good luck. If you have any questions, please let me know.
Until next time, Kerri.
Email: kerri.o@marketingwithkerri.com
Founder of Marketing with Kerri
Member of Wealthy Affiliate Since 2013