Keyword & research platform developed FOR affiliate marketers BY affiliate marketers.
Uncover Keywords, Niches, Competition, SiteRank, Domains . . .
First, we'll go over How Do You Get To Jaxxy; then, some training: next; main menus; then SiteContent: The Ultimate Writing Platform; next Alphabet Soup; then, how you can earn recurring commissions with Wealthy Affiliate and Jaxxy ( as a FREE Starter Member); next How Much Does A Keyword Research Tool Cost?; and lastly Final Thought and + Special Bonus for you.
There is a lot to cover, so let's get right into it.
How do you get to Jaxxy?
Jaxxy is INSIDE Wealthy Affiliate
If you are not already a member you can take a look inside
~~> TRY it for FREE with No Risk and No Credit Card Required!
In the Wealthy Affiliate (WA) top menu ~ to the far right,
~~> Click on the Cards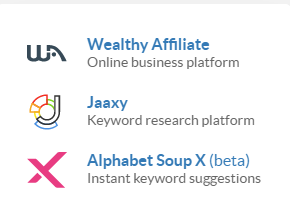 ~~> Click on Jaxxy

Premium Plus Yearly members can also check out Alphabet Soup X (Beta) from the cards.

Another way to get to Jaxxy . . .
~~> Click on the RESEARCH tab in the main menu.

We'll be going through some training, but I always find the best way is to click around the site and take the time to familiarize yourself with the platform.
Jaxxy Training :


You have access to 3 Bonuses and 4 Training Videos.
THREE BONUSES!



FOUR TRAINING VIDEOS!
"Jaaxy Keyword Research & Management"
"Jaaxy Website Research and Analysis"
"Niche Research Refinement"
"The Affiliate Program Walkthrough"
~~ You can download the Bonuses and watch the Videos using the live link when you are inside Jaxxy!
---
With Jaxxy inside ~ you have access to all of the training, tools, and support of Wealthy Affiliate.
Core Training:
To get to the training in Wealthy Affiliate
~~> Click on the TRAINING tab in the main menu.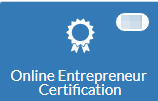 Online Entrepreneur Certification has 5 Levels.
Free Starters have access to Level 1
Lesson 9: Introduces Jaxxy:
~~> Understanding Keywords, The Start of Your Content
Premium Members have access to Levels 2-5.
There are more lessons throughout the rest of the Levels that cover Jaxxy.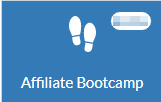 Affiliate Bootcamp has 7 Phases:
Free Starters have access to Phase 1
Lesson 9: Introduces Jaxxy:
~~> Understanding the Importance of Keywords in Your Business
Premium Members have access to Phases 2-7
There are more lessons throughout the rest of the Phases that cover Jaxxy.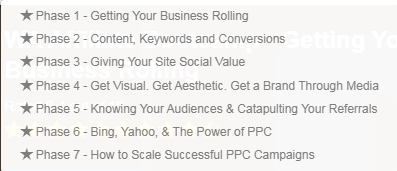 "Search Bar"

You can also use the Search Bar in the top menu at Wealthy Affiliate to find additional training on Jaxxy and anything else you need help with. A great resource to remember, if you want to learn more, check out . . .
~~ > "Finding Your Way Around Wealthy Affiliate."
CLASSES:
~~> Click on the CLASSES tab in the main menu

Classes Dashboard:
Note: NEW TRAINING is being added all the time
You can sort: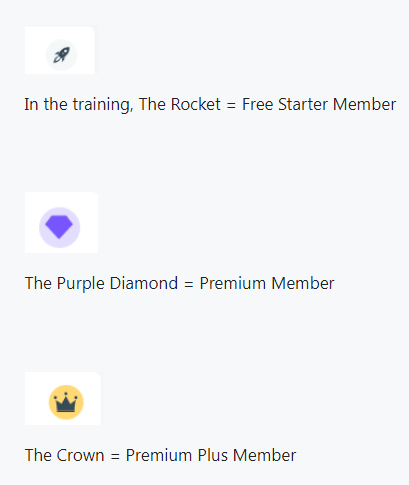 On the right side is a Calander where you can click and find upcoming training
(using the > ), or you can go back (using the <) to watch recorded training.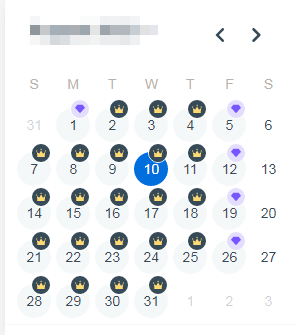 Under the Calander on the right side is Categories Search: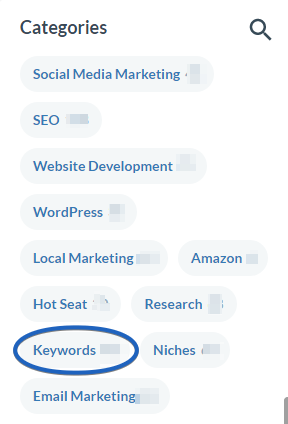 For this example, we will use the CATEGORY and KEYWORDS to find more training on Jaxxy.
The Keyword Research Process:
4 Part Series
By Jay ~ WA username Magistudio ( WA Live Training Coach)
1. The Basics of Technical Keyword Research
2. ~~ > "Breaking Down Keyword Research ~ Jaxxy Style"
3. Getting Use Our Of Alphabet Soup Keywords
4. Finding Keyword Ideas from Authority Sites
---
I recommend…
Magistudio (Jay) ~ Premium Classes
Eric Cantu ~ Premium Plus Classes
There are classes for Starters as well, that I would recommend checking out.
There are a lot of expert teachers in WA; I'd recommend taking advantage of their knowledge and experience.
More training is added all the time; I would suggest after you go through the core training, then expand your learning and look into Classes. Keep learning and growing.
Jaxxy Main Menus:
The Main Menu in Jaxxy .com

Keywords

Billions of Keywords at your Fingertips
Over 8.7m New Keywords Revealed Monthly
10.8 minutes Average Time Saved Per Search
99.7% Search Engine Coverage
The Ultimate in Keyword Management
. . .
Niches

Alphabet Soup Platform
Reveal 291 Relevant Results Average Per Search

Uncover Lucrative Affiliate Programs
. . .
Competition

Analyze your SEO Competition
Reverse Engineer Any Successful Website
Different Search Engines. Different Rankings
. . .
Site Rank

SiteRank for SEO
Scan Ranking For Any Keyword
1.8 Seconds Search Google/Yahoo/Bing
. . .
Domains

Find Available Domains in an Instant
Save Domain Lists
Uncover Local Marketing Domains
Instant Domain Purchases
. . .
Inside Jaxxy Main Menu:


I took snippets of the main menu in Jaxxy.com and put them with the Inside Jaxxy Menu so you can see them together, avoiding any confusion.
Keywords: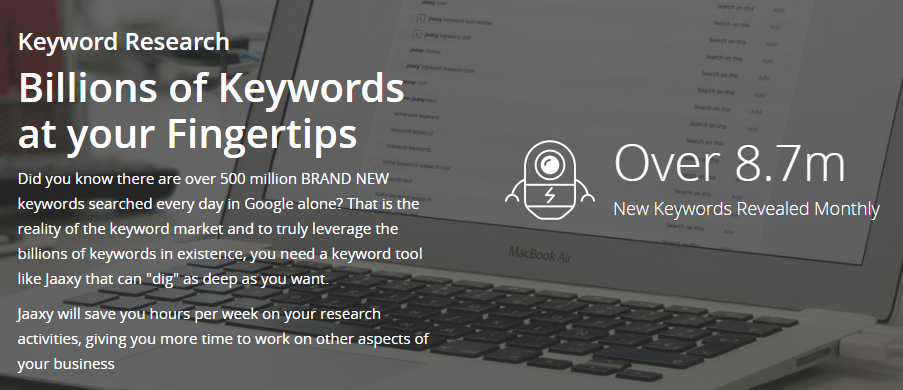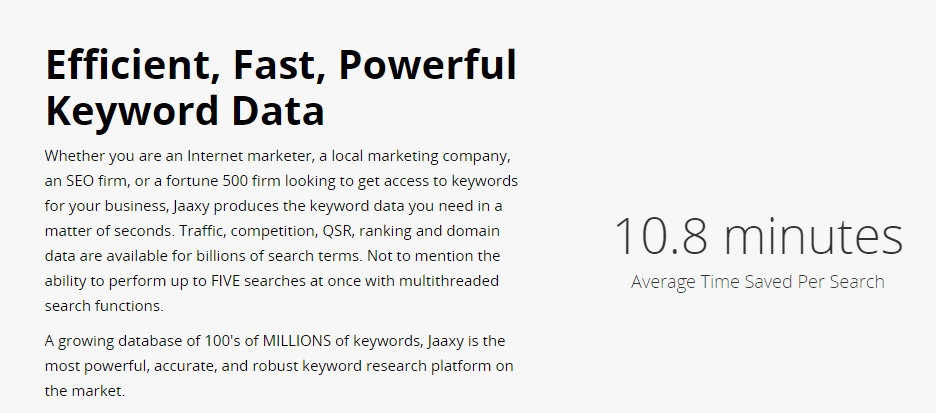 Jaxxy main menu,
~~> Click on the KEYWORDS tab
Note: We will be referring back to this tab throughout the post
We'll go through Keywords first, then get into Alphabet Soup, Saved Lists, Search History, Search Analysis, Affiliate programs ( search for programs that are relevant to our niche that you could join), and Brainstorm.
Suggestion:
Search for Keywords that are
Type your keyword into the search box . . .
Example:
I typed in the search bar LEARN AFFILIATE MARKETING 101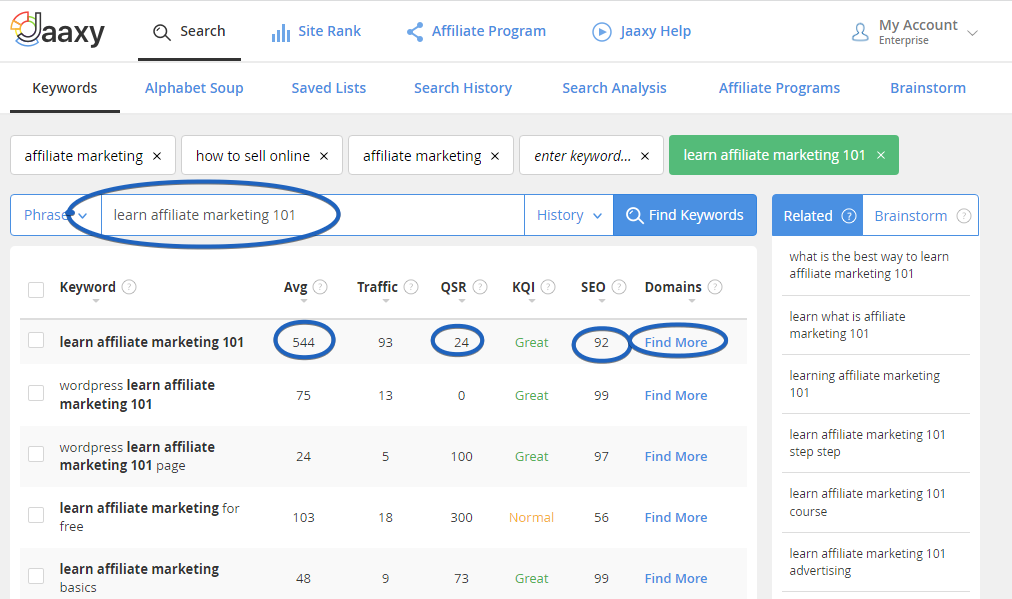 This is a good keyword . . .
AVG= 544
QSR= 24
SEO = 92
Domains
~~ > click on "Find More" for available Domains to buy.
We will cover more on this in a minute.

Keyword search results are displayed under this "bar."

Quick Guide:
This is all covered in training, but here is a quick look at what the results mean and a suggestion of what you should be looking for during your search:
Keyword = A phrase that users type into a search engine to find what they are looking for
AVG = Average number of searchers that the keyword receives per month
TRAFFIC = Visits to your website if you receive first page rankings in the Search Engines
QSR = "Quoted Search Results" = the number of competing websites ranked on google for this exact keyword
KQI= "Keyword Quality Indicator" Green is great / Yellow is okay / Red is Poor
SEO= Search Engine Optimization score based on traffic and competition; the higher the score, the more likely you will rank for this keyword on the first page
DOMAINS = Availability of domains related to the keyword
---
Find keywords that follow these rules:
QSR = under 100 ( closer to "0" the better)
AVG = more than 30
SEO = closer to 100 the better
Domains = ~~> click on "Find More" to find and buy domains
We will go over more about domains in a minute.

Related Button = Keywords that are related to your targeted keyword
Brainstorm button = A list of keywords to help you brainstorm
Suggestion:
Don't ignore the "related' and 'brainstorm' keywords.
I have found better keywords, with "0" QSR keywords in the Related and Brainstorm, than I got with what I entered into the search bar. Take the time when you are doing your research to dig as deep as you can and make the effort to find the best keywords. Taking the time now will pay off later.
Back to the domains available for "Learn Affiliate Marketing 101 "

Save Domain Lists, '
Buy Up Domain Assets
Instant Domain Purchases

~~> Click on "Find More", and a drop-down window will show you the domain and the status.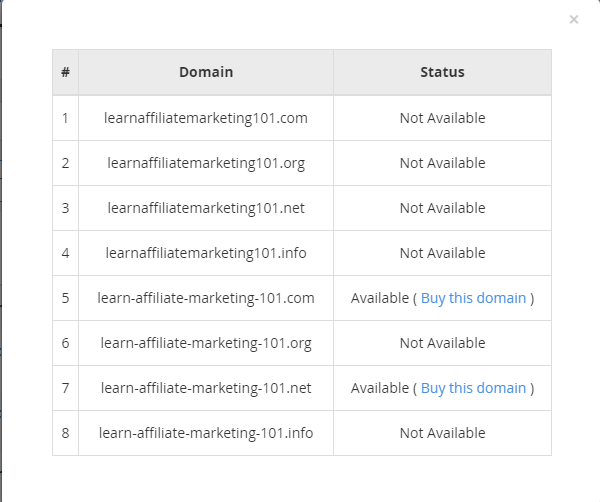 ~~> Click on Available (Buy this domain)
Example:


Suggestion: If you can, buy all the domains related to that keyword that follow the criteria.
This is covered in Online Entrepreneur Certification Level 1: Lesson 4 Building Your OWN Niche Website
Kyle covers this in the lessons as well, it's a good way to build a portfolio and you have locked in the domain name that is relevant to your niche.
Saved List :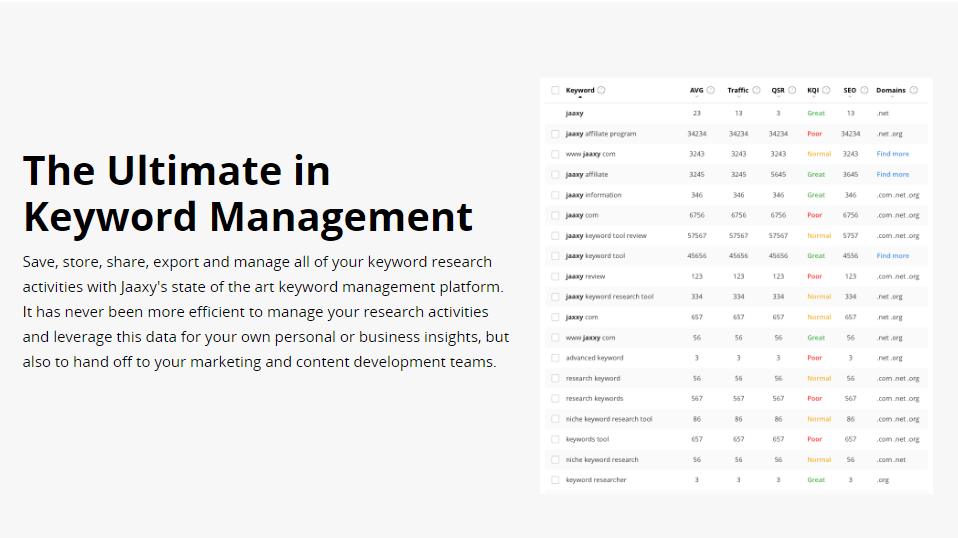 Example :
A keyword list, using the method taught in ~~ Breaking Down Keywords Research – Jaxxy Style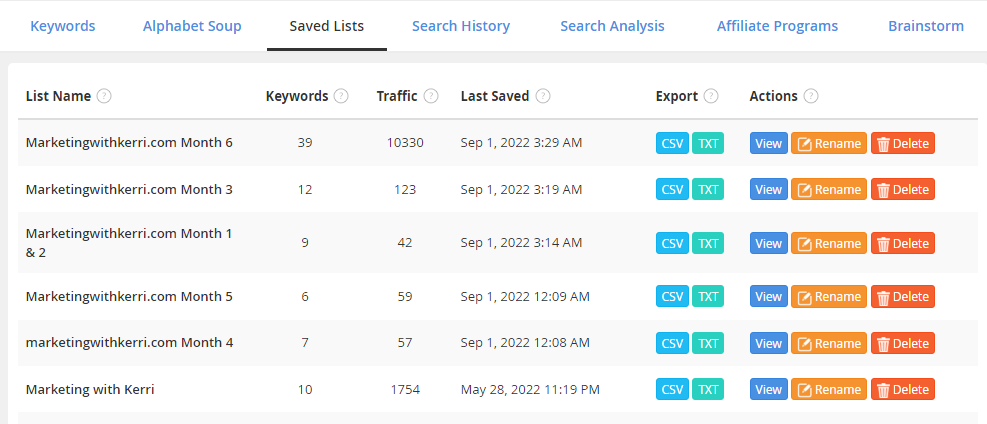 List Name= The name of your keyword list
Keyword = The count of keywords you have to save to this particular list
Traffic = The estimated amount of traffic that this list of keywords will achieve if you rank on the first page of the search engines
List Saved: The date that this list was last updated
Export: Export the data for download into a .txt or .csv file format
Actions: Actions carried on the save list (View, Edit, and Delete)
Search History: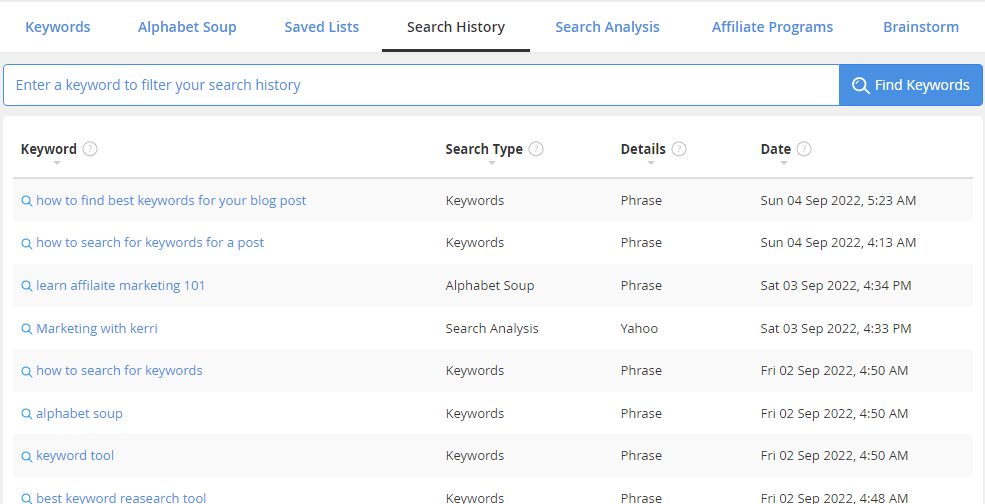 ~~> Click on the live link to take you back to the KEYWORDS tab
Search Analysis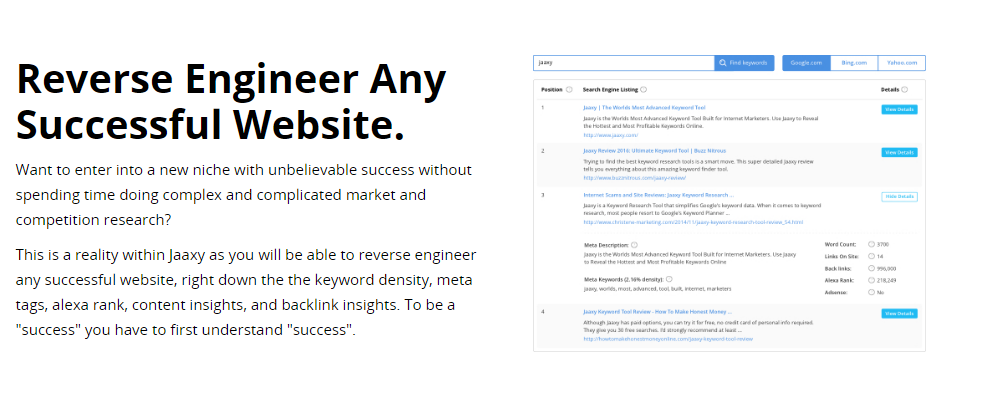 Enter the Keyword
Choose from Google, Bing, and Yahoo buttons.
Position = The first-page position that the website is ranked for in the selected search engine.
Search Engine Listing = The Search Engine Result for the selected Search Engine
Details: Click the View Details link to analyze the web page
" SiteRank" :

Sort by:
"Search "

or
"Tracked Rankings"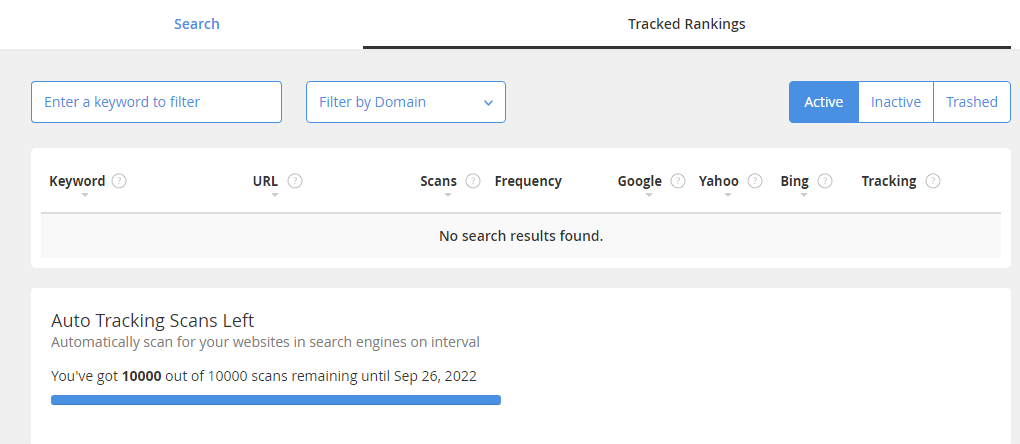 Affiliate Program
Search for Affiliate Programs that are relevant to your niche, see if it is one you want to do some research on, and see if you want to apply to join.

Example:
I searched for AMAZON, since a lot of people ask about it, wanting to know how to become an affiliate.
~~> Click on the "Alexa Rank" and the " Network" to get the results
Affiliate Progam Name: The name of the affiliate program
Product Website: The website associated with the affiliate program
Commission: The commission details
Alexa Rank: The alexa.com ranking for the website ( LOWER means MORE traffic)
Network = To the right of the search bar is another box with the down arrow ~ drop-down where you can choose between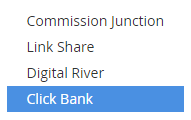 Brainstorm:
Basically a Trends Analysis you can use to come up with new keywords, and niche ideas (Brainstorm).

Google Trends
Alexa Topics
Amazon Best Sellers
Twitter Trends
When you find something you want to do a keyword search on
~~> Click on the "+" and it will be added to the "Brainstorm Queue".
~~> Click on the live link ~ it will take you back to the KEYWORDS tab to do a search.
---
Site Content: The Ultimate Writing Platform
After you find keywords, it is time to write …
Note: You DO NOT have to be a writer to be successful online, in just a minute I'm going to show you SiteContent which is an amazing writing platform, with features that will lead to more efficiency, accuracy, and speed. Free starter members have access to SiteContent.
Suggestions:
Don't waste your time searching for 1 keyword, outlining 1 post, and then writing 1 post.
Get a list of 50 keywords, write out the outline for 10 posts, then write the posts
After you have finished the post, then go back over it and add relevant images
Go back over it again, and see if there are places where it makes sense to add affiliate links.
Not a writer? Don't worry, Wealthy Affiliate has a platform that will help you write, and check spelling, grammar, and sentence structure. You can also choose from over 1,000,000 images that you can use where you want.
In Wealthy Affiliate's main menu
~~> Click on "Websites."
~~> Click on "Site Content."
Example:
If you are like me when I first started and are a NEWBIE, these templates can be a lifesaver.
Just starting out it's hard to know how to implement the training sometimes, and you may need some extra help finding your way. These templates basically give you an outline, and a direction to go in.
Here are a couple of examples of the templates you can use in the Site Content.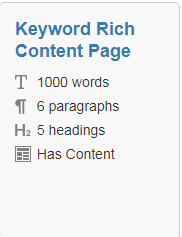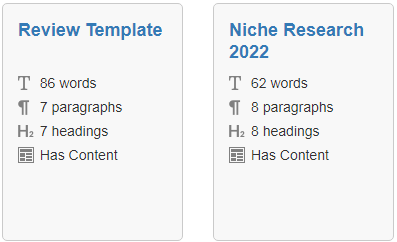 There are also some for the About Me Page, Privacy Policy, and Affiliate Disclosure that can help you with writing these pages that you need on your site.
All of this is covered in the training, it is a game changer when you have no idea what to write about.
I believe a lot of people get stuck, discouraged, and give up, when they come across having to write, and don't know what to write about.
These templates give you a direction and give you a layout you can use to start writing, the more you write the easier it will be.
You can create your own templates to use to make writing content faster, and more efficient.
For example:
This one seems to give people a lot of trouble, "What do I write about for the about me page? "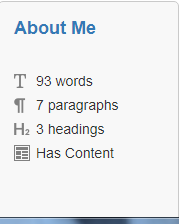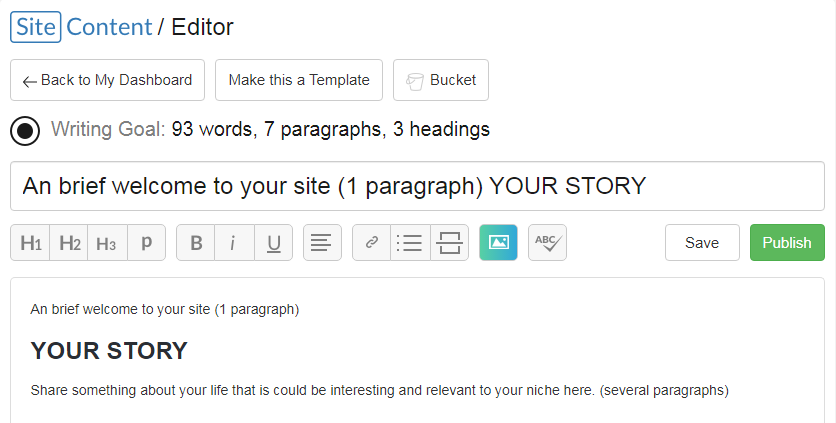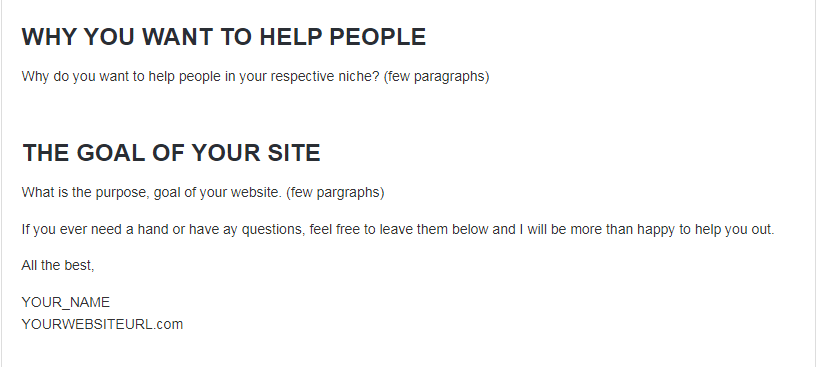 You don't have to use Site Content, many peole use Google Docs or any number of other tools. You can use whichever one you want. I'm just adding the information here to let you know that it is available if you want to use it. Give it a try if you want, and decide for yourself if it is something you think would be beneficial to you.
I recommend clicking around Site Content, getting familiar with it, and checking out this video by Kyle!
---
More on Domains:
In addition to Jaxxy, you can search for and buy domains inside Wealthy Affiliate.
Let's take a look at what the most someone has sold a domain for, then get into how to find SITE DOMAIN.
If you google what is the most someone has sold a domain for ~~~ the answer is
$872 MILLION
Like anything, DO YOUR RESEARCH and learn everything you can about it before you jump in and start buying domains to sell.
I don't expect to see $872 Million in my bank account, but I do keep building my portfolio, when I see a GOOD keyword and there are domains available, I buy as many variations as I can.
More google numbers on how much you COULD earn flipping domains?
Part time Between $1,000 and $8,000 / a year
Full Time Between $30,000 – $100,00 / or more a year.
In Wealthy Affiliate go to the WEBSITE tab and then to SITE DOMAIN: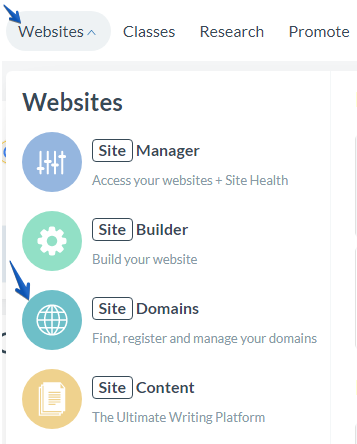 From here you can . . .
Search for Available Domains
Manage the Domains that you already have purchased

A list of all your domains will come up making it easy to manage all of them from one page.
I purchased all of the domains available for this site Marketing With Kerri,
I can check the renewal date, set it on or off, and change the settings


Alphabet Soup ~ Keywords and Niches


DIGS through A-Z and gives you relevant keywords
Uncovers KEYWORDS you would miss out on in a regular search
Let's run through an example:
We'll go through the process of searching for a keyword under the "SEARCH" tab, then where to find the "Alphabet Soup" tab.
Under the main menu in Jaxxy click on . . .

Type the keyword into the search bar
For this example ~ I typed in " Learn Affiliate Marketing"

This has a good AVG at 361 but the QSR is too high at 137
Scrolling down one of the 'suggested' keywords looks better.
"Learn Affiliate Marketing 101"

AVG 544
QSR 24
The indicator is green and "Great"
SEO is 92
Let's get into the Alphabet Soup technique.
Jaxxy's main menu, and in the second row ( under the " Search" tab we used a minute ago,)
~~> Click on the "Alphabet Soup" tab.
Type in " Learn Affiliate Marketing 101″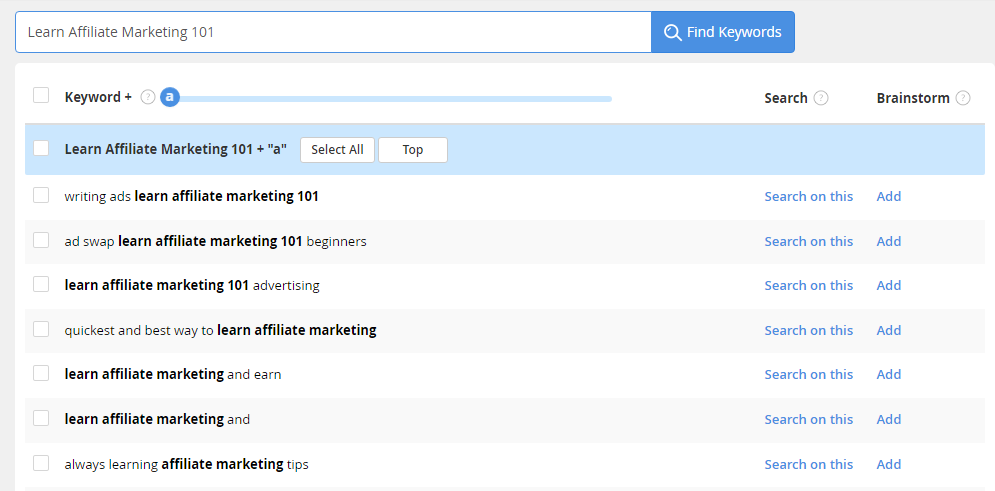 There is a lot going on in here, we are going to go through it together.
The [ ], Keyword + slide bar, Search, and Brainstorm, and the blue highlighted bar
The [ ], your keyword, 'search on this' and ' add'
*Note: when you are active in Jaxxy, there will be live links that you click on.
For this example, we are just walking through the process.
~~ [ ] Tick these to put a checkmark in the box, you can choose them individually or you can check to mark all of them.
~~ The slide bar

Use the sliding bar
Starting with "a" you can slide it to move through the alphabet
– OR-
Keep scrolling down ~ From A-Z
~~ " Search" ~ click on to perform a search on that keyword
~~ " Brainstorm" ~ click on to add or remove the keyword from your Brainstorm List
~~ Blue Bar" ~ shows you with + " " where you are in the alphabet,
This is helpful when you are using the slide bar, or when scrolling down through the alphabet which we will get to in a minute.
You can use the "Select All" button to check all the [ ] under that section and you can use the "Top" button to go back to the top.
In the example above ~ learn affiliate marketing 101 + "a"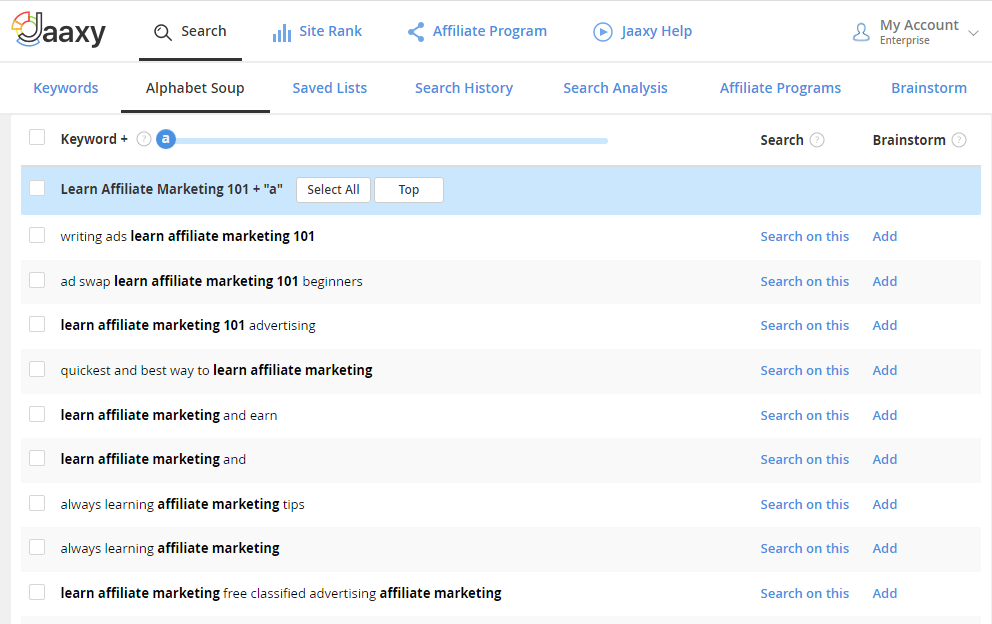 –Or–
As I mentioned above you can scroll down through the alphabet
Scrolling for me seemed faster than sliding the bar. Try both and see which one works best for you.
Suggestion: Spend some time and do the training, get familiar with the Jaxxy platform, and take the time and do your research for keywords. I found a lot of "0" QSRs by digging deep and making the effort to go find them.
Or if you are using / or want to use another keyword research tool, I'd still suggest doing the same thing.
SiteRank:

Keep Tabs on Your Competition's Rankings.
Simplify ALL Your SEO Testing
---
---
Not Already A Jaxxy Member?
Do you want to earn recurring commissions with Wealthy Affiliate and Jaxxy?
YES! Free Starter Members of WA can Earn Commissions!
Learn more here:
How Much Does A Keyword Research Tool Cost?
Google Search :

Jaxxy is included with your WA Membership:
The above screenshot is JUST for Jaxxy.
Check out the Full comparison of the memberships at Wealthy Affiliate and EVERYTHING they include.
~~ > Click here "How Much Does Wealthy Affiliate Cost"
Between $200 – $500 a month just for a Keyword Research Tool
-OR-
Included in your Wealthy Affiliate Membership
You don't need to spend extra money, you have everything you need inside WA and Jaxxy.
Not already a Wealthy Affiliate Member?
~~ > Wealthy Affiliate Review: From The Inside
Final Thought + Special Bonus
Final Thought:
You can search for and use any keyword research tool you want ~ I know there are a ton of free tools and other platforms.
I have been using Jaxxy since 2013, and I love and recommend it.
But this isn't a pitch to get you to join or upgrade.
It is passing on information, and sharing what works for me, so you can make the best choice for you and your business.
+ Special Bonus!
Join the Starter it's $0 ~~ with No Risk and No Credit Card Required, and did I mention it's FREE!
Upon joining I will make sure to get in touch with you, I want to make sure you know that I am here to help you out. I want you to make me one promise if you do join… that you will set up your account. It's simple and you will be walked through it upon joining WA ( Wealthy Affiliate).
Join Wealthy Affiliate $0 Membership Here!
How To Claim Your Bonus. . .
When you join your FREE Starter Account, I am going to offer you a bonus, if you do decide to become a Premium member within the first 7 days (including a 59% discount). When you create your account at Wealthy Affiliate I will be personally contacting you on your profile page with my "hello" and some more information about WA, how to get help from me, and how to claim your BONUSES. Trust me this is going to be some awesome stuff ( hint it includes my 9 years of experience and mentorship)
You will never know what you are missing all of these years until you step foot inside Wealthy Affiliate.
---
Marketing with Kerri is a site I created to help people navigate through all the Schemes and Scams out there and find their path to success online. I am here to help you, whether you decide to join is up to you, there is no pressure. If you don't think it's for you and want to move on, that's cool too. I want to say thank you for your time and good luck. If you have any questions, please let me know.
Until next time, Kerri.
Founder of Marketing with Kerri
Email: kerri.o@marketingwithkerri.com
Member of Wealthy Affiliate Since 2013
Member of Jaxxy Since 2013