With SiteRubix, you can have your FREE website up and running in minutes!


Building your FREE Website literally takes less than 30 seconds.
Whether you need a website for work, or you want a free website for fun ~~~SiteRubix has you covered!
First, we are going to go through the FREE Account ( don't worry it is 100 % free, with No Risk and No Credit Card Required) you will need to access your website inside Wealthy Affiliate, then we will go through the fast and easy process of building a free website, next we'll go over how to LOGIN to your new website, then how to SIGN IN to WA to access your website, next the 3 tiers of WA Membership and how you can EARN COMMISSIONS ( FREE MEMBER's CAN EARN TOO!), next a + Special Bonus offer for you, and finally, SiteRubix Frequently Asked Questions (FAQ).
Let's get started . . .
What is SiteRubix?
SiteRubix is a FREE site builder, powered by Wealthy Affilaite.
When you build your site on the SiteRubix platform, you get the full force of the Community, Training, Tools, and Support of Wealthy Affiliate behind it.
Again, a FREE Wealthy Affilaite STARTER ACCOUNT is needed to access your website, but it is 100 % FREE, with No Risk and No Credit Card Required to join!
Wealthy Affiliate Starter Membership Includes. . .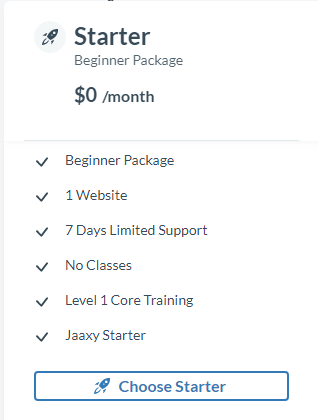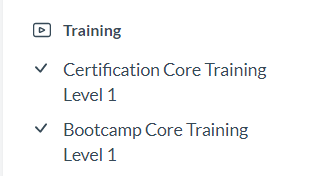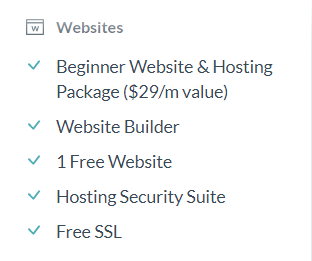 Let's Create a New FREE Website!
First: Choose a name for your website and type it into the box.

For this example,
I typed in affiliatemarketingwithkerri, and it's available.

Choose what kind of website you want to build:
For this example, I will choose "FREE DOMAIN" . . .
Suggestion:
I would wait to buy a domain name if you are a starter member or just getting started building your website.
Wealthy Affiliate training takes you step-by-step on how to Buy A Domain / or if you want to Transfer an existing website to WA, it takes you step-by-step through that process as well.
In the next few steps, you will decide on a domain name, a title for your website, and a theme for your website.


Example ~ This is just an example and is a Premium member view. As a Free Starter Member, you have access to one, GeneratePress.
Choose your theme and
~ Click on the Green "Build My Website" button

In less than a minute … Your FREE Website is Installed and Ready to GO!
Here it is ~ our example Website!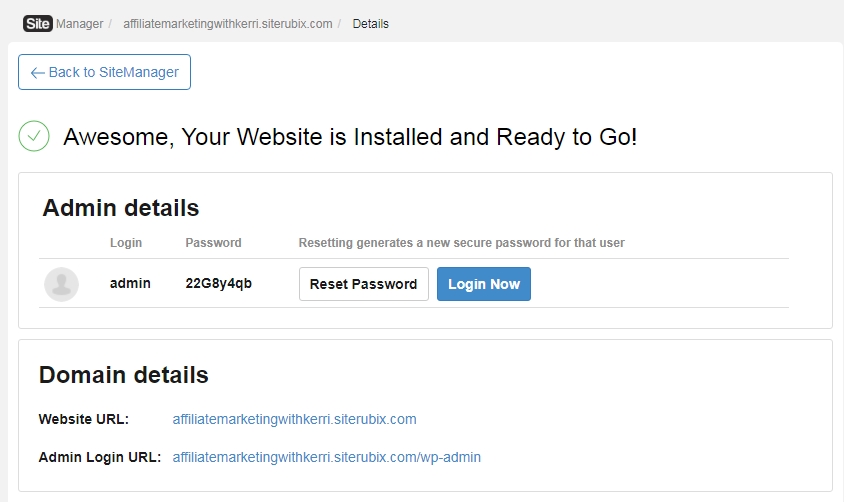 ---
Login to Your New Website:
At the top of Admin Details…
~ Click on the blue LOGIN NOW button to get to your WordPress Back Office.

It opens up into WordPress
The "Back Office," also called the "Dashboard."
You can get some information under the "HELP" button on the far right under "Howdy Admin."
and GeneratePress documentation here GeneratePress Docs.
You do not have to upgrade, in fact, I suggest you don't. While I use and recommend it, you will probably change your theme several times before landing on a theme that you like and works for your business.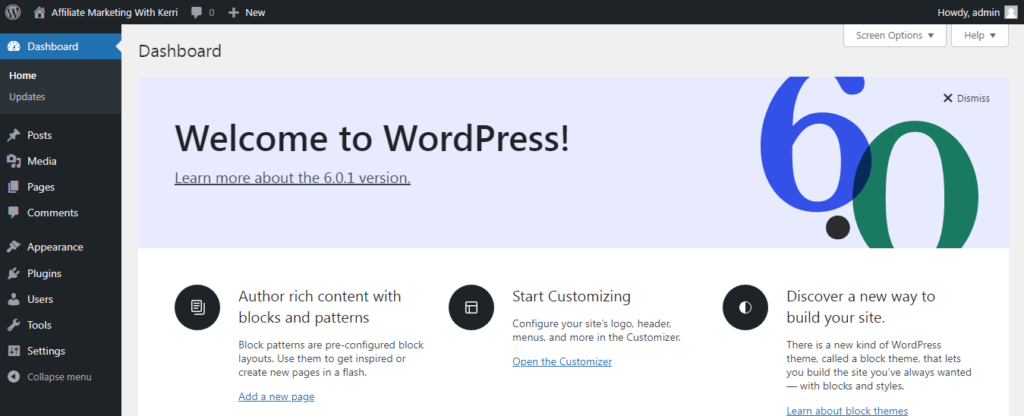 ~~ Don't worry ~ Wealthy Affiliate's interactive, step-by-step training walks you through every step of Setting UP and Building Out your website.
---
Once you have your Wealthy Affiliate Free Starter Account you can LOGIN to your account.
The Main page in Wealthy Affiliate ( also called the Homepage and the Dashboard)
~~> Click on "Websites"

In the drop-down box
~ Click on "SiteManager"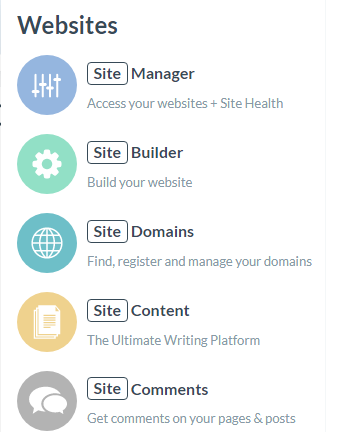 Site Manager
(Note ~ yours may look a little different according to what Wealthy Affiliate Membership you have, this is Premium Plus +)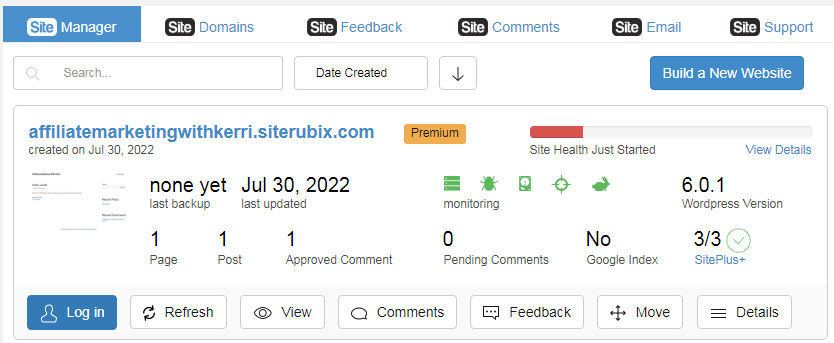 ~ Click on the blue LOGIN button.
Before you log in, I wanted to point out Site Health, the bar is red because we just started.
To get more detail and see what you can do to improve your site health
~ Click on View Details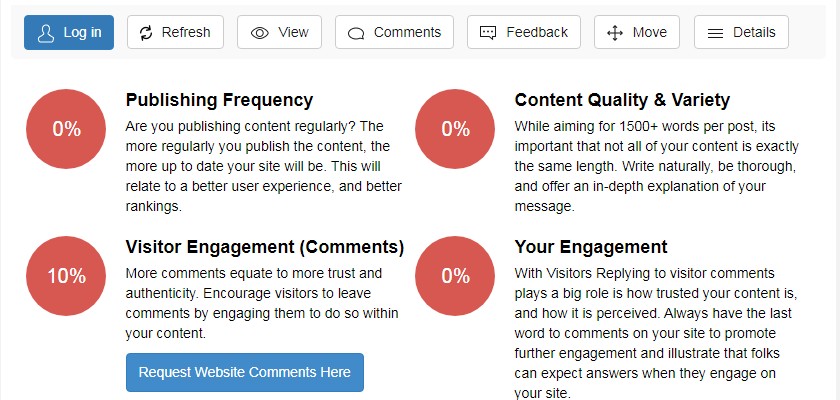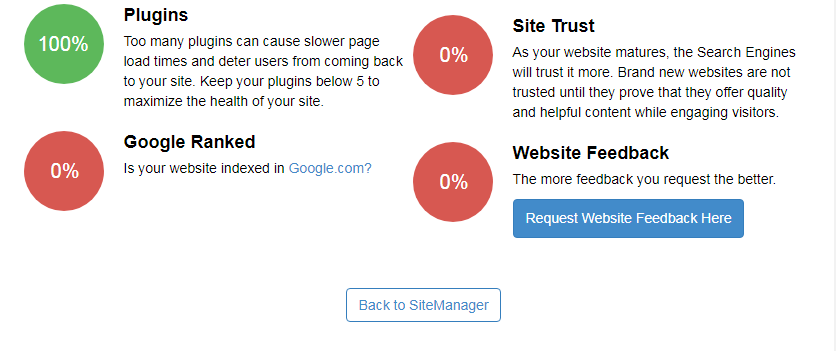 As you go through the training and build out your website these numbers are going to be 100% and GREEN.
How to get started: Wealthy Affiliate and SiteRubix
Information on the Wealthy Affiliate Memberships, and where to go to earn commissions!
Comparison chart of the 3 tiers: Free, Premium, and Premium Plus . . .
A comparison chart of the 3 tiers of membership.
Do you want to earn commissions?
Yes! Free Members can earn a commission . . .
Jaxxy: The Worlds Most Advanced Keyword Tool
If you are a Wealthy Affilaite member Jaxxy is included in your membership!
+ Special Bonus!
Join the Starter it's $0 ~~ with No Risk and No Credit Card Required, and did I mention it's FREE!
Upon joining I will make sure to get in touch with you, I want to make sure you know that I am here to help you out. I want you to make me one promise if you do join… that you will set up your account. It's simple and you will be walked through it upon joining WA ( Wealthy Affiliate).
Join Wealthy Affiliate $0 Membership Here!
How To Claim Your Bonus. . .
When you join your FREE Starter Account, I am going to offer you a bonus, if you do decide to become a Premium member within the first 7 days (including a 59% discount). When you create your account at Wealthy Affiliate I will be personally contacting you on your profile page with my "hello" and some more information about WA, how to get help from me, and how to claim your BONUSES. Trust me this is going to be some awesome stuff ( hint it includes my 9 years of experience and mentorship)
You will never know what you are missing all of these years until you step foot inside Wealthy Affiliate.
Frequently Asked Questions about SiteRubix:
FAQS: SiteRuix About Us :
1. How much does SiteRubix Cost?
SiteRubix is free to get started and you can have your website up and running literally minutes from now. Your "Starter" membership provides you with two free websites, plus training and support to get your website off the ground!
---
2. What will my domain name look like?
Your domain name will look similar to "yourwebsitename.siterubix.com", and it is instantly ready for you to use. Pick your website name, create your starter account, and install your site, it's that simple.
---
3. What if I want my own domain name?
At any time you can become a Premium member and move your website to a domain name that you own. The process of moving to your own domain (example: yourwebsite.com) happens with the click of a button, it's instant!
---
4. How long does it take for my website to show up online?
Just a few seconds! After creating your SiteRubix website you will be up and running in literally seconds. Nothing technical to worry about, no domain registering, and no waiting. Building a beautiful website has never been more simple, or fast!
---
5. What is a Wealthy Affiliate?
SiteRubix is part of our Training and Internet business community called WealthyAffiliate.com. All support, coaching, training, and website tools are delivered within WealthyAffiliate.com where you are provided a free Starter Account when you create your website at SiteRubix.
A big part of building a beautiful and functional website is having training and support that you can rely on. To learn more about Wealthy Affiliate . . . > Try it FREE with No Risk, No Credit Card Required!
* Citation: SiteRubix About Us page (https://siterubix.com/about-us)
---
Marketing with Kerri is a site I created to help people navigate through all the Schemes and Scams out there and find their path to success online. I am here to help you, whether you decide to join SiteRubix, Wealthy Affilaite or Jaxxy is up to you, there is no pressure. If you don't think it's for you and want to move on, that's cool too. I would like to say thank you for your time, and good luck. If you have any questions, please let me know.
Until next time, Kerri
Founder of Marketing with Kerri
Email: kerri.o@marketingwithkerri.com
Member of Wealthy Affiliate Since 2013
Member of Jaxxy Since 2013