How to Build a Free Website: Exploring SiteRubix
Discover the seamless world of website building with SiteRubix. This powerful and free site builder, backed by Wealthy Affiliate, offers more than just a platform to create your website.
In this guide, we'll explore the remarkable synergy of SiteRubix. It doesn't merely provide you with a canvas to paint your website on, but it also offers a supportive community, comprehensive training, essential tools, and dedicated assistance, all courtesy of Wealthy Affiliate.
Embark on a journey where your website-building dreams turn into reality, all without any cost or risk.


The Power of SiteRubix and Wealthy Affiliate
The Power of SiteRubix and Wealthy Affiliate
Embark on a unique website creation journey fueled by the dynamic synergy of SiteRubix combined with the robust support of Wealthy Affiliate.
Moving beyond the confines of conventional site builders, SiteRubix presents a comprehensive platform. It doesn't just offer a tool for website construction but also introduces you to an entire ecosystem tailor-made to nurture growth, learning, and success.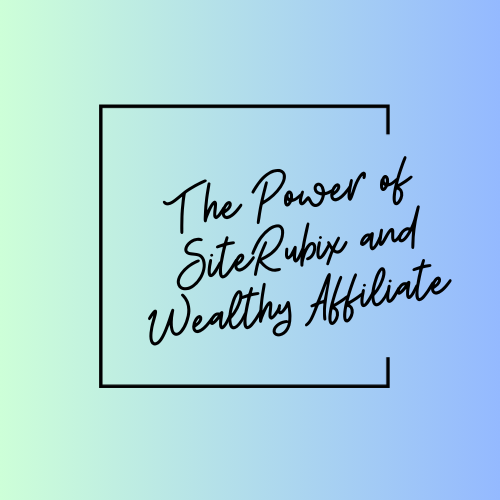 Elevating Your Website Experience with SiteRubix
In the digital world, aesthetics, and user experience reign supreme. SiteRubix doesn't just empower you to craft a free website; it offers themes that can rocket your online presence to unparalleled heights.
The Visual Impact:

Your website's look is often your brand's first impression. With SiteRubix themes, you can craft a vibrant visual identity that resonates with your audience. Every theme is meticulously fashioned for attention-grabbing consistency and professionalism.
Tailored to Your Niche:

Different websites have varied needs. Whether you're curating a blog, e-commerce store, or photo portfolio, there's a theme meticulously designed for your niche. These themes lay the foundation for a unique online persona.
Theme Library Exploration:

Delving into SiteRubix's theme library is an expedition in design possibilities. With thousands of professional designs, you're spoilt for choice. Themes cater to myriad industries and styles, ensuring the ideal fit for your site's identity.
Customization for Uniqueness:

As your site blossoms, your functional needs will evolve. SiteRubix's strength extends beyond themes. It offers a vast suite of features ready to bolster your site's capabilities for a seamless user experience. Whether it's e-commerce integrations, social sharing, or captivating interactives, SiteRubix presents it all in a user-friendly package. And you don't need web design prowess to leverage them.
Responsiveness and User-Friendly Design:

In this age, responsiveness is non-negotiable. SiteRubix themes adapt flawlessly across devices, offering an optimal experience whether viewed on a desktop, tablet, or phone.
Staying Ahead with Innovation:

SiteRubix's dedication to brilliance means staying attuned to design trends and tech. Themes receive regular updates with the latest innovations, ensuring your website always looks contemporary.
Choosing Your Professional Design:

SiteRubix offers a platform to materialize your visions. Convert hobbies or passions into lucrative online endeavors. With a myriad of pro website themes, craft the dream site you've always yearned for.
Personalized Theme Recommendations:

SiteRubix simplifies your initiation by suggesting exceptional designs to jumpstart your site. As your site matures, reshaping its look to reflect your evolving brand is a breeze.
As we progress through this guide, we'll dive into the step-by-step process of choosing and customizing a theme within SiteRubix.
By the end, you'll be equipped with the knowledge and tools to create a website that not only delivers exceptional content but also captivates with its captivating aesthetics.
Deep Diving into SiteRubix: Your Guide to Choosing and Customizing Themes
As we journey through this guide, we'll explore the step-by-step process of selecting and personalizing a theme within SiteRubix. By the end, you'll possess the expertise to create a website that shines both in content and aesthetic allure.
Unlocking the Wealthy Affiliate Advantage:
SiteRubix isn't just a website builder; it's your portal to a holistic online business journey, enriched by the resources and expertise from Wealthy Affiliate. Partnering with SiteRubix means you're stepping into a vast realm of support that transcends traditional website building.
Building on Solid Ground: The Wealthy Affiliate Platform
SiteRubix derives its potency from its partnership with Wealthy Affiliate, a beacon in the online business sphere. This synergy ensures you're not merely crafting a website but laying the foundation for a sustainable online venture.
More than Just Website Building: Wealthy Affiliate's Arsenal
Leveraging SiteRubix within the Wealthy Affiliate ecosystem grants access to resources unparalleled by regular website builders. Think of SiteRubix as your canvas, with Wealthy Affiliate supplying the paints, brushes, and the masterclass.
Master the Digital Domain: Wealthy Affiliate's Training
Benefit from Wealthy Affiliate's myriad training modules, each designed to equip you with digital age prowess. Topics range from content creation to advanced marketing tactics, ensuring a comprehensive grasp of the online world.
Navigating the Digital Maze: Acquire Expert Insights
The realm of digital marketing and entrepreneurship is vast. Wealthy Affiliate provides the compass — insights into SEO, social media strategies, and establishing a formidable online footprint, ensuring you're always a step ahead.
Community at its Core
At Wealthy Affiliate's heart pulses a community of driven individuals journeying through the digital landscape. Engage, share, and brainstorm with peers, adding depth and dimension to your online endeavors.
A Full-fledged Ecosystem for Digital Triumph
In summary, Wealthy Affiliate offers more than just a website-building experience. With SiteRubix as its pillar, supplemented by extensive resources, expert guidance, and a thriving community, you're primed not just to create but to excel in the digital world.
As we continue through this guide, you'll discover the practical steps of harnessing the SiteRubix-Wealthy Affiliate synergy to build your free website, transform your online presence, and set the stage for your digital success.
SiteRubix is backed by Wealthy Affiliate, an established platform renowned for its comprehensive approach to online business success. By harnessing the power of SiteRubix within the Wealthy Affiliate framework, you gain access to a wealth of resources that go beyond traditional website building.
From step-by-step training modules to expert insights on digital marketing and online entrepreneurship, Wealthy Affiliate offers a holistic environment that empowers you to thrive in the digital landscape.
Unveiling the Power of SiteRubix and Wealthy Affiliate
As we delve deeper into this guide, you'll navigate the actionable steps of leveraging the SiteRubix-Wealthy Affiliate alliance. This synergy aims to revamp your online footprint, ensuring you embark on a path to digital triumph, all at no cost.
Backed by the renowned Wealthy Affiliate, SiteRubix offers more than just website building. This alliance provides a comprehensive approach to online success, transitioning you from a mere online presence to a commanding digital force.
More than Website Building: The Wealthy Affiliate Advantage
Harnessing SiteRubix under the Wealthy Affiliate umbrella introduces you to resources transcending conventional site creation. This ecosystem offers:
Training Modules: Wealthy Affiliate demystifies the digital realm with step-by-step modules. From foundational know-how to intricate marketing maneuvers, these resources equip you with the expertise to flourish online.
Digital Marketing Insights: Grasp the intricacies of online entrepreneurship, gaining perspective through expert-backed insights.
The Triad of Mastery: Tools, Training, and Community
SiteRubix's essence revolves around amalgamating top-tier tools, unparalleled training, and a thriving community:
State-of-the-art Tools: SiteRubix is teeming with tools designed for website perfection, from user-friendly design interfaces to potent SEO enhancers.
Comprehensive Training: Wealthy Affiliate's curated curriculum spans the spectrum of online business. It offers videos, tutorials, and practical tasks, ensuring you're well-versed in every facet of the digital world.
A Global Community: Central to SiteRubix and Wealthy Affiliate is a dynamic community of visionaries. Network with fellow innovators and experts, benefiting from shared wisdom, guidance, and collaborative spirit.
As the contours of your online vision begin to crystallize, we now turn our attention to 'The Promise of Possibilities', unveiling even deeper layers of potential that await you with SiteRubix and Wealthy Affiliate.
.
The Promise of Possibilities
Embarking on your website-building journey with SiteRubix is more than just crafting a digital platform. It's about shaping a commanding digital presence, carving out a unique brand identity, and unlocking a vast world of opportunities.
The seamless fusion of SiteRubix's dynamic features, combined with the unwavering support of Wealthy Affiliate, ensures you're well-equipped with the tools, expertise, and community you need to navigate and thrive in the ever-evolving online landscape.
Dive deeper into this guide to unravel the detailed process of harnessing the combined strength of SiteRubix and Wealthy Affiliate. Experience firsthand the creation of a free website enriched by a supportive community, top-tier training, and cutting-edge tools.
Your Free Pathway: The Wealthy Affiliate Starter Account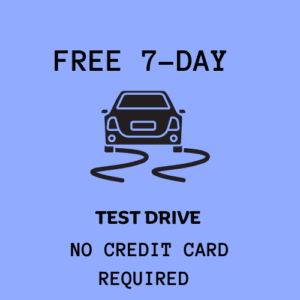 Embark on your website-building journey with the Wealthy Affiliate Starter Account – your gateway to success. And the cherry on top? It comes with zero strings attached. Absolutely free, no hidden risks, and devoid of any credit card commitments.
This foundational account unveils a realm of endless possibilities, furnishing you with the essential tools and insights to flourish.
[======> Claim your FREE Wealthy Affiliate Starter Account here]
Embracing the Wealthy Affiliate Community: Amplify Your Website-Building Journey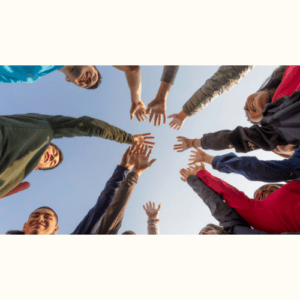 A Unique Supportive Network:
Inclusive Community: The Wealthy Affiliate community is more than just a group; it's a support system where budding online entrepreneurs come together, ensuring you never walk the website-building path alone.
Amplify Your Journey: Engage with members who've faced similar challenges, gaining insights and strategies that amplify your website-building experience and propel your online business forward.
Expert Guidance: Access a reservoir of experts within the community, ready to assist with everything from website customization to digital marketing strategies. Their expertise provides practical solutions to your challenges.
Collaborative Growth: Immerse yourself in a culture of collaborative learning. Engage in discussions, share insights, and explore new perspectives, fostering your growth and motivation in the online business landscape.
Celebrate Shared Success: Within the Wealthy Affiliate community, everyone's achievements are celebrated, creating an atmosphere where success stories fuel motivation and inspire further growth.
Blend of Passion and Expertise: Whether you're a beginner or a seasoned entrepreneur, this community bridges the gap between enthusiasm and know-how, ensuring continuous learning and refinement of strategies.
Laying the Foundation for Success :
Embracing the Wealthy Affiliate community isn't just about building a website with SiteRubix; it's about constructing a solid foundation for lasting success in the digital realm.
As we delve further into this guide, you'll grasp both the nuances of website development and the profound impact of a community-driven approach, ensuring you not only craft a compelling website but also cultivate a network that steers you toward your online aspirations.
Empowering Through Training and Tools: Crafting Your Online Presence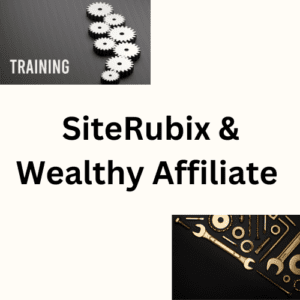 In partnership with Wealthy Affiliate, SiteRubix offers more than just a website-building platform:
Comprehensive Training for Success

Catering to both digital newcomers and seasoned professionals.
A diverse range of tutorials, webinars, and courses covering website optimization, content creation, SEO strategies, and more.
Tools to Streamline Operations

Tackle the intricacies of managing a website with tools designed to simplify the process.
From keyword research to analytics, streamline your online business operations with ease.
Seamless Integration for Peak Efficiency

Access resources in real-time as you build and refine your website.
Benefit from the combined power of SiteRubix and Wealthy Affiliate to make informed decisions and implement effective strategies.
Unlocking Your Entrepreneurial Potential

Navigate the digital world with confidence, backed by comprehensive training and tools.
Refine strategies and acquire new skills tailored to the evolving digital landscape.
Crafting a Compelling Digital Identity

Shape an online entity that captivates and resonates with your target audience.
Stand out in the competitive digital world with a unique and compelling presence.
As we progress through this guide, dive deeper into the combined offerings of SiteRubix and Wealthy Affiliate. By the end, you'll be poised to transform your website into a thriving digital venture.
Building Your Website with SiteRubix: Key Highlights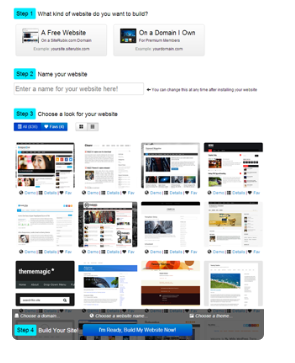 Now that you're familiar with the advantages of SiteRubix and the supportive Wealthy Affiliate community let's delve into the key highlights of building your website with SiteRubix.
Navigating the User-Friendly Interface

Creating a website may seem daunting, but SiteRubix simplifies it.
Focus on crafting an engaging online presence as the interface handles the technical details.
Streamlined Process with Intuitive Tools

Minimize complexity with SiteRubix's array of tools.
Seamlessly select domains, choose themes, and customize site elements for a smooth building experience.
Creating Your Website in No Time

SiteRubix's structured process eliminates confusion.
Whether you're a beginner or have experience, building your website is rewarding and enjoyable.
Your Vision, Realized

Watch your ideas materialize as you navigate through SiteRubix.
Cater to diverse needs, be it blogging, entrepreneurship, artistry, or any passion.
Captivating Online Presence

Your efforts culminate in an online presence that encapsulates your brand and identity.
Shape an experience that deeply resonates with your target audience, making the process gratifying.
Embarking on Your Site-Building Journey

This guide breaks down the steps into detailed instructions.
Navigate SiteRubix's features with confidence and unveil your online creation.
Now that you're equipped with a foundational understanding of SiteRubix and its offerings let's dive into the first step: Getting Started with a Free Starter Account.
Getting Started with a Free Starter Account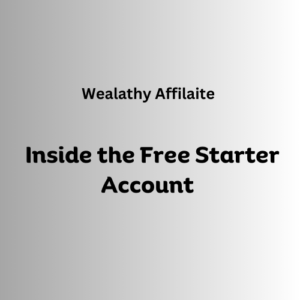 Discovering the Wealth Inside the Free Starter Account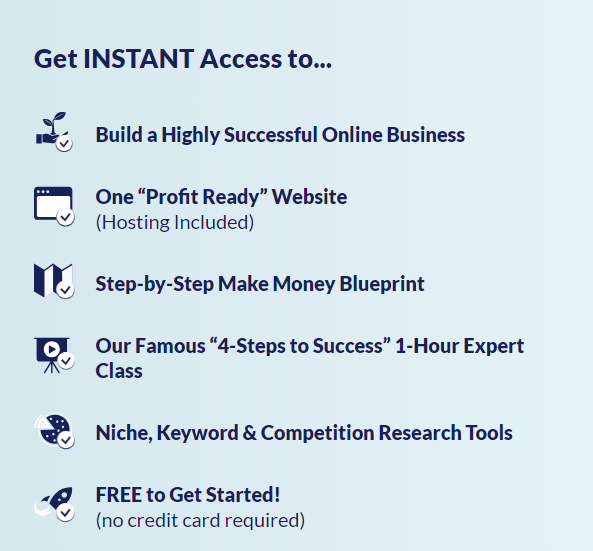 Once you're registered, the Wealthy Affiliate dashboard unfolds before you. Think of it as your digital command center outfitted with every essential tool, training module, and feature tailored to chart your online success journey.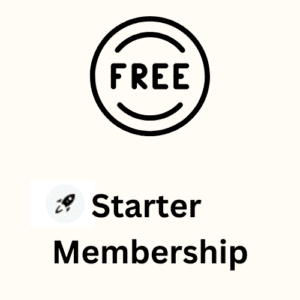 Embarking on a Learning Expedition

Venture deep within your Free Wealthy Affiliate Starter Account, and a treasure trove of knowledge emerges. The Starter Account generously grants you the inaugural level of the Online Entrepreneur Certification and the initial phase of the Affiliate Bootcamp.

Are you eager to explore the content of these lessons? Here's what's in store: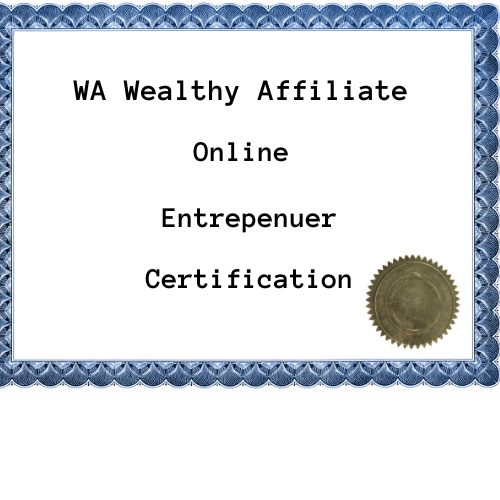 ---


---
Stepping into the digital realm has never been this seamless. With the Free 7-Day Starter Account, you've ensured a promising beginning on your online journey, free from any financial constraints or commitments.
Unveiling Training Excellence: A Sneak Peek into Certification and Bootcamp Levels
Embarking on your online entrepreneurship journey with Wealthy Affiliate introduces you to two comprehensive training pathways: the Online Entrepreneur Certification and the Affiliate Bootcamp.
Both paths provide in-depth guidance and insights tailored to various aspects of the digital business realm. These training pathways are an integral part of the SiteRubix platform, designed to equip you with the skills and knowledge needed to build and grow your online presence.
Online Entrepreneur Certification: This training aims to cultivate a holistic understanding of the online business landscape. This certification covers a broad spectrum of online entrepreneurship topics, from foundational concepts to more intricate strategies.
The Online Entrepreneur Certification: Level 1 – 5

Affiliate Bootcamp: Designed for those passionate about diving deep into the realm of affiliate marketing, this Bootcamp offers a structured approach to mastering the art of affiliating with precision and effectiveness.
Affiliate Bootcamp: Phases 1-7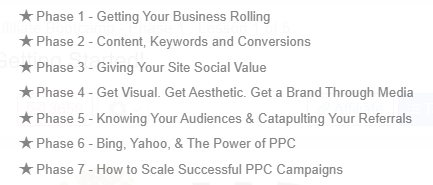 As you gear up to immerse yourself in these comprehensive training resources, remember: your learning journey is augmented by the robust support of the Wealthy Affiliate community. This means you're not only accessing top-tier lessons but also tapping into a wellspring of experiences, advice, and mentorship from seasoned online entrepreneurs. Dive in, and let this cohesive blend of knowledge and community drive your success!
As you prepare to dive into the enriching training resources, get ready to take your journey even further by connecting with a vibrant community of like-minded individuals.
Let's explore how your learning experience extends beyond lessons and into the heart of a supportive network.
Connecting with the Community
It's Worldwide.
It's Intimately Big.
The power of community is a profound catalyst in the world of online entrepreneurship. At Wealthy Affiliate, this community isn't a mere afterthought—it's at the heart of the experience, propelling members to greater heights.
Diving Deep into the Wealthy Affiliate Community
Embrace Collaboration and Support

Wealthy Affiliate is a diverse tapestry of members, each offering unique insights and experiences.
Interact through live chats and forums, exchanging ideas and forging strong relationships with individuals who understand your path.
Seek Answers and Guidance

Questions are a part of the journey, and the community stands ready to provide solutions.
Engage in focused discussions, get insights on challenges, and absorb knowledge shared by seasoned members.
Celebrate Progress Together

Every achievement, big or small, is cherished within Wealthy Affiliate.
Share your milestones, gather feedback, and join in the celebrations of your peers' successes.
A Supportive Network Always by Your Side

The online business landscape can be vast, but with Wealthy Affiliate, you're never traversing it alone.
Lean on the community as your guiding star, navigating challenges and amplifying your victories.
Beyond just a digital platform, Wealthy Affiliate is a dynamic ecosystem filled with mentorship, support, and collective growth.
In the Wealthy Affiliate community, every step you take is enhanced by shared experiences, collective wisdom, and unwavering support. Engaging actively here ensures that your online entrepreneurship journey is as comprehensive as it is rewarding.
Expert Guidance at Your Fingertips
Expert Coaching, With a Personal Touch.
Within your free Wealthy Affiliate Starter Account, you unlock a crucial resource: guidance from seasoned professionals. Their accumulated wisdom and experience become foundational pillars in your website-building journey.
Expert Guidance at Your Fingertips: Expert Coaching with a Personal Touch
Tap into Wisdom from Industry Veterans:

Access the knowledge and insights of seasoned professionals within Wealthy Affiliate.
Dedicated mentors share invaluable advice, from tackling challenges to optimizing marketing strategies.
Accelerate Your Growth with Insider Insights:

Wealthy Affiliate connects you to successful individuals, offering game-changing insights.
Dive deep into knowledge that fast-tracks your online business journey, saving you years of trial and error.
Cultivate Relationships that Foster Success:

Wealthy Affiliate isn't merely a platform; it's a space for nurturing relationships that lead to mutual success.
Engage with professionals invested in your growth, seeking their feedback and sharing your insights in return.
Benefit from Guidance that Goes Beyond the Norm:

Expert guidance is more than just a perk; it's an integral part of your success toolkit.
With the support of these seasoned professionals, confidently navigate your online journey, overcoming challenges and leveraging opportunities for maximum impact.
The Advantage of Starting Risk-Free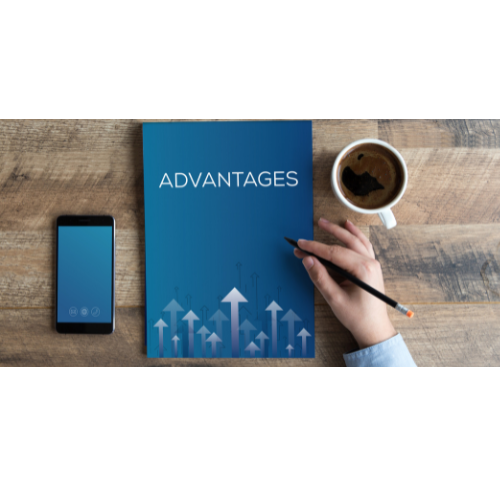 Perhaps the most compelling aspect of the Wealthy Affiliate Starter Account is its risk-free nature. You can dive into the world of online business and website building without worrying about financial commitments. This gives you the freedom to explore, learn, and experiment at your own pace.
Unlock and Unleash Your Potential
With your free Wealthy Affiliate Starter Account, you're poised to seize the opportunity to unleash your website-building potential like never before.
The fusion of comprehensive training, powerful tools, a supportive community, and expert guidance creates a fertile ground for your online success. This environment is tailor-made for nurturing your skills, honing your creativity, and crafting an online presence that truly reflects your unique vision.
A Journey of Discovery and Growth
Embrace the journey ahead with the knowledge that your path is unrestricted and your potential is boundless. In the realm of website building, there's no substitute for hands-on experience and trial-and-error learning.
Your risk-free start empowers you to experiment, innovate, and refine your strategies without the worry of financial setbacks. This journey isn't just about building a website—it's about discovering your strengths, overcoming challenges, and experiencing the growth that comes from relentless pursuit of your goals.
Your journey toward a remarkable online presence starts now with the empowerment of a risk-free Wealthy Affiliate Starter Account. Your website-building aspirations are within arm's reach, waiting to be brought to life. As you embark on this exciting voyage, remember that every step you take is a step closer to realizing your online ambitions.
Embark on this exhilarating voyage, knowing that each step you take brings you closer to manifesting your online visions.
Conclusion: Unleash Your Website-Building Potential with SiteRubix and Wealthy Affiliate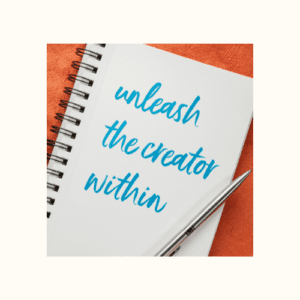 In the world of website building, SiteRubix and Wealthy Affiliate stand as a transformative partnership that redefines the way you approach online presence creation. The synergy between these two platforms empowers you with the tools, knowledge, and community support you need to thrive in the digital landscape.
Embrace a World of Possibilities
With a Wealthy Affiliate Starter Account, a universe of opportunities unfolds before you.
From comprehensive training resources to a vibrant and supportive community, your journey into the realm of website building becomes more than just a task—it evolves into a voyage of self-discovery and profound growth.
Crafting a Remarkable Online Presence
SiteRubix serves as the cornerstone of your journey, offering a user-friendly interface and intuitive tools that simplify the complexities of website creation.
Through its integration with Wealthy Affiliate, you're not just building a website—you're crafting a remarkable online presence that captivates attention and deeply resonates with your audience.
Join the Movement
Your path to online success starts here, guided by SiteRubix and empowered by Wealthy Affiliate. The best part? This journey doesn't require any financial commitment or involve any risk.
With a free Wealthy Affiliate Starter Account, you possess the means to transform your website-building aspirations into a tangible reality.
Embrace the Power
Whether you're an aspiring blogger, a creative artist, an e-commerce enthusiast, or anyone with a vision to share, embrace the transformative power of SiteRubix and Wealthy Affiliate.
Unleash your website-building potential, harness the support of a vibrant community, and embark on a journey that promises growth, success, and the fulfillment of your online dreams.
Your Remarkable Online Presence Awaits
Your remarkable online presence awaits—begin your journey with SiteRubix and Wealthy Affiliate today.
With these exceptional tools at your disposal, there are no limits to what you can achieve. Embrace the adventure, embrace the growth, and embrace the endless possibilities that await on your path to digital success.
======> Get your FREE Wealthy Affiliate Starter Account here
Ready to dive in?
To try out the SiteRubix website builder, click the widget below.
When you click the link below,
The website builder will open in the same window, allowing you to explore the powerful website-building capabilities of SiteRubix.
To return to this post after checking out the link, use your browser's back button or navigate back to this post. There is more to see!
Before we wrap up, let's address some common questions that might arise as you take the first steps toward creating your remarkable online presence using SiteRubix and Wealthy Affiliate.
Frequently Asked Questions about SiteRubix: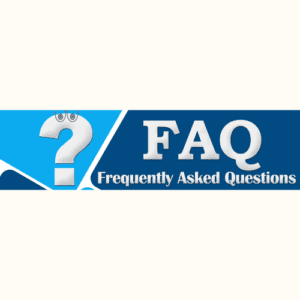 FAQS: SiteRuix About Us :
1. How much does SiteRubix Cost?
SiteRubix is free to get started and you can have your website up and running literally minutes from now. Your "Starter" membership provides you with two free websites, plus training and support to get your website off the ground!
---
2. What will my domain name look like?
Your domain name will look similar to "yourwebsitename.siterubix.com", and it is instantly ready for you to use. Pick your website name, create your starter account, and install your site, it's that simple.
---
3. What if I want my own domain name?
At any time you can become a Premium member and move your website to a domain name that you own. The process of moving to your own domain (example: yourwebsite.com) happens with the click of a button, it's instant!
---
4. How long does it take for my website to show up online?
Just a few seconds! After creating your SiteRubix website you will be up and running in literally seconds. Nothing technical to worry about, no domain registering, and no waiting. Building a beautiful website has never been more simple, or fast!
---
5. What is a Wealthy Affiliate?
SiteRubix is part of our Training and Internet business community called WealthyAffiliate.com. All support, coaching, training, and website tools are delivered within WealthyAffiliate.com where you are provided a free Starter Account when you create your website at SiteRubix.
A big part of building a beautiful and functional website is having training and support that you can rely on. To learn more about Wealthy Affiliate . . . > Try it FREE with No Risk, No Credit Card Required!
* Citation: SiteRubix About Us page (https://siterubix.com/about-us)
Marketing with Kerri is a site I created to help people navigate through all the Schemes and Scams out there and find their path to success online. I am here to help you; whether you decide to join is up to you. There is no pressure. If you don't think it's for you and want to move on, that's cool too. I want to say thank you for your time, and good luck. If you have any questions, please let me know.
Until next time, Kerri
Founder of Marketing with Kerri
Email: kerri.o@marketingwithkerri.com
Member of Wealthy Affiliate Since 2013
Member of SiteRubux
Member of Jaxxy Since 2013