You've landed in the right place if you're new to online business and affiliate marketing. The journey of starting out can be both exciting and a tad confusing. Fortunately, that's where Wealthy Affiliate comes to the rescue.
In this guide, we'll walk you through the key components of Wealthy Affiliate, ensuring that you never feel lost. From signing up and familiarizing yourself with the platform to exploring various learning resources, becoming part of the community, and even participating in live webinars.
Feeling a bit uncertain? No need to worry. We'll also provide you with guidance on how to ask questions effectively when you're seeking answers and how to receive assistance with any technical challenges. To keep your motivation high, we'll also share some success stories that are bound to inspire you.
Whether taking your first steps into this world or striving to enhance your current knowledge, rest assured that this guide simplifies the process. Let's take the plunge and uncover how Wealthy Affiliate can offer unwavering support as you embark on your journey into the realms of online business and affiliate marketing.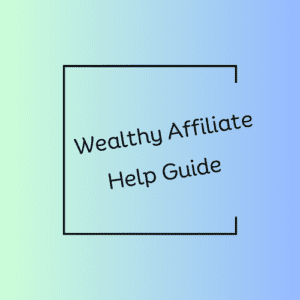 Let's get started by delving into the Sign-Up and Familiarize section, where we'll guide you through the initial steps of navigating Wealthy Affiliate.
Sign Up and Familiarize: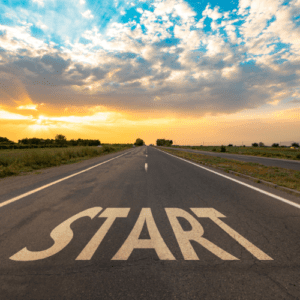 Getting started with Wealthy Affiliate is straightforward.
Sign-Up Process: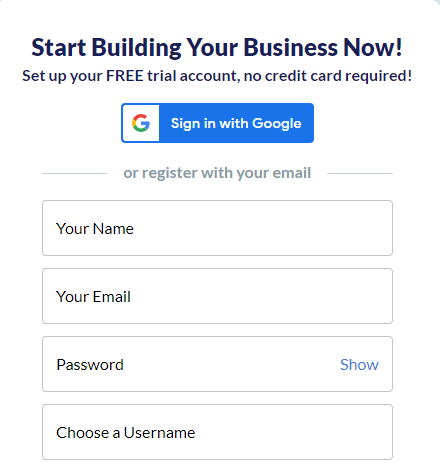 It truly is as straightforward as it sounds.
Don't have an account yet? No worries – click here ~> Set Up Your Free Account ( no credit card required).
Taking Time to Explore:
Pause for a moment to acquaint yourself with the platform.
Dive into the various sections, peruse the training modules, and acquaint yourself with the layout.
The Core of Wealthy Affiliate: The Dashboard
Picture the Dashboard as the gateway to your online journey. It serves as your starting point, granting access to all corners of Wealthy Affiliate.
Simplified Navigation: You'll discover links to essential tools and destinations within the Dashboard. Think of it as a menu that swiftly guides you to your desired locations.
Staying Informed: Much like checking your phone for messages, the Dashboard keeps you informed about updates. It's your hub for staying in the loop and receiving messages.
Your Online Headquarters: Consider the Dashboard your virtual home—a space to stay informed, engage in training, connect with others, and monitor your progress.
Main parts of the Wealthy Affiliate dashboard:
Main Toolbar:

Imagine this as your digital compass—a navigation menu guiding you through the diverse realms of Wealthy Affiliate. It's your route to training, community interactions, and much more.
Dashboard Overview: This section briefly overviews your notifications, activities, and journey progress. Consider it your daily snapshot of ongoing events.
Your dashboard, along with your credentials, badges, and related elements, will exhibit variations unique to your profile.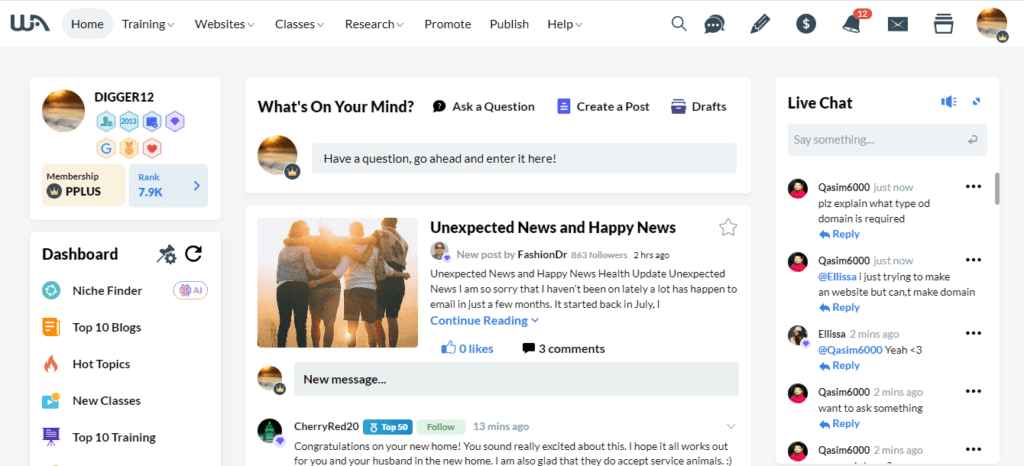 What's on Your Mind: Within this space, you have the opportunity to convey your thoughts, pose inquiries, or provide updates to the community. Think of it as posting on a virtual bulletin board.

Live Chat: Engage and Express: Here, you have the chance to share your insights, ask questions, or offer updates to the community. Imagine it as posting on a digital bulletin board.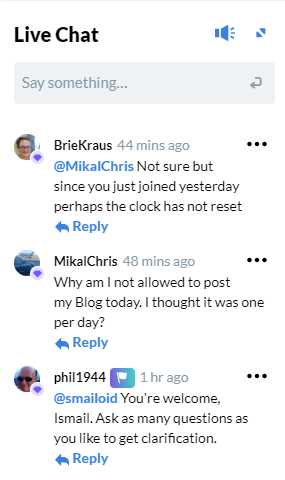 Tip:
This space holds a special place in my list of favorites and serves as my go-to whenever I'm seeking answers.
However, here's a helpful reminder: While the live chat is an incredible tool for interaction, it's essential not to get carried away. The continuous scroll and the exchanges of questions and answers can be captivating.
Just remember, it's an excellent tool, but remain cautious not to let it divert your attention from your work and journey.
Icons to Keep in Mind:
Directly above the live chat, you'll notice several icons that are worth remembering.
While we're going to delve into the Magnifying Glass and the Chat Icon shortly in the upcoming "Ask Questions Anytime" section, it's worth noting that three of the most frequently asked questions are:
"Where can I find my Affiliate ID?"
"How do I locate the live chat?"
"Where do I access Private Messages?"


Access Live Chat: You can also reach the Live Chat through the icon located in the main toolbar.

Affiliate Program: This section holds all the crucial details, including your unique Affiliate ID.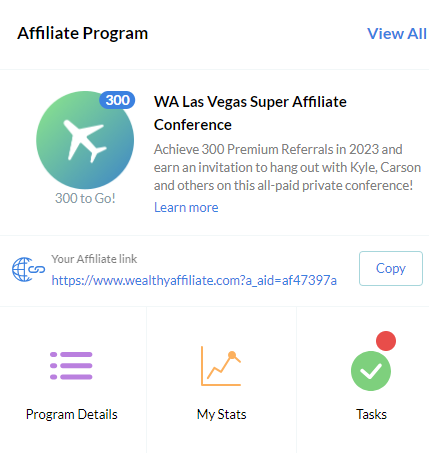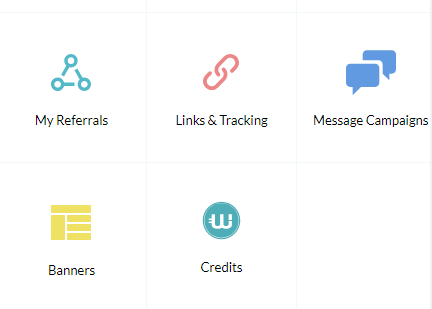 Notifications: Monitor your notifications here. Options include reading all, viewing only unread, applying filters, and withdrawing from discussions.

Private Messages (PM): Exclusively available to Premium and Premium Plus members, Private Messages offer a way for private conversations. This section allows you to manage your messages and provides a direct link to "Site Support" in the menu.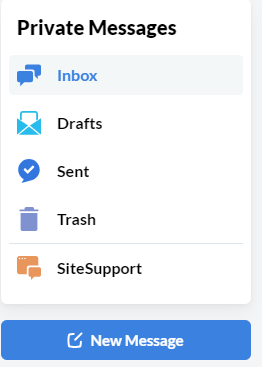 Quick Action: This tab is a rapid means to navigate the platform.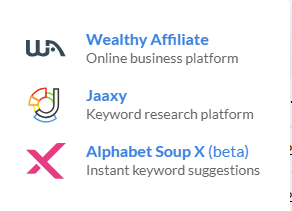 In the early stages, numerous questions are bound to arise. I've set this section apart because a significant portion of your queries can find answers within "Your Profile."
Profile Page:
Locating Your Profile Page:
To access your PROFILE PAGE, navigate to the far right corner of the toolbar on the Dashboard.
Consider this page your digital identity within Wealthy Affiliate—a virtual business card that allows you to introduce yourself to the community.
Profile Page Navigation:
During the sign-up process, you have the freedom to customize your profile page, and you can always return to edit it later to reflect your evolving identity.
Example:

Here are the essential elements,
User Name: Your distinct identifier within the community.
Rank Number: Indicates your standing and contributions.
Posts: The count of your published posts.
Network: Demonstrates your connections and interactions.
Navigation Menu: Offers swift access to various sections, including:

View My Profile: Your profile details and interactions.
My Blog: Your personal blogging space.
Credit Dashboard: Part of the premium membership benefits.
Account Settings: Configure your account preferences.
Dark Mode: Toggle for a darker interface.
Log Out: To end your session.
Example: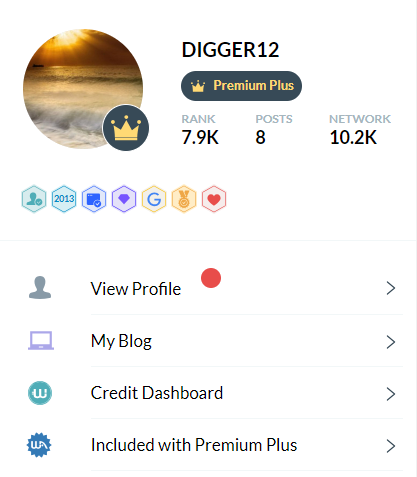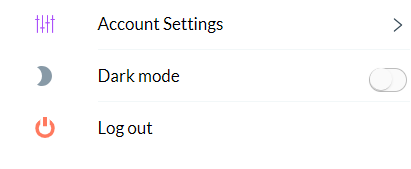 View Profile:
Exploring View Profile:
In this section, we'll offer you a visual guide that will lead you through the process of navigating your View Profile. Our aim is to show you where to find solutions to some of the most frequent questions you might have.
*** When you first sign up, and within the first lessons, you are asked to write a bio, write down your money goals, and put in a profile picture – This section will help you find where to go to do that.
Where can I find the Blog, training/questions I wrote?
How can I add/ edit an image?
Where do I write the bio?
Where can I find my network/ or find people to connect with?
Where do I put My Money Goals?
Where can I see where people left me a message?
How can I find the content I wrote?
Where can I put my links?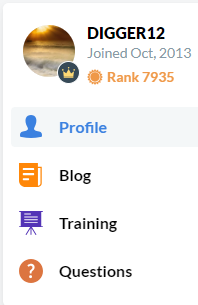 My Bio:

Add/ Change Images
Tell a little about yourself.

Network:

See who is following you
Find people to follow
Goals — What are your Money Goals?

Discussions/ Content:

See messages members left on your dashboard
See the content/ discussions

My Links

Add Instagram/ Facebook/ Twitter
Add other links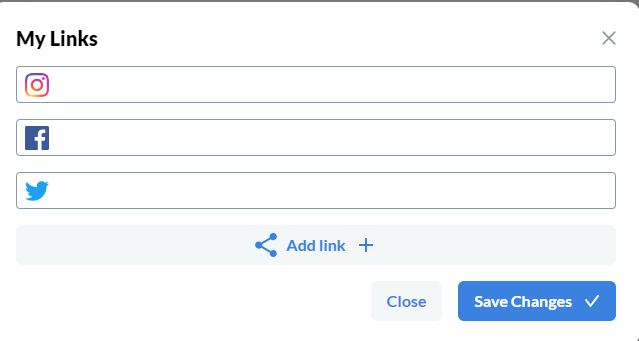 Recommendation:
Invest some time exploring this section thoroughly, and don't forget to click the arrow to unveil more details.
Navigating Account Settings: Uncovering Solutions to Your Queries
Exploring Account Settings:
In this section, we'll offer you a visual guide that will lead you through the process of navigating your Account Settings. Again, our aim is to show you where to find solutions to some of the most frequent questions you might have.
How do I find my Account?
How do I cancel my Account?
How do I change my payment?
Where do I go to downgrade / or upgrade my Membership?
Where do I find my Billing information?
How do I turn off the Notifications?
Where do I find my Affiliate Link?
> Click on your Profile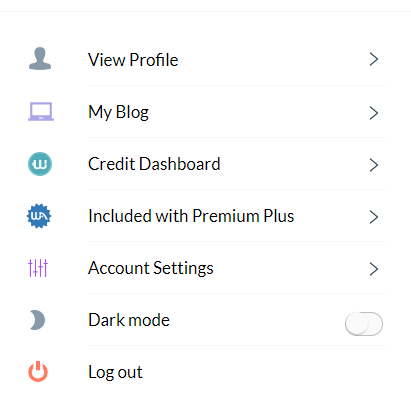 > Click on Account Settings: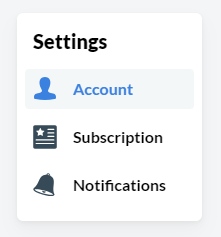 Personal Details and WA Settings

Here's what you can do:
Personal Details Management:
In the "Personal Details" section, you have the ability to oversee and adjust your information.
WA Settings: Connect and Customize:
Within the "WA Settings" section, you can:
Establish a connection with your Jaxxy Account.

(Jaxxy, an integral part of Wealthy Affiliate Membership, also offers a dedicated Affiliate Program where you can earn commissions—this holds even for FREE Starter Members.)
Locate your unique Jaxxy Affiliate ID.
Alter your Time Zone setting.
Toggle the Automatic Login feature for email notification links.
Activate or deactivate Mobile Response Mode.
For Example:


Reminder: Upon making any edits on the page, remember to click the "Save Changes" button. This button might require you to scroll down a bit to locate it.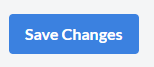 > Click on Subscriptions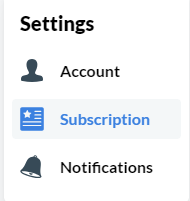 Membership Overview: Your Personalized Card:
Displayed on your Membership Card are the specifics of your membership, including the type, payment amount, and whether it's billed monthly or annually.
Pricing Variation:
Keep in mind that the appearance of your CARD and the details displayed on it will vary based on the membership you've selected.
This includes your membership fee, payment frequency (monthly or yearly), and your eligibility for downgrading.
EXAMPLE: My membership card and details look like this:
.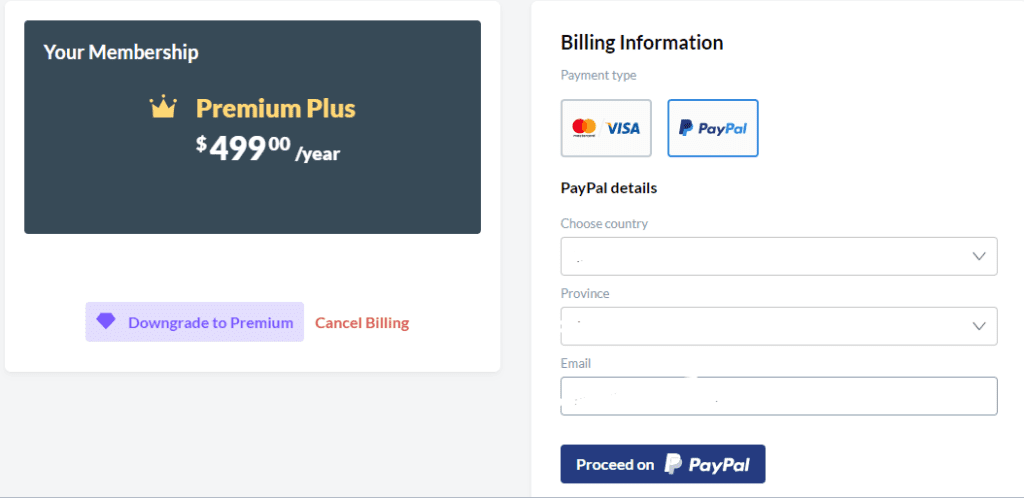 Membership Actions: Downgrade and Cancel Billing:
Below "Your Membership," you'll find two vital links:
Downgrade: Depending on your membership level, you may have the option to downgrade your membership.
Cancel Billing: Situated to the right of "Downgrade," clicking this link will initiate the cancellation process. Just follow the prompts.
Billing Information: Payment Type and Details:
Payment Type: This will display either Visa or PayPal. Look for the outlined blue box corresponding to your chosen payment method.
Payment Details: Provide your information, including Country, Province, and Email.
Billing History: Insights into Past Transactions:


Account Management: Remove or Delete:
*** Warning :
Before proceeding with "Remove Account" or "Delete Account,"
This action is irreversible, and all your details will be permanently removed from the platform.


> Click on Notifications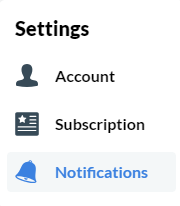 Accessing Notifications:
Receiving Email Notifications– Receive Email notifications to stay updated.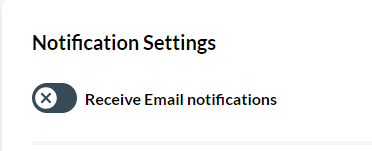 Types of Notifications:
Select the boxes for the notifications you wish to receive, and leave the ones you don't want unchecked.
There is a list of all the notifications; go through and decide if you want any and which ones you want.
Remember to Save Changes:
After making any edits on the page, remember to click the "Save Changes" button. It might be necessary to scroll down slightly to locate it.
Wealthy Affiliate: FAQ (Frequently Asked Question)
Addressing Common Questions:
I understand that questions can pile up when you embark on this journey.
We've already delved into some account-related inquiries. Now, let's swiftly explore a few other frequently asked questions I have seen in the dashboard, live chat, blogs, Q&A, and other areas of the platform.
What is Wealthy Affiliate?
Wealthy Affiliate is an online platform designed to help individuals learn and succeed in the world of online business and affiliate marketing. It offers training, tools, resources, and a supportive community to guide you through the process.
How do I create a Wealthy Affiliate account?
Creating an account is easy.
Click here ~~> "Join Now" or "Get Started" button. No Credit Card Required
Follow the prompts to set up your account by providing basic information.
Is there a cost to create an account?
You can create a free Starter account at Wealthy Affiliate, which gives you access to basic training and tools.
For a comprehensive comparison chart of what each membership offers and their prices,
Click here ~~> Comparison Chart
Can I upgrade from Starter to any Premium later?
You can upgrade your account from Starter to Premium or Premium Plus or Premium Plus + Dedicated Server anytime.
Click here ~~> Level Up Your Business Today
Is there a trial period for the Premium membership?
Yes, Wealthy Affiliate offers a 7-day Free Test Drive. It's a risk-free trial, and No Credit Card is Required.
It's a great opportunity to explore the platform and its benefits.
Can I cancel my membership anytime?
Yes, you can cancel your membership at any time.
Click on your profile > account settings > subscription – you can cancel billing and delete your account from here.
If you wish to remove your account completely, you may do so by clicking the delete account link.
BE AWARE that this is an action that cannot be undone. Your account and any personally identifying details will be deleted from our platform.
Is my personal information secure with Wealthy Affiliate?

Yes, Wealthy Affiliate takes privacy and security seriously. Your personal information is protected, and the platform follows strict data protection practices.
While this FAQ section addresses numerous common questions, keep in mind that for any specific concerns about your account, you can always reach out to Wealthy Affiliate's support team.
Additionally, you're welcome to contact me, with the username Digger12, here ~~~> on my profile page.
Moreover, don't forget to leverage the following areas on the dashboard for assistance:
Live Chat: Engage in real-time discussions with the community.
Ask A Question: Pose inquiries to the community for valuable insights.
Help Tab: Explore this section for comprehensive assistance.
Unlocking the Wealth of Knowledge:
With your initial steps taken in acquainting yourself with Wealthy Affiliate, it's time to delve into one of its foundational pillars—gaining access to invaluable training resources.
These resources are designed to empower you with the skills essential for your journey to success.
Accessing the Treasure Trove of Training: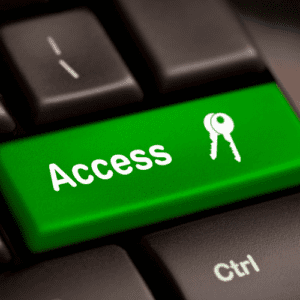 Dive into the Abundance of Training Resources:
Prepare to immerse yourself in the abundance of training resources that Wealthy Affiliate has in store.
Regardless of whether you're starting from square one or pursuing advanced strategies, this platform serves as your invaluable learning center—a space where you can arm yourself with indispensable knowledge.
Initiating Your Journey:
Click the "Training" tab in the toolbar

Exploring Training Resources:
Think of the training section as your learning hub. Here, you'll find courses covering everything from the basics of affiliate marketing to more advanced strategies.
Here are a few examples of the types of courses and topics you might find within the training resources at Wealthy Affiliate:
Online Entrepreneur Certification: This comprehensive course walks you through the fundamentals of building an online business. It covers everything from niche selection and website setup to content creation and monetization strategies.
Affiliate Bootcamp: Designed for those interested in promoting Wealthy Affiliate itself, this course guides you through the process of becoming a successful affiliate marketer. It covers niche selection, keyword research, content creation, and effective promotion techniques.
SEO and Keyword Research: Learn the art of search engine optimization (SEO) and how to conduct thorough keyword research to drive organic traffic to your website.
Content Creation Mastery: Explore the nuances of creating high-quality, engaging content that resonates with your target audience and boosts your website's visibility.
Social Media Marketing: Discover strategies for leveraging social media platforms to expand your online presence, engage with your audience, and drive traffic to your website.
Email Marketing Essentials: Dive into the world of email marketing and learn how to build and nurture an email list, create effective email campaigns, and convert subscribers into customers.
Paid Advertising Tactics: Explore paid advertising methods such as Google Ads and Facebook Ads, and understand how to create and manage effective ad campaigns.
WordPress Website Optimization: Master the art of optimizing your WordPress website for speed, performance, and user experience, enhancing both visitor satisfaction and search engine rankings.
E-commerce Strategies: If you're interested in running an online store, you can find courses that cover setting up e-commerce websites, product selection, inventory management, and customer retention.
Analytics and Tracking: Learn how to interpret website analytics and tracking data to make informed decisions, identify areas for improvement, and refine your online strategies.
These are just a few examples of the diverse training resources available within Wealthy Affiliate. The platform offers a wide range of courses to cater to beginners as well as those looking to deepen their expertise in specific areas of online business and affiliate marketing.
Start with Key Courses:
Get started with the "Online Entrepreneur Certification" and "Affiliate Bootcamp" – these are your starting points.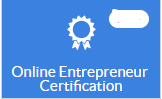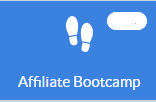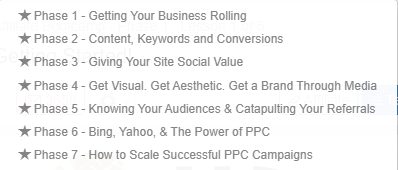 Recommendation:
For a solid foundation, I recommend starting with the "Online Entrepreneur Certification," specifically with Getting Rolling Lesson 1
Don't be discouraged if you haven't chosen a niche by Lesson 3, "Choosing Your Niche."
If you're intrigued by the make-money/affiliate marketing niche, you can seamlessly transition to the "Affiliate Bootcamp," commencing with Getting Started Lesson 1.
An important point to note:
Free Classes during your 7-Day Free Starter Account
Level 1 "Online Entrepreneur Certification"
Phase 1 "Affiliate Bootcamp"
Are included in your Free Starter Account.
This means you can dive into these foundational courses FREE for 7 days, allowing you to explore and learn at your own pace.
These step-by-step, interactive courses guide you through the process of building your online business from scratch.
Embark on Step-by-Step Learning:
Dive into these interactive, step-by-step courses designed to guide you in constructing your online business from the ground up.
Starting with Fundamentals:
Beginning with the fundamental training modules is a smart move as you begin your learning journey.
These modules form the bedrock, covering essential topics like comprehending affiliate marketing principles, embracing effective SEO strategies, and cultivating a robust online presence. Establishing this sturdy foundation sets the stage for your journey toward mastering advanced concepts as you progress.
These modules lay the groundwork by covering essential topics, such as understanding affiliate marketing principles, grasping SEO strategies, and building a strong online presence. Building this solid foundation sets you on the path to mastering more advanced concepts as you progress.
Catering to Various Learning Styles:
Wealthy Affiliate accommodates a range of learning preferences by offering diverse formats.
Within the platform, you'll encounter a wealth of video tutorials that simplify intricate concepts into manageable steps. Written guides delve deep into insights, and interactive webinars grant real-time guidance from seasoned experts.
With this array of options, you're certain to discover resources that align with your learning style, ensuring a tailored experience regardless of your preferences.
Your journey is about progress, not perfection. Start exploring the training resources, and at your own pace, you'll build the knowledge and skills needed for a successful online business venture.
Learning is a gradual process, and Wealthy Affiliate's training resources are here to support you at every step. By accessing these materials, you're investing in your own growth and setting the stage for a successful online business venture.
Optimizing Your Learning Journey:
Avoid rushing and begin your journey by delving into the fundamental training modules, even if your curiosity pulls you toward advanced topics. These basics will serve as the bedrock of your understanding, empowering you to confidently tackle more intricate strategies.
Taking Notes and Application:
As you navigate the training, remember to take notes and implement what you learn. Think of it as completing assignments to reinforce your comprehension. The more you put into practice, the deeper your grasp of the concepts will become.
Engaging with the Community:
If you find yourself grappling with a particular topic, don't hesitate to engage with the community. Discussing your learning can bring about clarity. Others may contribute insights or share their experiences, enriching your understanding.
Keep in mind that each person learns at their own pace. Leverage the training resources to tailor your journey. If videos resonate with you, focus on those. If you're more inclined toward reading, immerse yourself in the written guides.
You're investing in your education and skill development by accessing the training resources.
Wealthy Affiliate's training is designed to take you from a novice to a proficient online entrepreneur.
So, take your time, immerse yourself in the training materials, and build a strong foundation for your online business journey.
Now that you've learned how to access valuable training resources within Wealthy Affiliate let's move forward to another vital aspect – engaging with the supportive community that's ready to assist you on your journey.
Engage with the Community: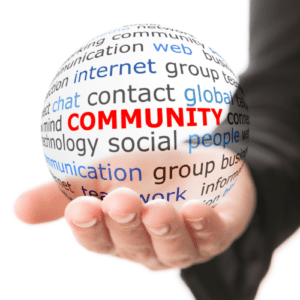 Becoming a part of the Wealthy Affiliate community is akin to joining a supportive circle of like-minded individuals all striving for online success. Here's how you can tap into this vibrant community and harness its collective wisdom:
Embrace the Supportive Community:
Joining the Wealthy Affiliate community is like stepping into a supportive circle of like-minded individuals striving for online success. Here's how you can dive into this vibrant community and make the most of its collective wisdom:
Discover a Network of Allies:
The Wealthy Affiliate community offers more than just camaraderie – it's a network of allies eager to share insights, guide you, and celebrate your achievements.
Unlock Community Resources:
Within your Wealthy Affiliate dashboard, you'll discover an array of resources for assistance and growth:
Live Chat: Engage in real-time conversations for immediate answers.
Ask A Question: Pose inquiries and receive responses from experienced members.
Help Center: Access a trove of resources, guides, and FAQs for independent solutions.
Site Support: Connect with the support team for technical assistance.
Private Messaging: Seek personalized guidance from Premium and Premium Plus members.
Community Posts: Share thoughts, questions, or updates on the virtual bulletin board.
Discussions and Forums: Participate to learn from others and find solutions.
Training Modules: Progress through structured courses for knowledge and skills.
Webinars: Attend live sessions for in-depth insights from experts.
The Wealthy Affiliate community is more than a mere gathering – it's your network of allies ready to share insights, offer guidance, and celebrate your victories.
This is a place where beginners and seasoned entrepreneurs converge, fostering an environment of mutual support and collaboration.
Remember, your fellow members are your co-pilots on this online business journey. Engaging with the community fosters learning and nurtures connections that can drive your success to new heights.
Having explored the training resources, now let's shift our focus to a dynamic learning experience – the Live Webinars and interactive Q&A Sessions within Wealthy Affiliate.
Live Webinars and Q&A Sessions: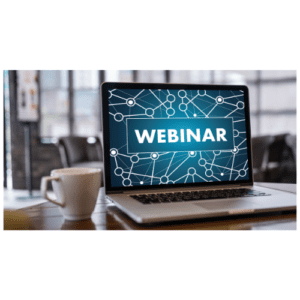 Participating in live webinars and Q&A sessions on Wealthy Affiliate is like attending an exclusive masterclass led by seasoned experts.
Let's dive into how these interactive sessions can elevate your understanding and expertise:
Unveiling Industry Insights:

Live webinars, hosted by experienced affiliate marketers, offer a front-row seat to the latest industry insights and trends.
These experts share their knowledge, shedding light on strategies that work in the ever-evolving landscape of online business and affiliate marketing. It's a chance to stay ahead of the curve and refine your approach based on up-to-date information.
Strategies and Tips Straight from the Pros:

Webinars go beyond theory – they bring practical strategies and actionable tips directly from those who have thrived in the field.
Whether it's honing your content creation techniques, mastering SEO tactics, or decoding the intricacies of monetization, webinars deliver real-world know-how that you can implement immediately.
Interactive Q&A for Personalized Help:

The beauty of live webinars lies in their interactivity. As a participant, you have the chance to ask questions in real-time and receive direct answers from the experts themselves.
Whether you're seeking clarity on a concept or looking for advice tailored to your situation, these sessions provide personalized guidance that addresses your specific queries.
Remember, live webinars and Q&A sessions are like a backstage pass to the minds of successful affiliate marketers. By actively participating, you're not just absorbing knowledge – you're engaging in a dialogue that propels your growth and expertise in the world of online business.
Building on the insights gained from Live Webinars and Q&A Sessions, let's now delve into the convenience of getting quick help anytime through the platform's Ask Questions Anytime feature.
Ask Questions Anytime: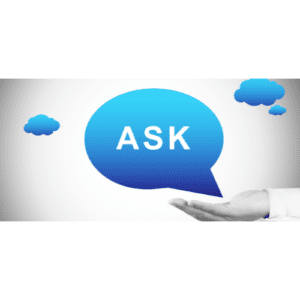 Having questions is natural, and Wealthy Affiliate ensures you're never left in the dark.
Here's how the 24/7 live chat feature becomes your go-to resource for instant assistance:
Round-the-Clock Live Chat:

Imagine having a support system that's available day and night – that's exactly what the 24/7 live chat feature offers.
This is one of my favorite tools and go-to places; there is always someone awake.
195 Countries
Over 2 million members
Anytime you need help, whether it's a burning question or a moment of uncertainty, this chat is your direct line to experts and fellow members who can provide timely guidance.
Swift Answers at Your Fingertips:

Using the live chat is a breeze. Simply navigate to the chat interface, type your question, and hit send. You'll soon receive real-time responses from individuals who've likely faced similar challenges and conquered them. It's like having a team of mentors at your disposal whenever you need them.
Specific Questions, Better Solutions:

When using the live chat, remember that clarity matters. The more specific you are with your question, the more accurate and helpful the responses will be. Instead of asking something general like "How do I improve my website?" consider being precise, such as "What's the best way to optimize product pages for higher conversions?"
By effectively leveraging the live chat feature, you get swift answers and streamline your problem-solving process, enhancing your learning experience within the Wealthy Affiliate community.
TIP:
I always like to add my other favorite tool, which sits to the left of the chat icon in the toolbar. We'll also go over the other icons on the toolbar ( pick up where we left off earlier)
Located on the right side of the toolbar are the Magnify Glass, The Live Chat, Pencil, $, Bell, and (not sure what they call this, it looks like a stack of papers to me), and then Profile.


The Magnify Glass
With the Magnfify Glass, you can search the search bar to look for training classes and find answers to questions. Most of them have probably already been asked, and the answers are right at your fingertips.
If you don't see your question, go ahead and leave it. I have never had a question go unanswered.
This is one of my favorite tools and a go-to.
NOTE: You have to enter your search in the Search bar above … but it also gives you quick links to suggestions, trainings, and websites.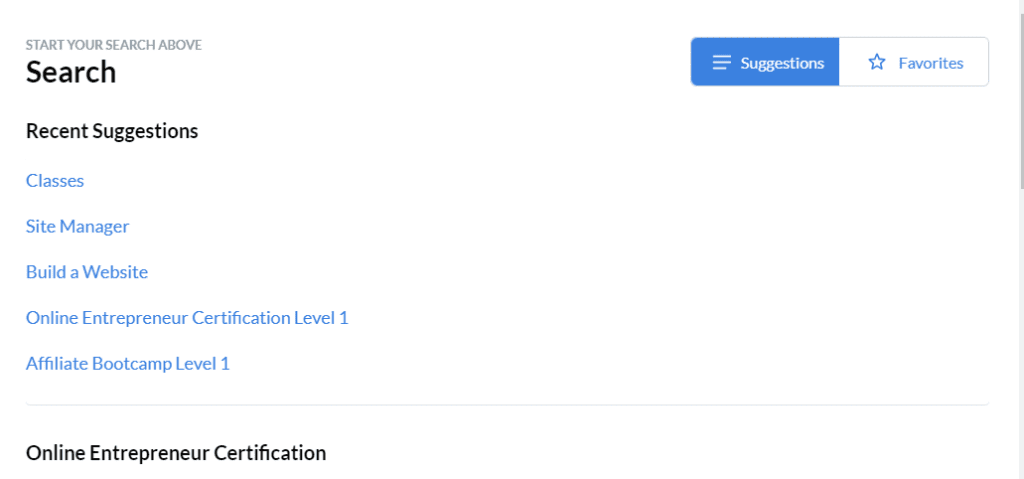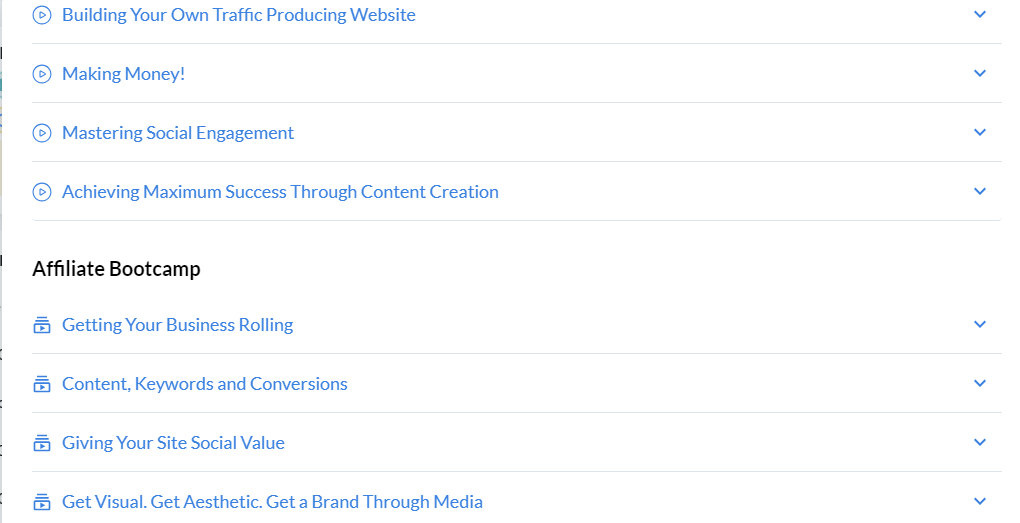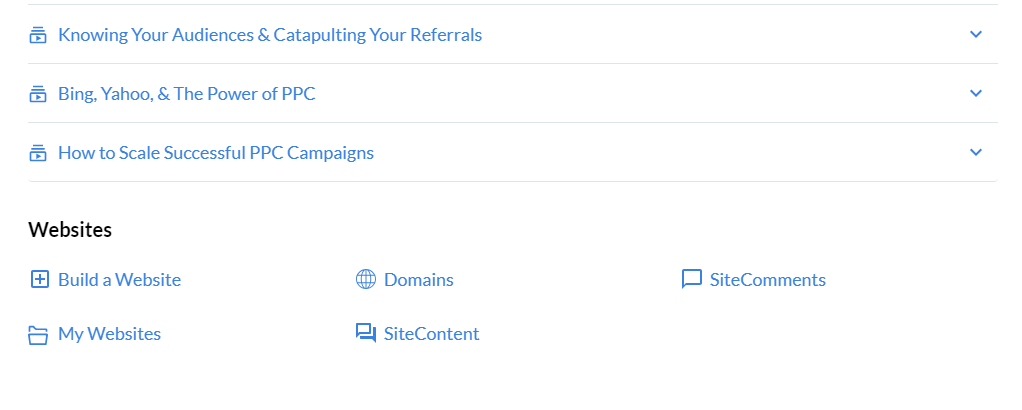 The Pencil Icon
It opens up to where you can write a blog, create training, write an article, build a website, and find the domain. (You will learn some neat tips and tricks as you explore).
I always share them when I answer questions in the dashboard, live chat, or training. I think it is more helpful to TELL someone the answer and SHOW them where to find the answer.
We are a "Pay It Forward" community here, and we all help each other out; sharing things we have learned is just a small part of the great community at Wealthy Affiliate.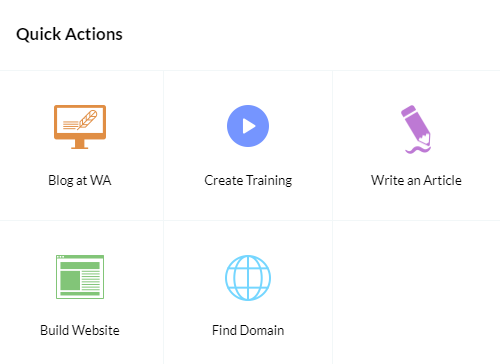 Now that you're equipped with the knowledge to ask questions anytime let's journey into the realm of creating and optimizing your website – a crucial step in your online business adventure.
Create and Optimize Your Website: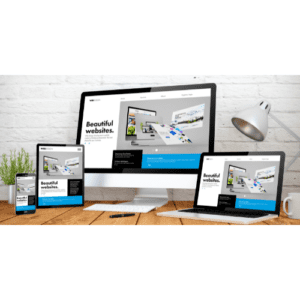 Turning your online business vision into reality starts with crafting and refining your website. Here's how Wealthy Affiliate equips you for this pivotal phase: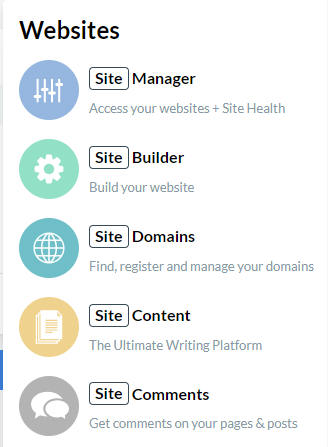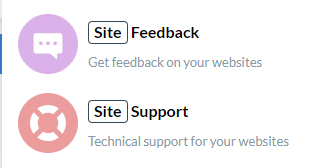 Powerful Website Building Tools:

Within the Wealthy Affiliate arsenal are user-friendly website-building tools that empower you to construct a professional online presence.
You don't need coding expertise – these tools offer intuitive drag-and-drop functionality that lets you design your website without hassle.
Crafting and Customizing:

Creating your website is exciting, and if you're unsure where to start, Wealthy Affiliate has you covered. Access step-by-step tutorials that guide you through setting up your site, choosing a theme, and adding essential elements. If you ever hit a roadblock, the community and support team are ready to assist, ensuring you stay on track.
Optimizing for Search Engines:

A critical aspect of online success is optimizing your website for search engines. Wealthy Affiliate provides training on SEO (Search Engine Optimization), teaching you strategies to enhance your website's visibility in search results. From keywords to meta descriptions, you'll learn how to make your website more accessible to potential visitors.
Remember, your website is your digital storefront, and Wealthy Affiliate equips you with the tools and knowledge to build it effectively and make it shine in the vast online marketplace.
Let's take a look at some of the other tabs that sit with Site Builder:
Site Manager:
This is where you access your Website and Site Health; I recommend looking around this tab too.
I know it's a lot of information, but one of the things that I could not find when I was starting was EMAIL.
So I just wanted to real quick show you where to find Email and a couple of other KEY areas under Site Manager.

As well as a BUILD A NEW WEBSITE Button
As you explore the different tabs and features within the Site Builder section, it's crucial to have access to reliable technical support to address any questions or concerns that may arise.
Let's now delve into how Wealthy Affiliate's Technical Support can assist you in ensuring a seamless online business journey.
Technical Support: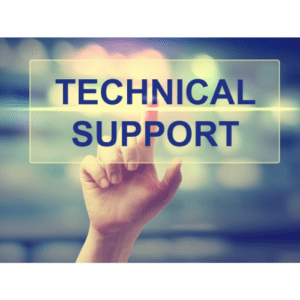 Encountering technical hurdles is a part of the online journey, but with Wealthy Affiliate's support system, you're never on your own.

Reaching Out for Assistance:

The Wealthy Affiliate support team is here to help when technical issues arise. They're ready to provide guidance, troubleshoot problems, and ensure your experience remains smooth.
Utilizing the Support Ticket System:

For more complex issues, the support ticket system comes into play. It allows you to detail the problem you're facing in a structured manner. This system ensures your concern reaches the right experts who can offer specialized assistance.
Crafting an Effective Support Ticket:

When submitting a support ticket, the more information you provide, the better the support team can diagnose and solve the problem. Be clear about the issue, specify when it started, and include any error messages you've encountered. Attaching screenshots can also be immensely helpful in pinpointing the problem swiftly.
I have been with Wealthy Affiliate since 2013. I have had a few difficulties here and there, and honestly, they were almost always operator errors, my fault.
They say 24 hours; in my experience, it is no more than 15 minutes that I see that they have replied to me.
They are amazing and the best tech support team I have dealt with.
Fast
Efficient
Knowledge
Courteous
They really care and go out of their way to help you fix issues, and are awesome at keeping in contact and following up until the issue is resolved.
I know it can be frustrating when something isn't working, whether on the WA or your own end.
Be kind to each other, and be kind and patient with the Tech Support Team.
Remember, technical issues are a temporary bump in the road, and Wealthy Affiliate's technical support is your reliable pit stop for getting back on track swiftly and smoothly.
As you equip yourself with the tools to overcome technical obstacles, it's equally important to draw inspiration from the success stories of those who have thrived within the Wealthy Affiliate community.
Seek Inspiration from Success Stories: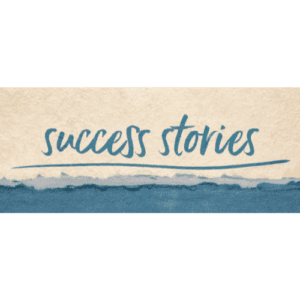 Drawing inspiration from those who have tread the path before you can be a powerful motivator on your online business journey.
Here's how Wealthy Affiliate's success stories section becomes your wellspring of encouragement:
Navigating to Success Stories:

Within Wealthy Affiliate, there's a dedicated section housing success stories. You can find it by scrolling down in the main dashboard.
These stories are testimonies from members who started where you are and have achieved remarkable milestones in their online ventures.

The Power of Motivation and Insight:

Reading success stories isn't just about celebrating others' achievements and learning from their experiences.
These stories shed light on strategies that worked, the challenges they overcame, and the evolution of their businesses. It's like having a treasure trove of wisdom that can guide your own path.
Finding Inspiration without Comparison:

While success stories are uplifting, it's important not to compare your journey to others.
Every journey is unique, and progress varies. Instead of comparing, use these stories as sources of inspiration. Let them fuel your determination, spark creativity, and remind you that success is achievable with dedication.
I have never seen anything like the tight-knit group of people from all over the world that are genuinely here for each other. They go out of their way to help and support you; they REALLY care and want you to succeed.
Suggestions:
Be kind and patient. Everyone is there to help and support each other / they are working on their business and their journey.
Don't expect people to do everything for you; you have to take advice, information, or whatever and take action on it.
I have never had a question go unanswered, so be patient when you leave a question in live chat, the dashboard, or wherever.
Always check for yourself:
People in WA, I think, always want to help, but sometimes either the information isn't 100% or the passing the information on isn't 100% I have never felt in any way this is on purpose.
Always double-check information; there are no shortcuts – do the work.
Magnify Glass is a great tool to help you dig deeper and find more information.
Classes tab in the main toolbar – additional classes and training.
Keep learning and growing. ..
Remember, success stories are more than just narratives – they're beacons of possibility. As you navigate your own online business adventure, let these stories remind you that your aspirations are within reach, and the path to success is uniquely yours to shape.
Conclusion:
In the vast landscape of online business and affiliate marketing, seeking guidance is not just a choice – it's a strategic move toward success.
This guide has illuminated the avenues within Wealthy Affiliate that are designed to empower you as you embark on this transformative journey. From signing up, navigating the platform, tapping into training resources, and engaging with a vibrant community, Wealthy Affiliate is your digital compass. Live webinars, 24/7 chat, and success stories offer valuable insights, while technical support ensures that hurdles are temporary.
As you craft and optimize your website, remember that Wealthy Affiliate's tools and tutorials are at your disposal. And when challenges arise, the support ticket system and technical assistance are ready to guide you through.
Throughout your journey, let the success stories within Wealthy Affiliate inspire you, not as a measure of comparison but as a wellspring of motivation. As you carve your path, know that Wealthy Affiliate isn't just a platform – it's your partner in progress.
So, take that step forward with confidence. Consider Wealthy Affiliate as your invaluable companion, offering not only resources but a community of like-minded individuals who share your aspirations. Your online business adventure begins here, and with Wealthy Affiliate by your side, the possibilities are boundless.
Until next time, Kerri.
Marketing with Kerri is a site I created to help people navigate through all the Schemes and Scams out there and find their path to success online. I am here to help you; whether you decide to join is up to you. There is no pressure. If you don't think it's for you and want to move on, that's cool too. I want to say thank you for your time and good luck. If you have any questions, please let me know.
Until next time, Kerri
Founder of Marketing with Kerri
Email: kerri.o@marketingwithkerri.com
Member of Wealthy Affiliate
Member of Jaaxy
Free Website Builder SiteRubix